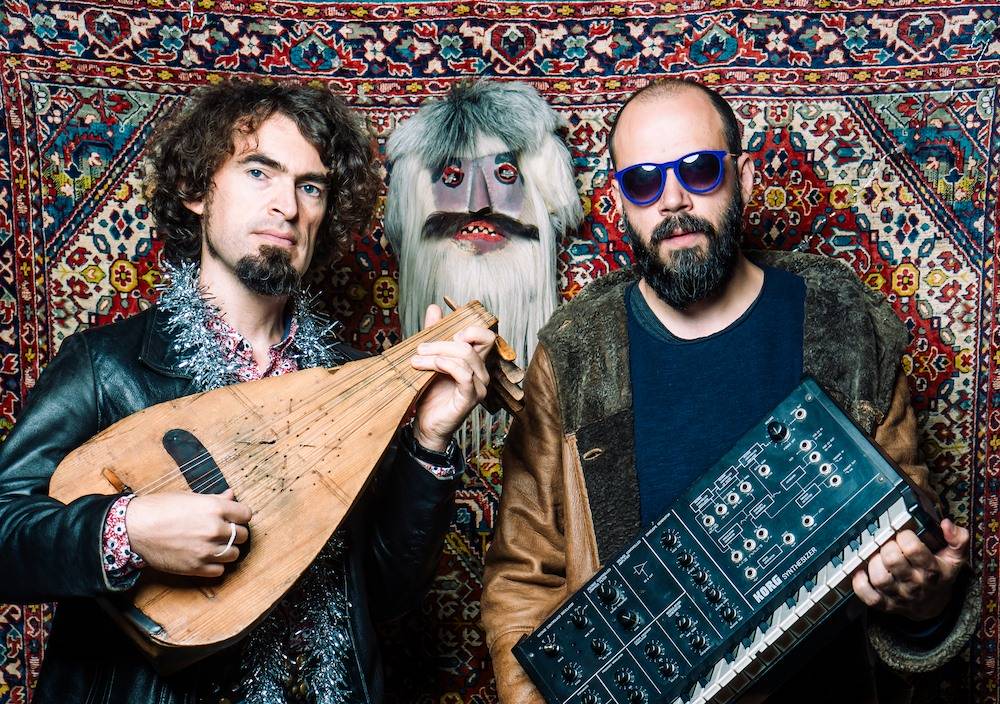 About
File under
Altin Gun, Baba Zula
Free style
Homeland Blues
" The old meets the new at a Balkan crossroads. "
The pilgrims are back. Balkan Taksim's debut album hits the radio waves in the same mythical vein the band embraced on the singles that predicted the arrival of this whimsical Eastern European treat, showcasing a sanguine vignette of multicultural sensibilities.
The 13 tracks don't necessarily point to a clash of cultures, but more of an off-kilter, flavorful exploration as Sașa-Liviu Stoianovici sings in Romanian, Serbo-Croatian, Serbian South Slavic Torlakian and Aromanian Gramustean dialects. Not only that, but the duo also tinkers with traditional instruments such as the Romanian cobza, the Turkish elektro-saz and the Bosnian šargija. They enlisted French mastering engineer, Alex Gopher, famous for his work with Angèle and Clara Luciani.
The LP follows Alin Zăbrăuțeanu's neon colored synths building in intensity until they meet Stoianovici's plucked strings that often hit through twangy reverb and raunchy hits of melodica, underscoring very intimate and angular vocals, at times squeezing a groove even out of the most stripped back, washed out numbers.
Seeing how social division is still one of the open wounds of the world, the beauty of Disko Telegraf  lies in the group's ability to architect a pulsating universe where each sound and influence gets to shine, finding a common language and transcending cultural barriers.
The "journey" metaphor might seem a bit on the nose here, but there's nothing better that can capture the arresting ambience of their music, part psychedelic trance, part being lost in a museum – nevertheless, all jubilant reasons that lull you into contemplating their labyrinthine soundscape.