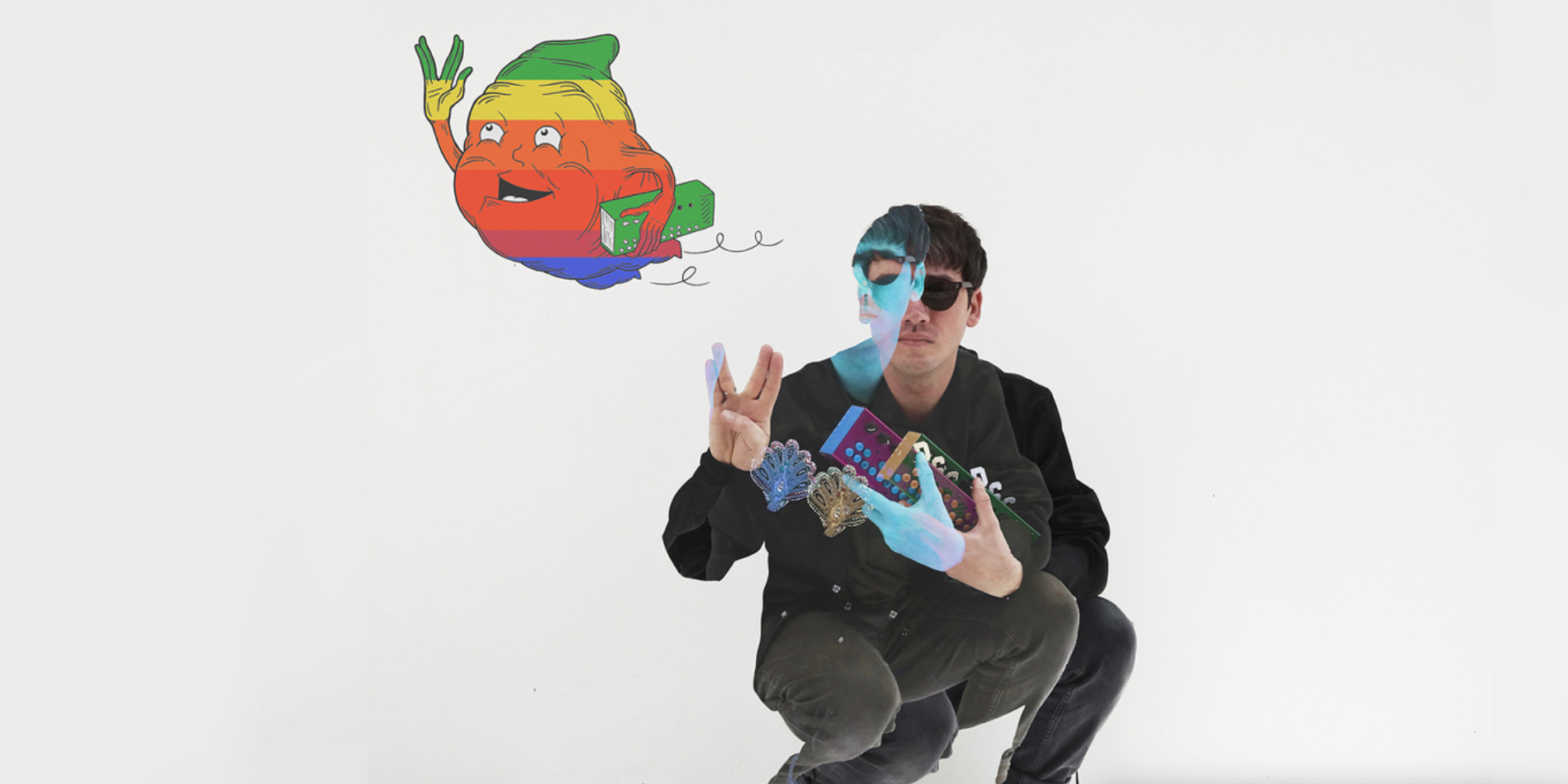 About
File under
Grandaddy, Deerhunter, Clams Casino, Hubert Mounier
Free style
DIY poetic electro pop
" DIY, melancholic, graceful, inventive, deeply moving: the new Grandaddy is French. "
It would require a Fields Medal awarded mathematician to estimate the amount of times we've listened to Petit Fantôme's songs, the number of beats our heart skipped whilst plunging into his vertiginous melodies, the sum of blurred, colourful or sad childhood memories that his sensitive and variable pop magically unearths.
It all started with his first album, Yallah, released in 2011. Pierre Loustaunau, the young man of Basque origins behind this very haunting Little Ghost, was previously a member of Crane Angels. Yallah was his first solo record, but it was much more than that: Yallah was a miracle. Still grieving the loss of Grandaddy before they resurrected so graciously, we suddenly discovered some sort of French Jason Lytle, a guy capable of making anyone dive deep into the dark blue ocean of melancholy with a seemingly obvious melody, with a series of notes you wonder why nobody ever thought of combining before, with a few simple words, with some crazy DIY arrangements, with intricate modular synths, celestial arpeggios or stormy guitars mixed with an infinite charm.
We met Petit Fantôme several times. A lot of times, actually – each time we went to see the grandiose Frànçois & the Atlas Mountains performing their pop sorcery on stage. Pierre 'Peio' Loustaunau a.k.a. Petit Fantôme, along with Gerard Black (a.k.a. Babe), Amaury Ranger (a.k.a. Archipel) and Jean Thévenin (a.k.a. Jaune), was one of the Atlas Mountains accompanying Frànçois Marry both onstage and in the studio, and the summits this dream team reached altogether were among the highest in recent French pop history.
Though busy with Frànçois, Loustaunau wasn't chasing the ghost that was still following him nonetheless: Petit Fantôme still had a lot to offer. He recorded some new songs with some friends, in his absolute do it yourself style, philosophy and aesthetics, and simply released them as a "mixtape" – actually, a true album, called Stave and illustrated by a marvellous website.
Using lessons from pop, hip-hop, punk, electro, anything good, absorbing vibes from the sea and the soil, the love and the despair, the old and the new, Petit Fantôme revealed a wide palette of tones, atmospheres and landscapes and simply offered the world, for the price of a click on a mouse, for the sake of releasing music that deeply mattered to him, one of the most powerful, inventive and deeply moving pop record of the era.
Three years. It's been three years since Stave was released. Petit Fantôme toured with a bunch of skilled friends – on stage, his songs are at the same time elegant and mighty, straight and psychedelic. Frànçois & the Atlas Mountains took the road too. Then he started thinking about his new record, Solide Mirage: after years of fruitful collaborations, Loustaunau decided that it was time for him to follow his own path, to concentrate on his own songs, to work on a new "proper" album.
Somehow, Loustaunau disappeared. And then reappeared with another mixtape called Torse Bombé, a surprising and odd, super-punk, a ultra-hardcore collection of electric frenzied songs – a way to wreck is a poetic image, probably. And then disappeared again, after releasing a lonely and marvellous new track called 'JE NE REVIENDRAI PAS.' "I won't come back." We hoped, as much as we could, that he was lying, that he would come back.
Good news for our moods, good news for our souls: he is coming back. And Petit Fantôme is growing up. He's now signed on Because Music: it was about time that an important label decided to take good care of this brilliant mind. He is getting ready to release a new album, Un Mouvement pour le vent in September. He recently played the French festival We Love Green, has a handful of other dates coming in the next few weeks and months also.
And Petit Fantôme released two new songs, with others coming in the very near future. One of them is a new version of an old and great, great demo, 'Libération terrible'. The other is an electro-pop gem, fragile and ambitious, bright and tortuous, overwhelming as usual and illustrated by an incongruous and funny DIY video. It's called 'Ma naissance' ("My birth"), Loustaunau sings "Let's celebrate my birth, together": oui, oui et oui, we'll celebrate this renaissance with a million hurrays.