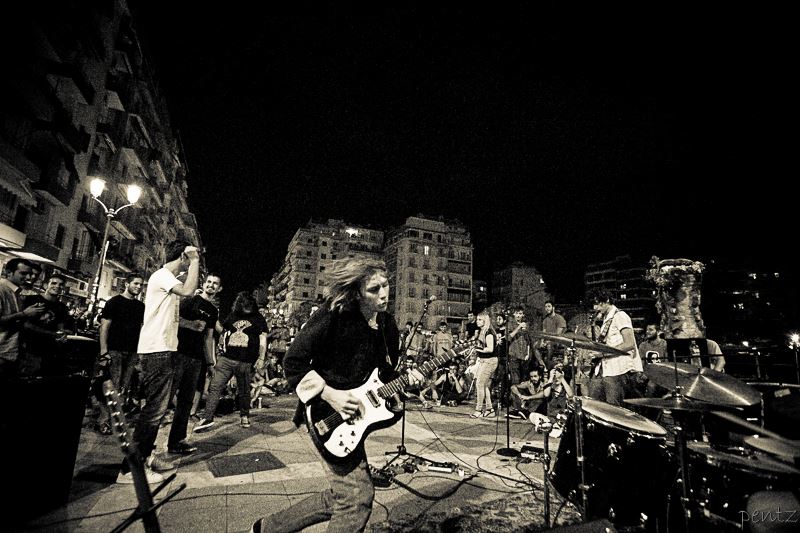 Über uns
Abspeichern unter
Fugazi, Sonic Youth, Nirvana
Freestyle
Punk-rock, Post-punk
" Electric, noisy and theatrical, Chinese Basement's sound goes through the roof! "
Of all the bands to rise from Greece's alternative/punk-rock scene, Chinese Basement remain truest to the genre's DIY ethos. They started rehearsing in 2011 as a bunch of school kids in a basement of a Chinese restaurant — from which they took their name — and, since then, they wield the attitude and angst inherent in the punk rock of its predecessors, like Nirvana and Fugazi.
What started as a school band soon escalated into one of the most promising punk-rock bands in Greece. They were originally formed by Vasilis Panoutsos (vocals, guitar), known for his orange mop of hair as well as for his blood and thunder performance; Aris Papadopoulos (bass, vocals); and Foivos Papatheodosiou (drums). Soon after the release of their debut album, Litmus (2011), Elias Vourliotis (percussions, horns,kids synth) joined them adding dense instrumental foundations — especially powerful percussion — which led to a more arty and theatrically experimental garage sound that works perfectly in their ferocious live shows. By implementing introspective Greek lyrics which flirt with the surreal (e.g. they howl for "autistic walks in the city I love" in their outstanding "Fantasia 2000" song), Chinese Basement's music became even more elusive.
Their latest album, Diadikasia Imerefsis (meaning "Domestication Process"), is a brilliant essay in refined primitivism that ably reconciles rock's structural conventions with the band's tendencies for vehement tonal elasticity and punk holocaust. Since then, they released two tape sessions, in May and August 2017 respectively, under the name Oi Zitianoi (literally The Beggars), their acoustic busking side project — which you should definitely check out! After all, punk is all about disdaining norms.