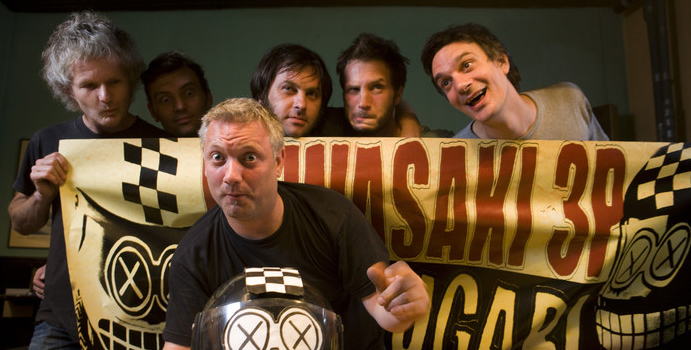 Über uns
Abspeichern unter
Ska P, Rancid, The Restarts
Freestyle
Ska's not dead!
" Urban punk-rock-ska band with energetic performance and catchy lyrics. "
Kawasaki 3p are, in many ways, veterans of Croatian punk rock. They've been performing since the 1990s, racking up hundreds of concerts and playing everywhere, from small alternative clubs to grand venues. And yet their presence on the Croatian punk rock scene is still perceived as a breath of fresh air.
They debuted in front of a large audience in an unexpected manner – at the Dora pop festival, an event organised by Croatian Radiotelevision to choose the country's entry in the Eurovision song contest. Considering the setting, their performance in bathrobes, playing the punk rock song 'Antonija', was deemed quite provocative.
They didn't get to go to the Eurovision, but ever since, they've successfully been walking the line between alternative and mainstream, provocative and funny, powerful guitar riffs and catchy melodies. They still command respect from the punk rockers, but their concerts also attract those eager to show off their moves on the dance floor.
Size might matter, after all. Kawasaki 3p's nine members allow for greater festive chaos, and their brass section – four trumpets, really – brings a whole new dimension to their punk instrumental foundation. The invariable element of their musical journey, apart from the dancing ska rhythms and rock 'n' roll core, are their lyrics. Sometimes cheeky, sometimes provocative, sometimes nonsensical, mostly funny, always catchy.
So far, they've released five albums, the most recent one in 2015. The new album is a melting pot of musical genres and features fresh, jazzy, French chanson-ish musical tones, indicating new horizons for this persistent good vibes engine.