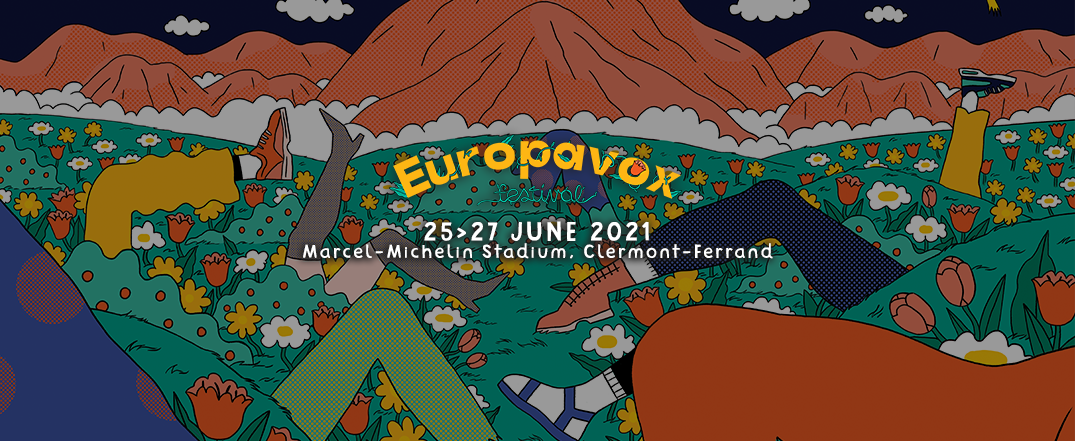 Datum
25-27 Jun 2021
Land
Frankreich (Clermont-Ferrand)
The Europavox festival announces the line-up for its 15th edition!
'The end has no end'… For how long has the name of this song by The Strokes – an American band with European roots – described our current endless everyday with days stretching on and on? Because when it comes to our current world, it goes without saying that for the longest time, absolutely no-one (whether organisers, artists or audiences) could see an end in sight for this situation that has tested the strength of even the most tolerant and tough of individuals… So we had to reflect, reinvent ourselves, devise virtual events for very real talents, and offer an alternative that would this forced withdrawal at least tolerable.
And then, a few weeks ago the first rumours began, there was a hint of light at the end of the tunnel, the arrival of hope… Although without any assurances – what assurances could there be after just over a year? And this hope, slim as it may be, fed everything else: anticipation, reflection, recreation and discussion have been the daily diet for the Europavox team for days on end. But nothing is certain. No matter – you have to believe, and tell yourself that yes, something might be able to happen, to avoid being caught off guard and missing out on the possibility of celebrating the fifteenth festival in the summer of 2021.
And now it really has become a certainty: the fifteenth festival is well and truly happening, welcome news that has prompted beaming smiles all round – from organisers, from artists, and we hope also from you, our audiences. This fifteenth festival will be a bit different to the others as it is firmly flying the French flag, given that it is currently impossible to know how things will be beyond our borders. The festival is back within the confines of the Michelin stadium, an iconic venue in the Auvergne capital that hosted a memorable closing night back in 2017, a venue synonymous with victory, and ultimately one that was not chosen by accident. Because yes, this truly is a victory for all of the people who have been working behind the scenes for weeks, secretly hoping that the event would go ahead, and who can now watch this dream become a reality.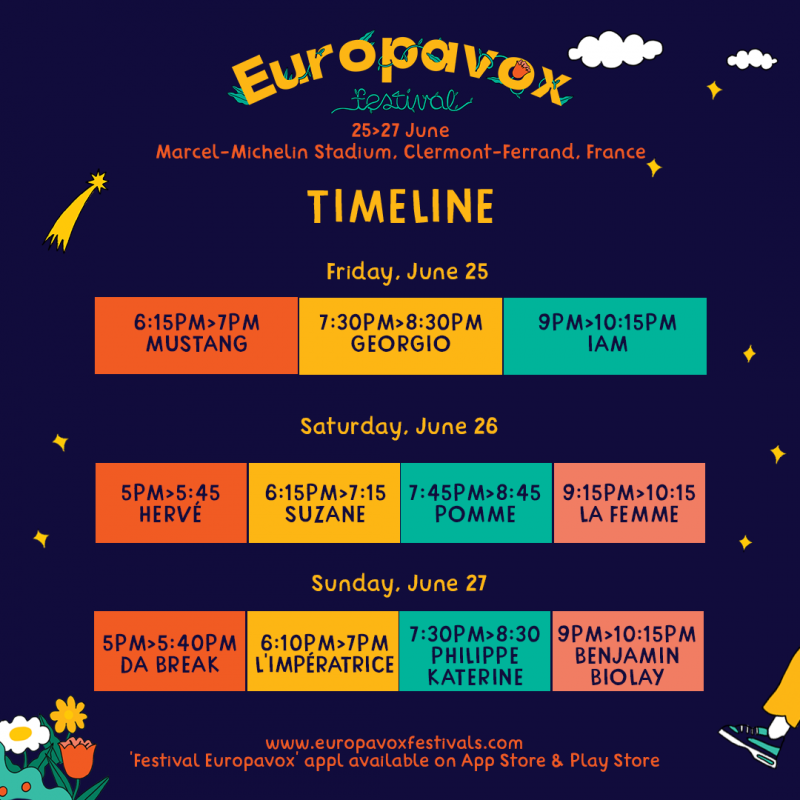 And so, in three weeks' time, Europavox will remain faithful to its guiding artistic vision where eclecticism reigns supreme, every generation can come together, and well-established artists stand shoulder to shoulder with young upstarts to whom the future belongs. It all begins in a groove and 'black' music mood on Friday, drawing on soul, funk and hip-hop: Da Break invite you to join the irresistible dance, Georgio offers up his shadowy, literary rap, and IAM proudly cement their status as living legends. On Saturday, it's time to ask 'Où va le monde' ('Where is the world going?') in the slipstream of La Femme, whose three albums and well-read psychedelic rock set them up as the veteran of an evening where Suzane and Hervé delight in making a name in a world of first names with their uninhibited electro and meticulous lyrics, whilst Pomme offers up poetry of the everyday against a backdrop of forested folk. On Sunday, we round off a festival that we already know will go by all too quickly: in the tailor-made suit of the prodigal son, Mustang will hurl out their rock 'n' roll rants with stunning self-assurance. L'Impératrice will transform the Michelin turf into a giant dancefloor, before two of the most gifted and inventive artists of recent decades, Philippe Katerine and Benjamin Biolay, step out to perform their songs that spread happiness wherever they go. And once the final notes have begun to fade away, what will remain is the joy and the extraordinary memories of having finally rediscovered these unique emotions and incredible feelings. See you next time!
 Buy your tickets now:
Launch Party at La Coopérative de Mai!

To inaugurate the 15th edition of Festival Europavox, it is with great pleasure that we will welcome David Walters on Thursday 24 June at La Coopérative de Mai (Clermont-Ferrand, France)! Whether in French, English, or particularly Creole, he juggles the poetry of sound and the magic of rhythm to create songs that swoop in like a breath of fresh air and whisk you away on a journey ☀

⚡ Thursday 24 June 8:30 pm at the Coopérative de Mai – One price ticket = 5€  
About Europavox Festival
Europavox was born in the heart of Auvergne, in 2006, with the desire to show European musical diversity. With hundreds of concerts in Clermont-Ferrand but also in all parts of France and Europe, thousands of festival-goers each year, a European network that grows every year, Europavox defends a positive, citizen-centered and committed vision of Europe through all types of music.
Since 2016, Europavox Project has been developing an ambitious and concrete project aimed not only at European music professionals, but also at the general public, including europavox.com, the first 100% online media dedicated to the promotion of European groups. But also many other aspects to discover.
Definitely there are no borders for Europavox!
Previous line-up: 2020 edition – cancelled
AYA NAKAMURA – ACID ARAB – ISAAC DELUSION- DINOS – LAST TRAIN – LOUS & THE YAKUZA – JEHNNY BETH – KIKESA – YSEULT -YUKSEK -M- MIKA – RILÈS – MOHA LA SQUALE – FOALS – MISTER V – L'IMPÉRATRICE – SEBASTIEN TELLIER – SUZANE – 47 TER – ICO – MORGANE IMBEAUD – EMILIE ZOÉ – GLAUQUE – BENNY SINGS – DIVES – MAGENTA – MARINA SATTI & FONÉS – SIR WAS