Neuigkeiten
---
Best in Class: Ángel Carmona (Radio 3, Spain)
5 min read
---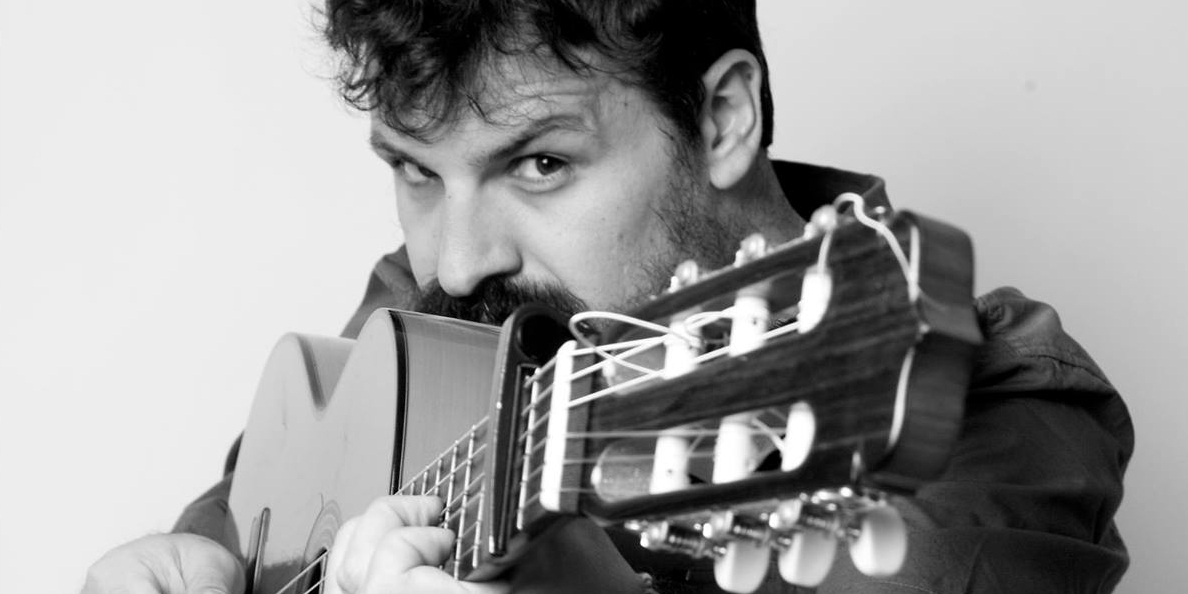 Host of a show on Radio 3 and and himself a musician, Ángel Carmona is one of main the voices of cool music in Spain. And he has a lot to say.
Ángel Carmona is the voice of the morning show Hoy Empieza Todo ("Everything Starts Today") on Spanish Radio 3, the national radio youth station. He's also a musician, a fine guitarist and singer – and a human being with a big heart, whose project Leãozinho gives free guitar lessons to kids that want to learn how to play. He describes himself as "an enthusiast who wants to share joy".
"It began with curiosity"
We met back in 2011, when you came to Portugal to do your radio show with only Portuguese music. How did that happen?
It began with curiosity and the will to discover something that was nearby yet unknown. The Portuguese group A Jigsaw came to meet us in Madrid and they invited us to visit them in Portugal. It was something that got us excited. It was shocking to listen to several albums that made our heads explode during those days we spent in Lisbon. We had no idea that we had so many good albums so close to home.
In Spain, like in Portugal, we listen to many artists from the UK or North America, but not from our fellow European countries – not even from our neighbours. Why do you think that happens?
It's very hard to be outside a global trend. Hollywood is very powerful in selling their hamburgers, traditions, way of thinking, everything. If you go to London, Los Angeles or New York, you will find a ton of good things, and we can take advantage of them. I really like Brazilian acts that sound like American ones, but with a Brazilian vibe. We who share music with the public are responsible for this. We play music for them, and we have to give airplay to others, to new artists from outside the global trends. It's easy to go to Pitchfork and remember an act that is featured there. We need to find new references and not just use the most common ones.
"Most of the acts grew up with Radio 3"
You work for the national public radio in Spain (RNE), meaning you don't have any commercial responsibility, no publicity obligations, no set playlist. You can choose whatever music and guests you want on your radio show. How are that freedom and the public service broadcast helpful in showcasing new acts and fewer "mainstream" ones?
Me and Gustavo Iglesias, the other music programmer of our show, have the public service strongly embedded in our heads. We have to work hard to be competitive, but I think we currently have great momentum. The acts that are filling arenas with a capacity of 10.000 people and more, they're "born" on Radio 3, like Vetusta Morla or Love of Lesbian. Most of the acts grew up with Radio 3. And now we have other radio stations that play them too. It's important to continue to grow, and we are always curious to find new acts. The Radio 3 programming encompasses a variety of music genres, such as flamenco, hip-hop, country, jazz, hardcore, Brazilian, etc. The strength of Radio 3 is in being open to all the music in the world.
One of the main focuses of your radio show is to feature Spanish acts. From old to new, isn't it?
Spanish music receives great feedback from the audience. Spanish people like to know the lyrics of a song, they don't speak English as well as the Portuguese, for instance. So they need to understand what they're singing. We work with several generations. We respect those who started all this in the 1960s and 1970s, as well as new acts. We feed off of these new acts. We call them la cantera, the benjamins. Last weekend, Radio 3 threw a party, Casa Encendida, with 37 acts, both old and new, from flamenco to rock. We need all of them to feed us.
There aren't many Spanish acts that broke through to the rest of Europe in the past.
Miguel Rios is probably the only one who made it in Europe. We aren't "hit makers". Spain usually doesn't turn to Europe. Spanish acts have only one way out, Latin America. And that path works. They get a second life, a second opportunity, when they play in South America. And little by little, some Spanish acts are touring the world, such as Hinds, The Parrots or Baywaves. There's also our traditional flamenco music. We need to pay attention to this unique Spanish folk music as well. but generally speaking, we are blind to the rest of Europe. Only electronic acts or post-rock bands such as Toundra are able to go, and the circuit is open to them. But others need to find the path as well.
"Because of globalization, everything needs to be the same"
Hinds are probably the biggest act from Spain today. But they needed to catch the attention of Pitchfork and NME to be discovered in Lisbon or Athens.
I remember talking to a Brazilian musician called Otto some years ago and asking him why we didn't have more Brazilians musicians playing in Europe. He replied simply: "Plane tickets." Now, airfare is cheaper and globalization did bring about some good. Hinds are such an example. They got discovered by Los Angeles at the same time that they were starting in Madrid. But at the same time, it feels that because of globalization, everything needs to be the same, like clothes from Inditex, using the same patterns. And it's a bit tiring. If I like a band like Hyphen Hyphen, a French act, I like it because it sounds unique. Their music is global, but at the same time, it sounds like the place they grew up in.
"Small steps bringing us closer"
You talk to a lot of Spanish musicians on a daily basis on your radio show. Do they think more about going to Latin America or playing in Europe?
I have to be honest, we're more easily relatable to a Mexican or a Venezuelan than to a Dutch or a Dane. Our culture is closer to Latin America, we can connect to something that we know. Mexico, Colombia, Argentina… Spanish acts can play there in a relatively easy way. I remember going to Spot Festival in Denmark and seeing the music export machine at work. They produce music acts to play abroad, in Germany, the Netherlands and so on. We can't control the paths that acts such as Hinds opened. Unfortunately.
You talked about Spanish acts going to Latin America and being successful. But we can also talk about the opposite – several Latin American acts coming to Spain to make it, like Calle 13. Is it fair to say that the appeal lies in the exotic part of the music? Is it something connected to our body, music that makes us move?
I think there's a generational aspect to that. If you think of merengue, salsa or batchata, Latin American music that makes you think of dancing, it works in Spain. But there is a new generation, growing up alongside this emigration from Latin America, and reggaeton is everywhere. Everything sounds like reggaeton. At Radio 3, for example, we were at numerous gigs by Calle 13 in the past, and at the time, no Spanish came to them. Only Porto Ricans, Venezuelans, Colombians… Then, all of a sudden, people in Spain started to listen to them. If you spoke to Spanish rap artists, they weren't open to Latin collaborations. Now, that has changed.
There are several successful examples of collaborations between Portuguese and Spanish acts in the past. GNR and Javier Andreu, from La Frontera, is probably the most well-known. Then there's also Zeca Afonso and Luis Pastor, or more recently Carminho and Pablo Alborán. Do you think that can be a way to bring us closer together?
I think Portugal is more generous than Spain in this regard. And it's always like that, at least in my view. If we think in a financial manner, economically speaking, it's very helpful for both countries. Festivals on the peninsula (Spain and Portugal) work together to attract artists. It would be so natural to have a Spanish artist tour in Portugal supporting a local band, and the other way around. But it's not easy. We do that with Latin groups. The Spanish band Vetusta Morla always invites a Mexican band, Zoé, to play with them. Last week, we had a meeting between one of the most important composers in Spanish rock, Santiago Auserón of the band Radio Futura, and Portuguese singer António Zambujo. And I think that's very important. They're small steps, but the walking is bringing us closer.