Neuigkeiten
---
Europavox goes Loftas Fest: cool sounds and musical discoveries in a Lithuanian concrete wonderland
5 min read
---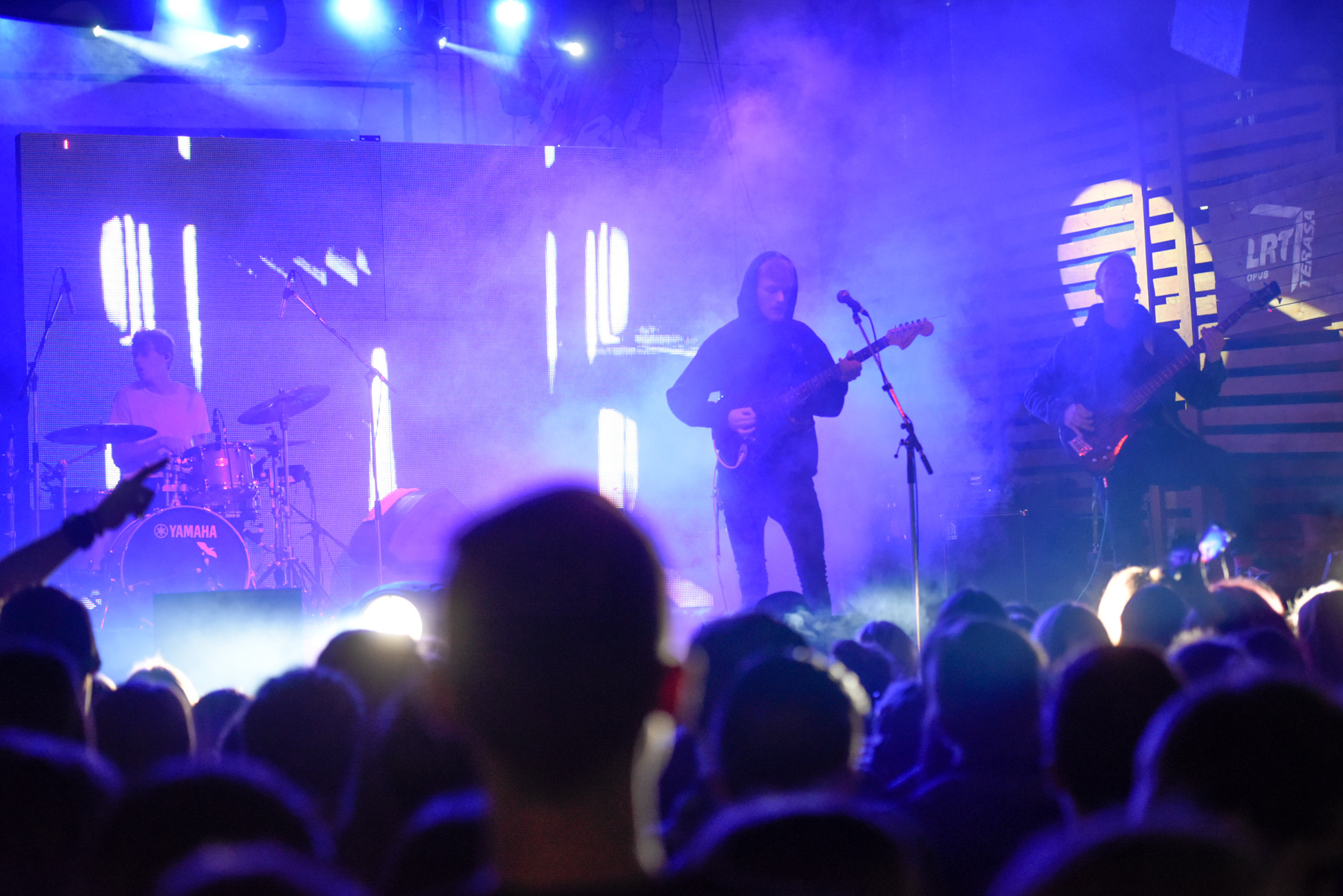 Two days and nights of fascinating gigs, Icelandic rap, a Portuguese "one man orchestra", and one unlucky plant — ripped to pieces —, Lithuania's Loftas Fest delivered another exciting season, and Europavox.com was there to witness it.
Loftas Fest : Something different
Seven years ago, a well-known Lithuanian musician and producer, Viktoras Diawara, established Loftas — an alternative event space in Vilnius, next door to Lithuania's capital main train station. He turned a disused Soviet electronics factory building into a thing of wonder — an industrial-style venue which will remind you of certain hipster Berlin clubs. It ended up becoming one of the most important concert spaces for alternative, hip hop and electronic music artists in the region.
Editors, Fink, Chrysta Bell, Crystal Fighters, Onyx — the posters in Loftas' office tell the story of many visits by well-known foreign acts, and the club can now boast hundreds of events, ranging from small album release parties for local indie bands to sold out gigs, cinema events, conferences and art happenings. Someone even booked this quite raw looking venue for their wedding, surprising even Loftas' owner.
Since 2012, it's home of Loftas Fest — a weekend-long event that broke all Lithuanian preconceptions of what music festivals should be all about.
"When we started this, everyone said we were crazy. The festival culture in Lithuania is still very young. We basically only started having them around ten-fifteen years ago. The rule of thumb is that festivals have to happen on a lake shore or in the forest. Lithuanians love to party in nature.
We offer something different — a festival within ten minutes walking distance from the city centre, happening in Loftas venue and its huge yard, surrounded by old industrial buildings. You can take a bus or a taxi here, you can leave whenever you want and be back home in fifteen minutes, take a shower, have a nice breakfast and come back to the event — you don't need to camp. Or you can just stay up, partying all night long, listening to the freshest acts and DJs from all around the world.

But I must admit, this concept is still unusual here. We started as a summer event, but then moved it to early autumn. During summer, it's hopeless — at weekends, everyone just goes to the seaside or lakes," Viktoras explains.
A concrete wonderland
The best part? Almost all events in the festival are free. This year, you only had to buy a ticket to witness indoor programme at the main stage — that included headline performances by American rapper Mykki Blanco and Scandinavian electronic music producer Lindstrom.
The rest of the gigs happen on several stages scattered around the yard: from basements to open air spaces; from techno DJs to indie rock bands; from weird art and theatre performances to impressive art installations; massive street art murals, created especially for the festival; and a night-time fair for local fashion designers. During Loftas Fest, the space looks like a concrete wonderland, a colourful asphalt jungle amusement park with a bit of an edge. But make no mistake — the main focus is still on music.
"Most of the acts playing at our free stages are not necessarily very well-known here. But I book bands that I believe in. I travel a lot, visiting showcase events, and when I see a great live act, I try to book it for our festival.  Thousands of people come by Loftas Fest each year. Most of them are young and have genuine interest in music. The logic is — this time they'll get to witness a great band from Portugal or Iceland for free, and, if they like it, the same band can sell tickets at Loftas venue several months or a year later. I've seen that happening. It works," Viktoras says.
It's not always easy, though. The former industrial quarter where the festival happens is surrounded by homes and residential blocks. Even the yard itself is surrounded by windows of lofts, staring at you like eyes in the middle of the night. A couple of years ago a complaint about late night noise almost got Viktoras arrested by the police, who threatened to shut down the event. The city's mayor then posted on Facebook, stating that Loftas Fest is an important cultural event for Vilnius and should face no obstacles like this.
"We have no problems like that these days. I fully understand that some people don't like the idea of loud music late in the evening. We try to program the festival in a way that people in surrounding areas are less inconvenienced. After midnight we move the gigs to indoor spaces. However, it's not realistic to expect total silence if you happen to live next door to the city centre," shrugs the venue's owner.
An urban music culture institution
Hercules & The Love Affair, Kelis, Young Fathers, Toro y Moi, Daughter — these are just some of the headliners who rocked, rolled and partied till dawn at Loftas Fest during previous editions of the festival. But one does get the feeling it's not about famous headliners anymore. the festival is already an urban music culture institution. People come because of the festival, not because of the acts playing, knowing they'll definitely hear something interesting — even if they had no clue about these bands before.
Since 2016, the festival's biggest outdoor stage, which draws the biggest crowd in the evening, is called Europavox. That's a sign of partnership with Europavox project and friendship with French Europavox festival that has been ongoing for quite a few years.
"I love Europavox festival in Clermont-Ferrand, that's where I find many bands that I immediately want to book for my venue. And, to be totally honest, we copied their formula — you have to pay to see headliners, but you can see young and interesting European bands for free. It's just such a great idea, I couldn't help but steal it," Viktoras laughs.
As you have probably guessed by now, the stage features fresh musical talent from all over Europe — many of the bands playing their first shows for Lithuanian audience. And music professionals from abroad, as well. At the same time, the music conference, What's Next In Music, is happening next door, so delegates from various music business fields can be seen wandering around, with a beer in hand, checking out sounds and taking notes.
"I've heard countless bands in my life. Whenever I go to events, I put bands on my lists — A, B and C. C-list means "fucking avoid", A-list means "book them". I must say quite a few acts here could be on my B-list", laughs Martin Elbourne, legendary British artist booker for Glastonbury and The Great Escape festival.
"People abroad have no idea how good some of the Lithuanian acts I've heard here are. This should change, and I believe it will. There's this creative energy in the air, and the people are so nice and good-looking", Philip Grefer, co-founder of China'as M.A.D. Festival, nods.
Expect the unexpected
To call the programming of Europavox stage "eclectic" would be an understatement, but that's the whole point — expecting the unexpected. Some of these acts are already pretty familiar to those who follow showcase festivals and European music trends.
I have bumped into Noiserv, for example, in several European festivals. For those of you who haven't heard of him, he's a singer/songwriter from Portugal. His show in Vilnius doesn't disappoint, as well. A one man band (he seems to be able to play a gazillion instruments), he swayed the crowd immediately, performing songs of intricate beauty. If artists as diverse as Jose Gonzalez, Radiohead or even Susanne Sundfor are your thing, you should try Noiserv. He has several records out, they're all worth your attention.
Hungarian band Mork are totally different. "Craziness with depth, grooves with thought" is how they describe their music and, man, they're spot on with this. An energetic mix of funk, rock and soul that, for some reason, don't sound like music you would expect to come from Hungary. They're so good you would totally believe they're from the U.S. The crowd seems captivated and mesmerized — definitely a band to keep an eye on.
Ulfur Ulfur are a first in the festival's history — Icelandic hip hop has never been performed here before. It connects quite well, but also leaves some of the audience puzzled. "I know it's a bold step, as 99.9 per cent of the audience can't understand the lyrics. But again, their energy is amazing, and they're, like, godfathers of Icelandic hip hop. I thought, why not?" Diawara laughs.
Some of the acts on the bill are already quite well-known. Estonian singer and laptop/electronic percussion wizard NOEP has been signed by Sony, got airplay in quite a few European territories, and, in general, has the air of "the next big thing" about him. Having played a support gig with Royksopp in Vilnius just a couple months ago, he came to Loftas Fest with even more confidence — his electronic sounds and mellow vocals wooing a crowd that he later (quite rightly) called "badass" in a Facebook post.
One of the highlights is Rico Loop — a vocal percussion master from Berlin, winner of various loopstation and beatboxing competitions. Sitting on a sofa and sipping a cocktail, he looks like a man possessed — milking unbelievable electronic rhythms and sounds from his loop equipment, doing crazy dance moves and delivering thrilling vocal acrobatics. When he finishes at midnight, the crowd doesn't want to leave. As Borat would say, "great success" (no irony intended).
Baltic neighbours are here as well — Latvian band Ezeri delivering a set of weird psychedelic rock and Estonians vonKuusk playing music that would work well both at a indie rock club and a big jazz festival.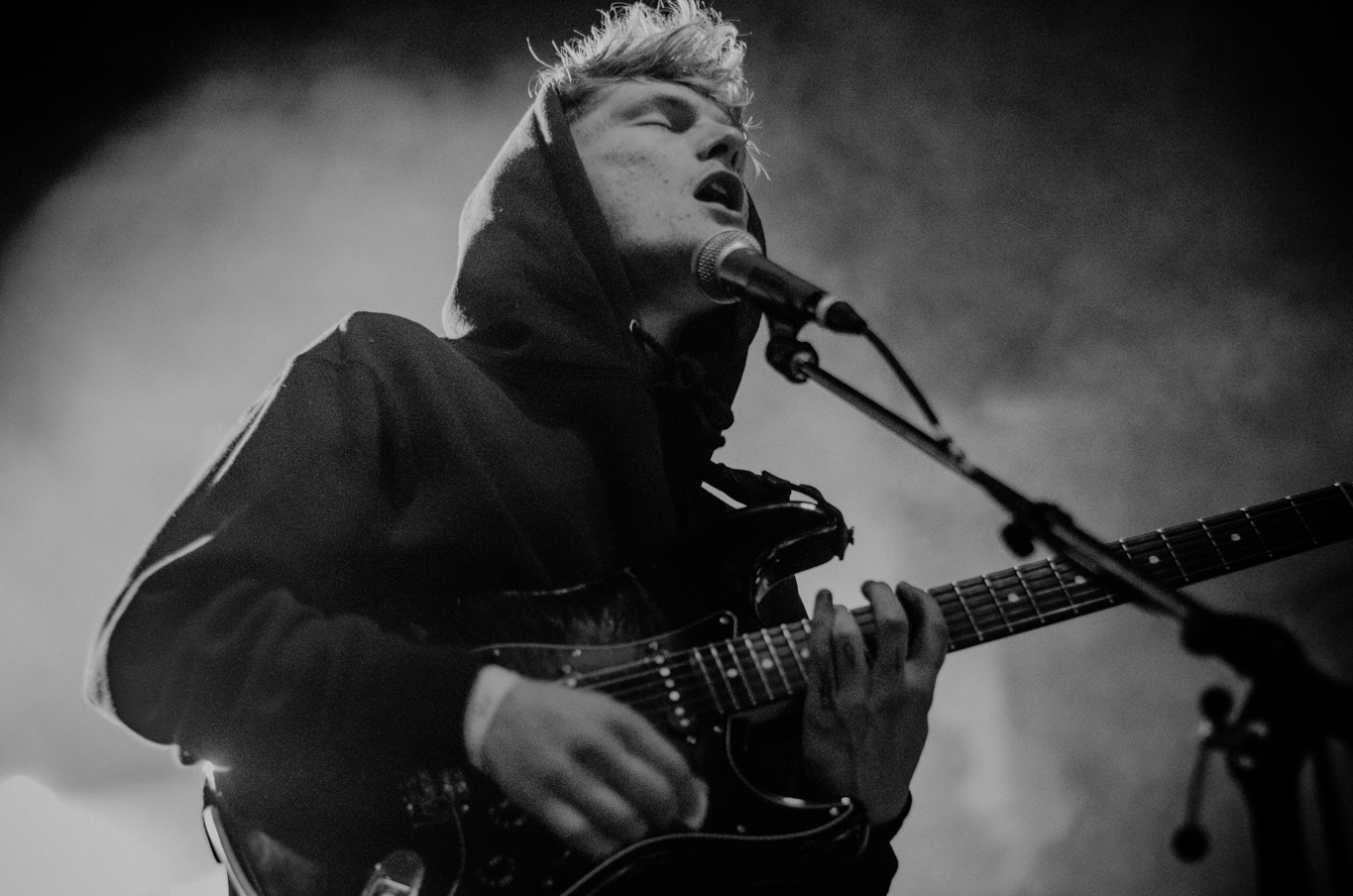 The biggest dose of applause, though, is unsurprisingly reserved for local indie heroes. Lithuanian band ba., who have played Europavox in France this summer and will charm Reeperbahn audience in Hamburg this weekend, have already won many hearts and ears. They played Vilnius' biggest arena this year, released a full-length album and a several EP's, their videos gather hundreds of thousands of plays on YouTube — no mean feat for alternative rock band which perform songs exclusively in Lithuanian.
Just several weeks ago, the lead singer Benas Aleksandravičius seriously injured his leg in the moshpit at Foals show. That didn't stop him from playing Granatos Live (Lithuania's biggest festival) several days later — ignoring doctors' warnings that he could damage his leg for life. In a moment of ecstasy, he also smashed his guitar at the gig. The concert at Loftas Fest delivers less onstage drama, but still is a thing of wonder. Performing what one might call a mix of musical euphoria and music sadness, Nirvana and indie rock influences, ba. once more prove they're one of the most exciting live bands around. It's not simply a gig, it's a statement, a mission, and Benas sings like his life depends on it. Well, it does, in a way. He dropped from school to focus on this. So far, the future seems bright.
Another local success story from the last couple of years is Solo Ansamblis- a band made of actors, who have just won Best Alternative song at M.A.M.A. awards (Lithuania's answer to the Grammy). Dressed in black, they perform something that they choose to call "sad dance". File under "think clever synthpop meets darkwave meets Joy Division". Or, rather, don't file it under anything, as Solo Ansamblis, truly, are onto something that's not derivative, at all. It's best that you witness their dark music live — they sing in Lithuanian, often using well-known poems as lyrics for their songs (including one by Rainer Maria Rilke). It's hypnotic stuff — and all the festivals in the country seem to want to book them at the moment, so seeing this band for free is a chance that many Lithuanians choose not to miss this evening.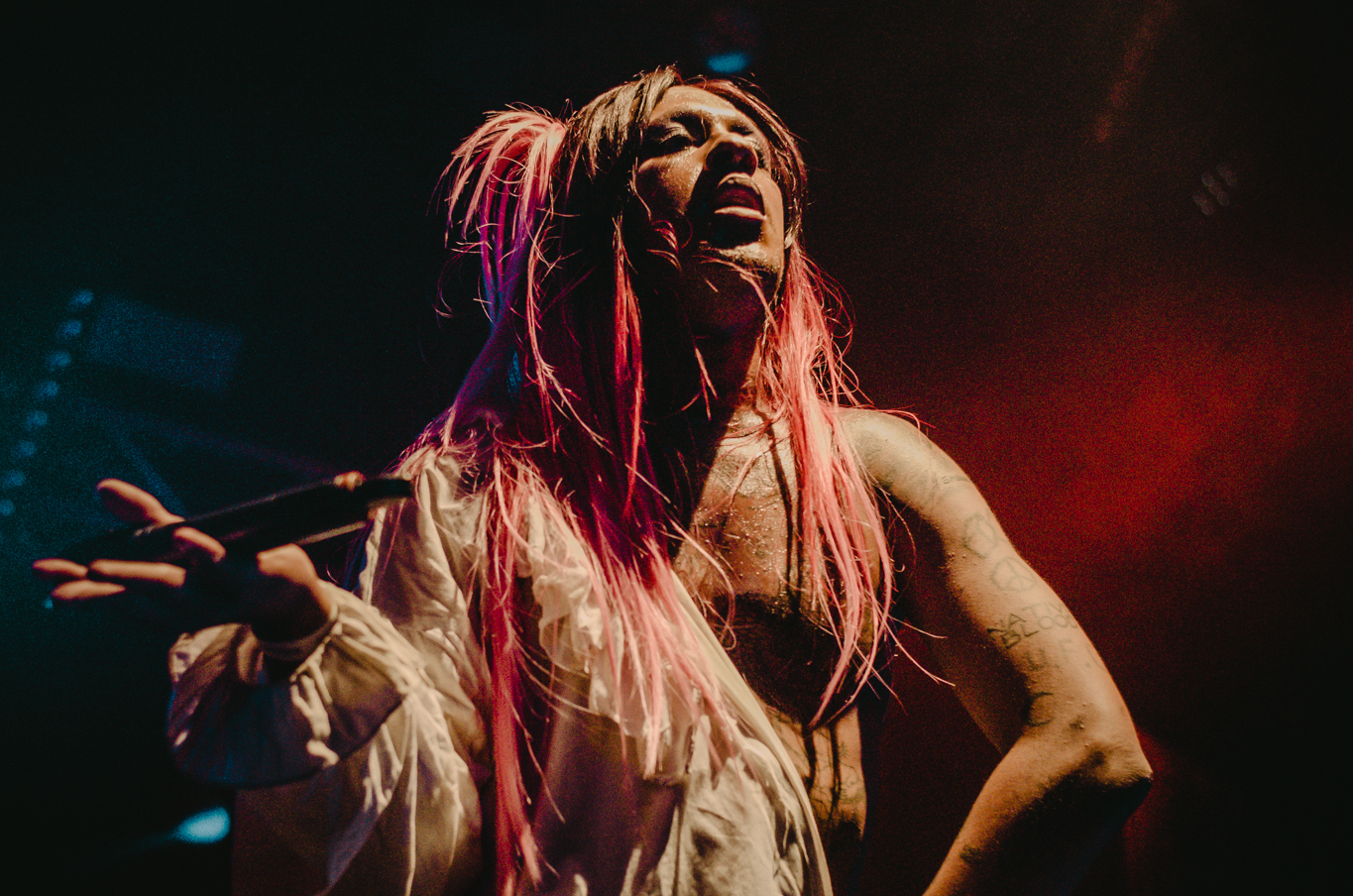 About the headliners (a.k.a. the artists you need to pay to see this time)? Two of them stand out. Happyendless are Lithuania's electronic music legends, going at it for two decades. They won an MTV Europe award once, performed abroad and made several highly innovative videos that got them airplay in places as remote as Turkey. Tonight marks their return to the stage after a four year long hiatus — albeit without lead singer Saulius Prūsaitis, who left to concentrate on his solo career and now plays poppier stuff. That leaves two of them on stage — Andrius Kauklys and Marius Narbutis, who deliver an impressive set of new tunes with pre-recorded vocals by some of Lithuania's well-known singers, vocodered live singing, video projections and an amazing live show. A welcome return.
The festival's main programme finishes with a jaw-dropping set by Mykki Blanco — American queer rap star, who was born a man but now prefers to be referred to as a "she", or rather not feel confined by gender borders, at all. Mykki starts her show in a wig, feeds the audience fruit from her rider, then proceeds to jump from the stage and continues her show there, inches from her fans' faces. It's quite a sight — not missing a note, she twists and moves provocatively, runs around, drags the soundman's metal barrier fences, waves them in the air, then goes back to the stage and slips her shorts, showing her ass to everyone (presumably, a gesture to the cynics and haters).
The crowd goes wild, but the show is not over — Mykki jumps back to the crowd, ends up crawling on the floor, her wig now in her teeth, then runs to the back of the venue, grabs a big plant gets back to stage, smashes the plantpot to pieces, tears the plant apart and gives out leaves and branches to the audience. Lithuanian media would light up with loud headlines the next day.
The evening ends with Mykki ordering a cocktail and dancing with the audience, while the DJ plays euphoric electronic tunes. The fans go crazy with delight. Even if you think it's all a bit silly, Mykki creates a big impression live — somehow, when you see it with your own eyes, it seems dark and dangerous.
It's smiles all around when the last clubbers leave the festival floor at dawn. Another great season of Loftas Fest has finished. Expect the unexpected — again, next autumn.