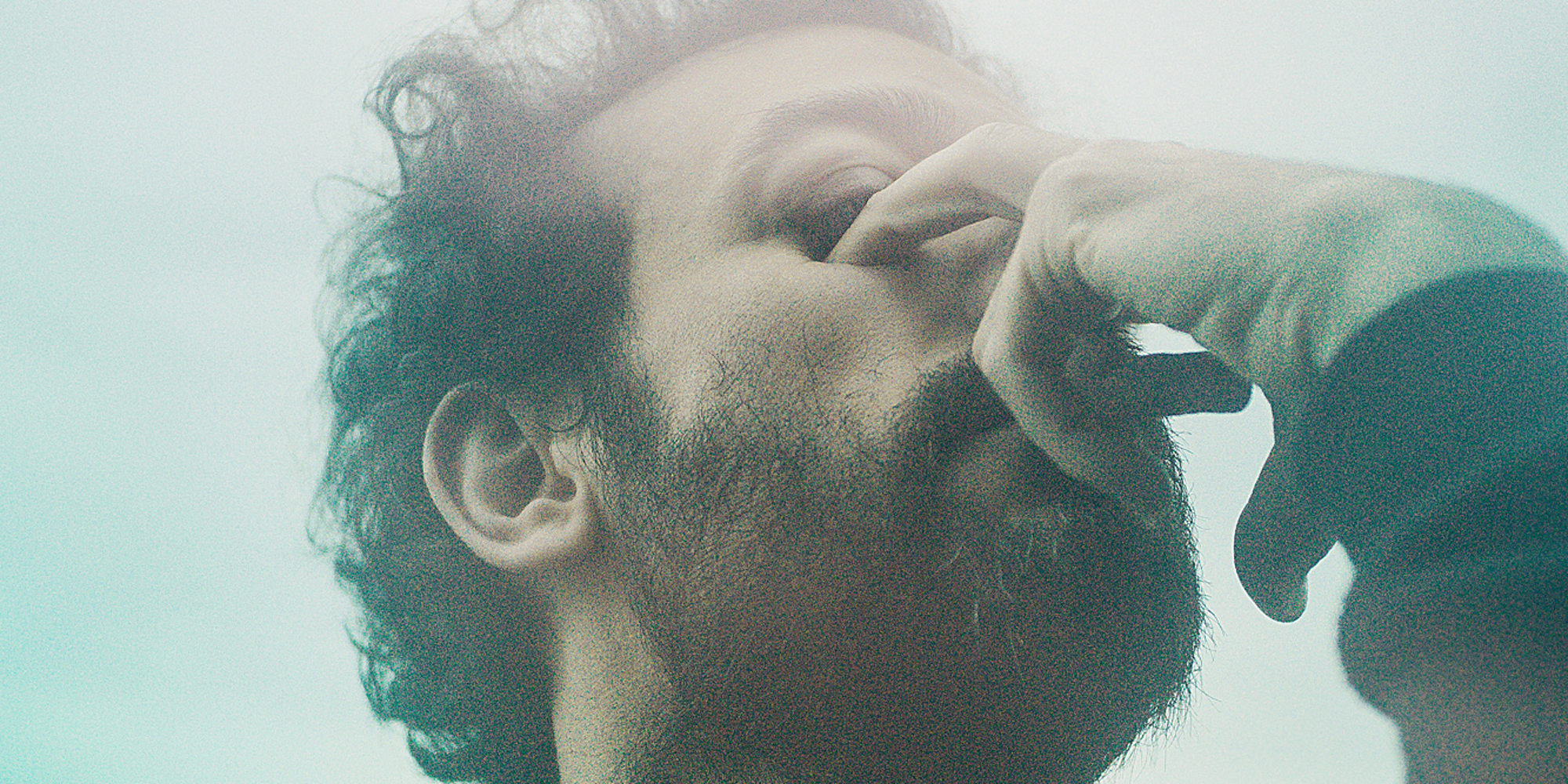 The Greek artist opens up about his experiences touring and travelling around the continent.
An adventurous pioneer
There are two basic trains of thought regarding Larry Gus. One holds that he's an adventurous pioneer whose restlessly exploratory oeuvre has succeeded in carving out a new, sci-fi take on psychedelic pop. The other views him as a weird and chaotic person who probably treats music like a toy while considering himself rather untalented. "I definitely haven't improved much, and on the contrary, I constantly see so many 20-year-olds with much more experience and skill than me," he writes on his website. This comes from an artist who was chased by the legendary DFA Records to sign him, the same artist who has toured almost everywhere around Europe, including his 2014 gig at Europavox Festival, not to mention his American tour! So, is he playing with us? Who knows, and it really doesn't matter. Reading an interview with him or his online diary is much like listening to his music – certain things might not make much sense initially, but they're all part of a bigger and colourful picture.
There are many things worth discovering about Gus, and his music is one way to do so. He loves diversity, comedies, film and literature, and you can see it in the various interdisciplinary approaches to his production process. Take for example his DFA debut, Years Not Living, which was inspired by a complex plan of writing constraints introduced by George Perec in his famous novel Life a User's Manual. In October 2015, Gus released his latest album I Need New Eyes (a title inspired by a Marcel Proust misquote) via DFA, using clearer song writing structures and being more straightforward about his obsessions, anxieties and inadequacies.
Gus became famous for his energy on stage and his improvised live performances, which involve peculiar layers of vocals, bleeps, drums, tribal yelps and lyrics so abstract, you couldn't begin to guess what they mean – or even are. However, as his beguiling melodies take hold, they unveil a tapestry of magic that found an ever increasing audience through the years. At his numerous live shows in Greece and abroad (he share the stage with Mily Chance and Birth of Joy in France in 2014 during a Europavox tour), his fans have the opportunity to watch him playing with sounds, just like a kid let loose in a musical sandpit.
The other way to learn more about Gus is by talking to him. So, in mid-December, somewhere between his live concerts in Geneva and Leeuwarden, we talked about his experiences travelling around Europe and how they affect him in his music. Apart from his undoubtedly inventive and weirdly satisfying artistic nature, he proved to be very humorous and probably very interesting company to travel with.
https://www.youtube.com/watch?v=jAZ3ilIYtU8
"I can easily masturbate in any conceivable place"
What have you discovered about yourself while travelling in Europe?
I love human beings and I love humanity as a whole, but I mostly hate people, which means that I really admire being able to travel alone. Also, travelling light and not having to hold baggage helps everyone, literally and metaphorically, especially yourself. All cities are beautiful, all food is great, all promoters are there to help you, and above all, this is a job, this is work, this is labour, everyone is working, everyone is equal in it. The biggest realisation I had after travelling on my own for so long is that I can easily masturbate in any conceivable place.
What's the most surreal or funny thing that has ever happened to you while touring abroad?
A Japanese guy in Netherlands started singing in Greek in my ear, in semi-whisper mode. He wasn't even drunk!
What is your ultimate travel playlist?
I mostly read books or listen to podcasts, especially comedy ones. My recent favourite is Gilbert Gottfried's Amazing Colossal Podcast. If I had to choose a song while travelling by train around Europe, that would be Polmo Polpo's 'Kiss Me Again and Again', all 22 minutes of it!
If you could relive one gig or musical moment in your life, which would it be?
Edan live during Nuit Blanche in Metz, October of 2009.
Which European city or country (besides your own) feels like home to you?
Italy would make sense as an answer, but I lived in Milan, so it can be considered as an actual home. Therefore I'll just say France, which is the greatest country in the universe.
What fuels your creativity?
Trying not to disappoint my wife's and my friends' expectations.