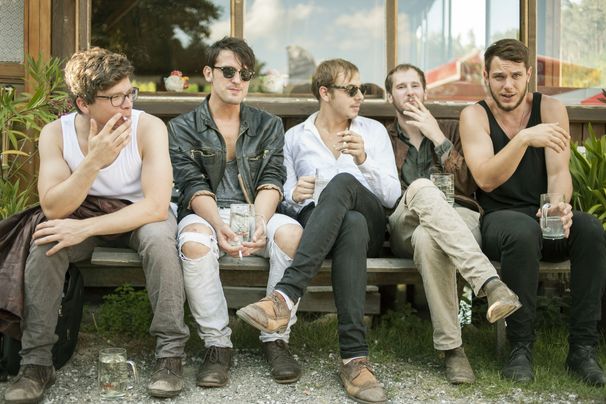 Austria looks very promising for musicians, given its size. Just read further, if you want to know why, with all the key figures on live, streaming, bestsellers and jobs created.
The industry in numbers
The big picture: contrary to the global trend, the Austrian market continued to shrink last year. All in all, it amounted to €137 million, which is equal to a quarter of France's and three fifths of Italy's market. This is quite impressive for a country with only 8 million inhabitants. People are willing to spend money on music, although they were far more willing back in 2001. Since then the total turnover has shrunk by half.
Revenue breakdown
In the major income areas, the breakdown for last year was €73.3 million from physical sales, €33.7 million from digital, and €30 million from sync, merchandise and live licensing. CDs still by far account for the biggest share of all sales, the digital market splits evenly for streaming and downloads. Following the international trend, vinyl and streaming were growing the fastest – with increases of 25% and 56% respectively. Vinyl was considered niche for a long time; today it has already overtaken sync/ merch and DVDs with its €7.1 million figure. One more major income stream stems from €23 million-worth of live licensing and ancillary copyrights.
Streaming
All is set for streaming to become the industry's favourite. In Austria, Spotify, Deezer and Apple Music are the main players. Its share of the market is still relatively low with only 17%, though, while South Korea, Sweden and Mexico are topping this list globally. Meanwhile, it seems IFPI made YouTube their hot topic for the coming months, which basically means putting pressure on Google for better shares of all money earned. IFPI therefore keeps pushing the term "value gap" and is branding current EU copyright legislation as loopholes to be closed. The topic has already been addressed in the Italian market report – YouTube pays less than €1 per user per year compared to €16 from Spotify or Deezer. The comparison seems a little off, as one of them is free to use, just like radio. At the same time, YouTube only accounts for 5% of all streaming income, despite becoming more and more a content curator, rather than just a mere host of user data.
Mobile usage
In general, mobile usage is increasing steadily. Young people spend more than three hours per day on the phone, texting, using apps, taking snaps and watching videos, and 20% of all mobile users already have a data plan with 2GB or more. Hutchinson 3G even has zero-rated Spotify, which means you don't have to worry about mobile data when listening to music, as it doesn't count towards your data limit – a move that has been contested by net neutrality activists.
Artists and genres
Genre breakdown :
Austria is famous for its classical music, but people basically buy pop, rock and schlager – those genres account for more than 80% of all sales. The rest is basically made up of hip-hop and children's music. Things look a little different for singles, where electronic makes up almost a third of all sales. And rest assured, YouTube and social media shifts focus even more (check out the article on social analytics for that matter).
New Austropop hype:
The Austrian music environment was always very welcoming to international talent. Ten years ago, the country had one of the lowest ratings for national artists on the radio and in sales worldwide. Being so close and intertwined with the German market was also a major factor, whose pop and rap productions often dominated the local market. That has changed quite a bit in recent years. With a strong hype around a second wave of Austropop, music often managed to cross the western borders. First there were new bands like Wanda and Bilderbuch with a unique, sometimes dark humour and a sense for simple lyrics with lots of double entendres and hidden meanings. They were immediately followed not only by Voodoo Jürgens, but also a couple of musicians who also do cabaret – the most successful of them all were Seiler & Speer with their album Ham Kummst, which was the third best-selling album in 2015 and has since gone platinum four times. Pizzera & Jaus are now in the same vein, just like Granada are. Curiously, there is not a single woman in this new craze.
Best-selling albums and singles:
Austrians are lazy when it comes to new albums, at least at the top. For the last years, a repeating cycle of schlager, Austropop and international artists appeared on the top. Schlager stars Helene Fischer and Andrea Berg from Germany were dominating, as were Seiler & Speer, Andreas Gabalier and Wanda. The most successful international artists were Adele, Leonard Cohen, Metallica and Volbeat. The Wiener Philharmoniker's famous new year's concert and kitsch-patriotic Die Seer also managed to cling a top 10 spot in 2016. Best selling singles, on the other hand, were almost entirely by international artists, with Alan Walker, Sia and Disturbed on top of the 2016 list.
Media and radio
Airplay:
Airplay is firmly in the hands of international pop and dance productions. There are hardly even any German acts in the mix – you will have to search beyond the top 40 list to find more diversity.
Austrian music quota on public radio:
A quota has been a hot topic for quite some time now. After extensive lobbying and talks with public radio stations, national and regional alike, all parties agreed on a national radio quota – but on a voluntary basis, which basically meant, '30 percent Austrian music? OK, yeah, watch us try…' This deal resulted in all kinds of music with the slightest national participation counting towards that quota, songs were often played at night and on the smaller public radio stations. The biggest station, Ö3, even accused Austrian music of being responsible for its shrinking market share (down to 31% from 38%). In contrast, Radio FM4 (which only has a 2% market share, but strong social media presence) has always supported local and new independent artists. Public radio has played an ambiguous role in this saga.
Private radio:
Austria was the last country in Europe to deregulate the radio market. It was only in 1995 that the first private radio stations started to broadcast. Commercial pop radio emerged as the most successful format, but there are a couple of special interest and free radios like Radio Soundportal, Superfly, Orange 94.0 and Radio Helsinki.
Print and online media:
Music media with potentially high reach includes Vice's Noisey portal. The Gap magazine has been a credible source for 20 years now. The Message has its own perspective on hip-hop, and Volume magazine has a high circulation, helped by the fact that it is owned by Austria's major live promoter, Barracuda Music. Of course, Austria also shares the same language with its big northern brother, consequently German media like Intro, Rap.de, Hiphop.de, 16 Bars, Musikexpress and Visions may also influence local tastemakers.
Social media:
You might want to check out musicmeter to measure the social buzz of Austrian media outlets, as well as musicians, labels, festivals and venues, for that matter.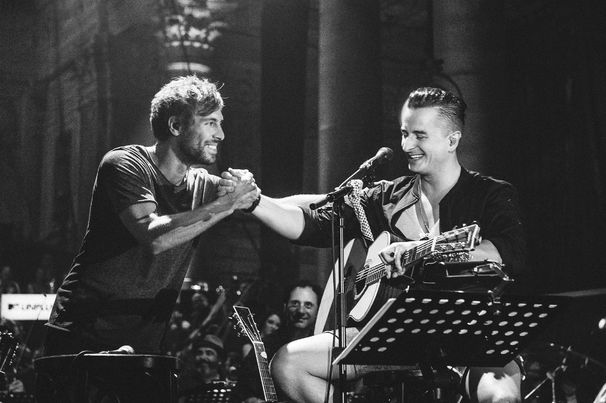 LIVE
Players:
The live market was in turmoil last year, due to new players entering the local market. First, there's Barracuda Music, the long-time monopolist in Austria, with major festivals like Nova Rock and Frequency. Secondly, the publicly-floated DEAG, a new player from Germany, who've tried to establish a rock and metal festival right in the two million people capital of Vienna. Thirdly, Arcadia Live, who started as a local independent player but was taken over almost three years ago by the biggest European live promoter, FKP Scorpio. There was a lot of bad blood, with employers and even festival locations switching overnight. Money was burned, some festivals were cancelled while others were poorly attended, with DEAG suffering the hardest blow. But Arcadia, too, had to cut a significant part of their ambitious programme. And about a year ago, US-American booking leviathan Live Nation quietly entered the market.
Venues:
There is a wide range of venues for hot and cold days, for rock, jazz, classical and electronic music. By far the biggest city is Vienna, with locations ranging from small bars and imperial theatres to outdoor arenas and football stadiums. Local promoters usually know what's best suited for a particular artist. Electronic music has been quite successful for a long time now, with new clubs opening and working conditions becoming more professional. And even German and US rap has got a firm foothold in local live business, with dedicated festivals and a successful event series from the aforementioned Barracuda Music. As a major ski tourism destination, some promoters have started to organise festivals in ski resorts.
Ticketing:
Ticketing is mostly in the hands of oeticket, a sub-enterprise of Munich-based CTS Eventim. Ticket sales quite often incur fees and often are sold exclusively via oeticket. As an alternative, you might want to consider its much younger competitor, Ntry. Ticket resellers aren't a major nuisance yet.
Taxes:
VAT is 13% on tickets. This is higher than Germany, for example, where it is only 7%. This means promoters have to calculate their break-even differently and may not be able to pay the same prices as elsewhere. This is especially an issue the higher the fee gets.
Touring:
You might want to check out How To Tour Austria.
Other Stuff
Licensing:
A huge chunk of revenue comes from licensing for broadcasts and live performances – €23 million amounts to almost a fifth of the Austrian music market. Radio and TV stations have to pay royalties on every song played, making up half of all licensing payments. Another 43% is due to the fact that hotels, bars, restaurants and clubs also have to pay for music. The way all this income is distributed has been controversial for quite some time. The office in charge, the LSG, is dependent on lists they are receiving from various customers and some random sampling. Some people suspect that this opaque mode of royalty distribution favours established artists over independents and newcomers.
Amazon vs copyright claims:
After more than 10 years, Amazon finally lost a legal battle with copyright holders. Since 1980, a small part of the retail price of cassettes in Austria was delivered to musicians and publishers. The reason was that they could be and often were used for copying music. Amazon contested this, claiming that the situation today was different with hard drives, as storage media could be used for lots of different purposes. Amazon stopped paying its share, public sponsorships of music and a social fund had to stop part of its payments. In the end, Austrian and European courts of justice ultimately ruled that the current solution does not contradict EU law.
Added value, music education and other fields:
There are a couple of other fields the IFPI reports doesn't take into account. In 2012 the national institute of higher studies, HIS, presented one of the biggest reports on the economic effects of music in Austria. All in all, the report estimated an added value of €3.35 billion was generated, which results in the equivalent of 50,000 full-time jobs. One major sector not mentioned so far is music education. Austria, and Vienna in particular, has a very high level of education in music schools, conservatories and universities. In 2012 there was an astounding 1,932 institutions dedicated to this cause, attracting lots of foreign students. Studios, labels and publishers make up 10% of all the companies within the music sector. More than 1,000 people sell instruments and literature for music, while another 680 are producing just that. Another fraction of all the people involved with music work in dance schools and museums. But for the most part, live music is responsible for almost half of the total added value, with countless discos, festivals, open air events, concert venues and opera houses on offer.
For some graphs and more numbers, check out the IFPI reports for 2016 and 2015.