Neuigkeiten
---
Music Europe Day: 30 countries, 30 artists
5 min read
---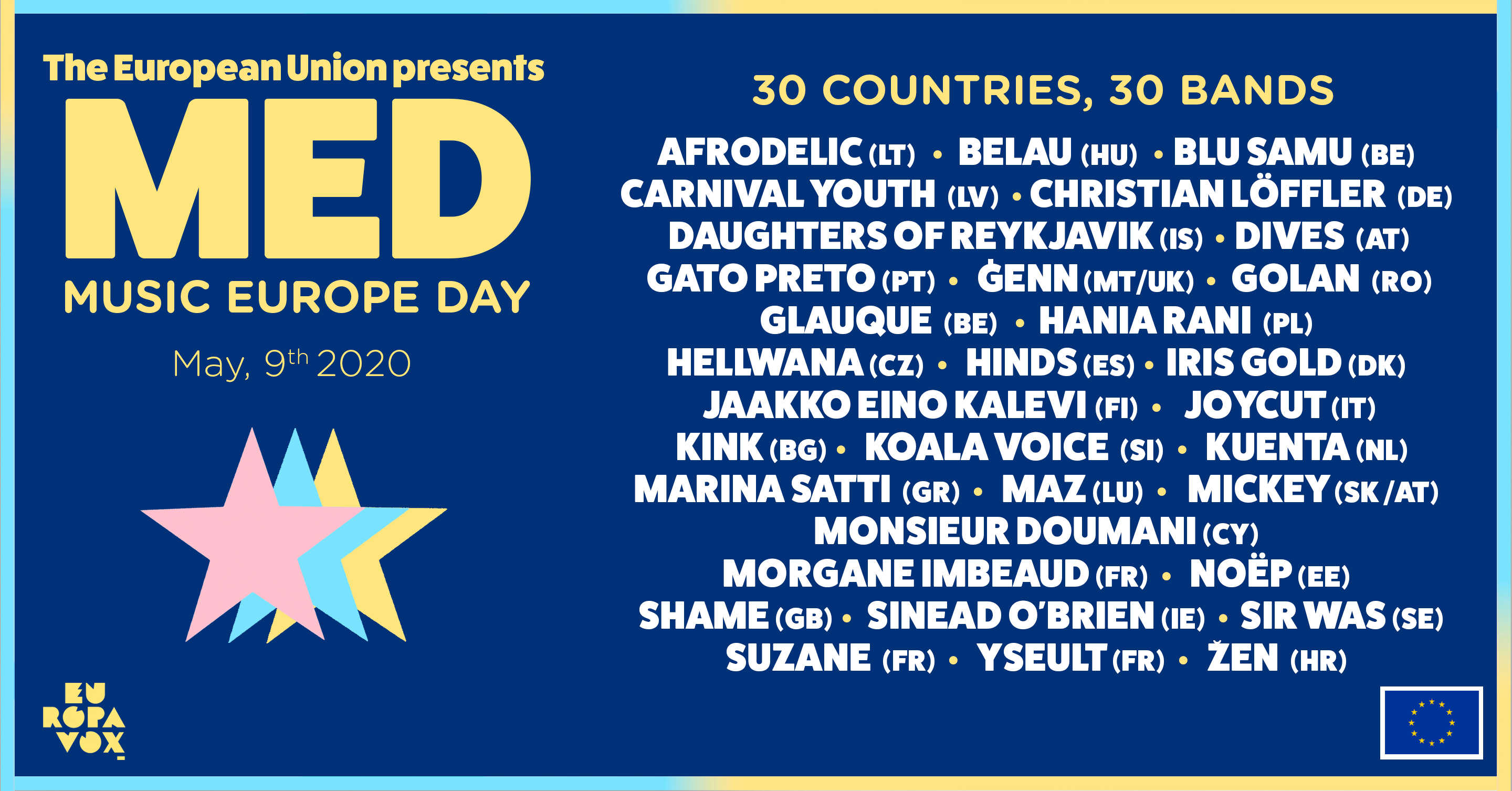 On Saturday May 9th, from 2pm to 12am, the European Union will present Music Europe Day, a project by Europavox
A great musical journey for this day that unites Europeans, with around 30 concerts and talks with artists from as many different countries!
30 artists from 30 different countries will pace this day, introduced by a very special guest: the French pop star ETIENNE DAHO. In a long and friendly interview, Etienne will share his current feelings and emotions, his vision of Europe and mostly his infinite love for what is the main theme of this day: music.
Recorded by whatever means available and with plenty of imagination, around thirty artists from thirty different countries will pass each other the mic to share their music, their optimism and their vision of Europe:
AFRODELIC (LT), BELAU (HU), BLU SAMU (BE), CARNIVAL YOUTH (LV), CHRISTIAN LÖFFLER (DE), DAUGHTERS OF REYKJAVIK (IS), DIVES (AT), GATO PRETO (PT), ĠENN (MT/UK), GLAUQUE (BE), GOLAN (RO), HANIA RANI (PL), HELLWANA (CZ), HINDS (ES), IRIS GOLD (DK), JAAKKO EINO KALEVI (FI), JOYCUT (IT), KiNK (BG), KOALA VOICE (SI), KUENTA (NL), MARINA SATTI (GR), MAZ (LX), MICKEY (SK/AT), MONSIEUR DOUMANI (CY), MORGANE IMBEAUD (FR), NOËP (EE), SHAME (GB), SINEAD O'BRIEN (IR), SIR WAS (SE), SUZANE (FR), YSEULT (FR), ŽEN (HR)
Offered throughout the day on Saturday May 9th, this program, conceived as a great journey between countries and songs, will be widely broadcast on social media, on Europavox's Facebook pages (the media and festival pages), as well as the pages of the European Commission Representation and the European Parliament Liaison Office in France.