Neuigkeiten
---
Outsider: Satan Panonski (Croatia)
5 min read
---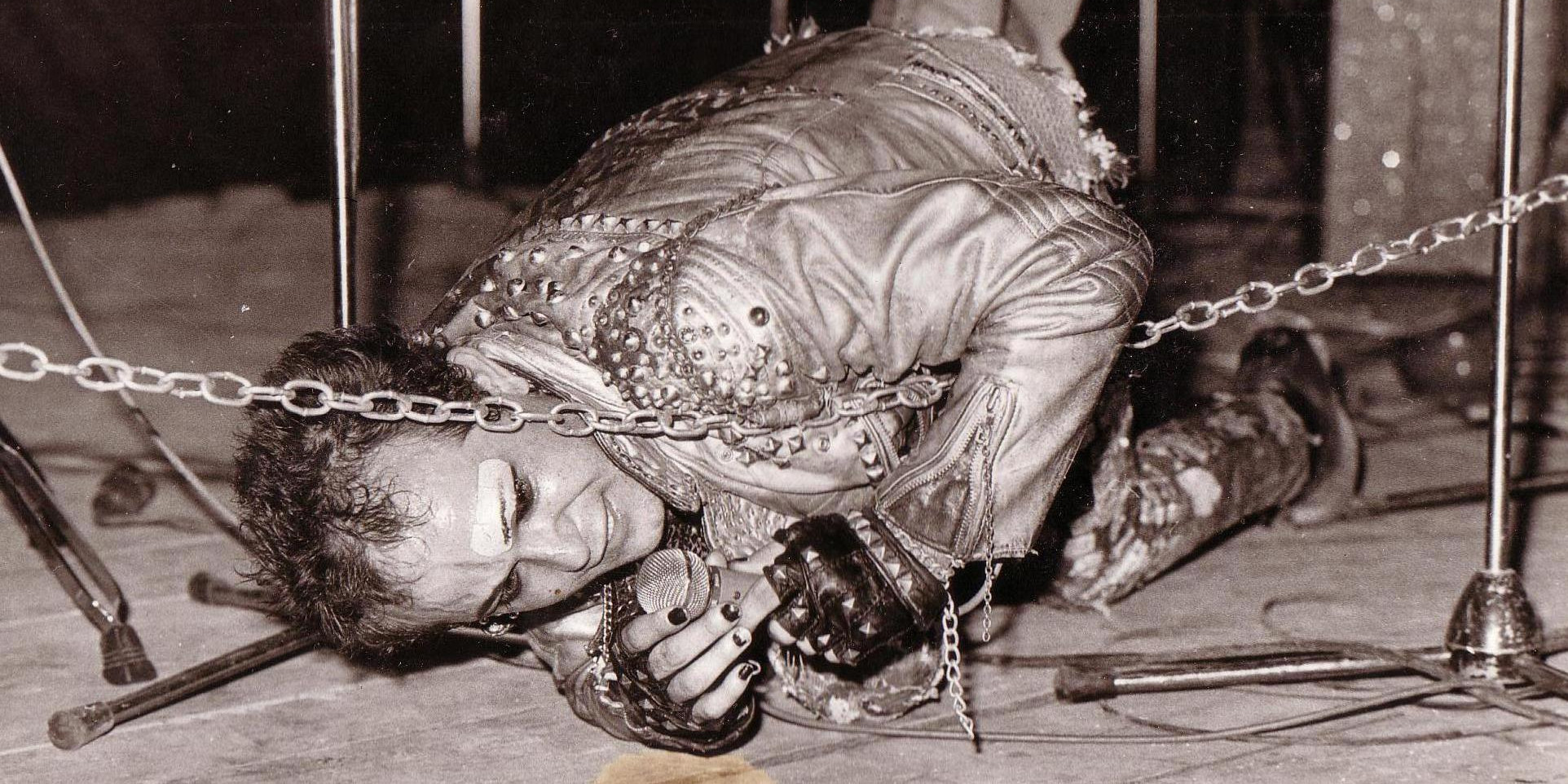 Satan Panonski, punk performer, poet, killer, soldier, was the Croatian GG Allin : an extraordinary character.
Ivica Čuljak, a.k.a. "Satan from Pannonia"
When Anton Papić hosted his friend Pavlo from Ukraine at his home in Vinkovci, in the summer of 2013, little did he know that the next morning, the first place they'd end up sightseeing would be the town's cemetery.
Anton is a born-and-bred resident of Vinkovci, a sleepy town in Eastern Croatia, far from the crowded tourist destinations, far from the buzz of the Croatian coast. In that town of around 30.000 inhabitants, you can find neatly aligned classicist buildings in the town centre, clean, paved promenades, a calm park with horse chestnut trees. Once a year, the folk music festival Vinkovačke jeseni ("Autumns of Vinkovci") takes place there, featuring traditional costumes and folk performances. The town livens up, and you can eat and drink well and abundantly.
The local cemetery wouldn't find its place in a tourist guide, but it held a special attraction for Anton's guest – the grave of Ivica Čuljak, a punk performer, poet, killer, soldier and friend, also known as Satan Panonski ("Satan from Pannonia", the latter being a region to the north and east of the Danube). Anton knew of Satan, as any other resident of Vinkovci does, probably. He even liked listening to him every now and then, but he couldn't even imagine that Satan Panonski was known outside of Croatia.
The Croatian GG Allin
Satan lived for only 32 years, but became a living legend during his short lifetime for his crude music, disturbing performances and uncompromising lyrics that mostly make you grin uncomfortably, and sometimes burst out laughing. Think of GG Allin, but with the provocation directed less towards others, and more aggression and pain inflicted on himself; of GG Allin with less bluntly displayed, yet still present misogyny (or rather misanthropy?); of GG Allin with no racial slurs, but sometimes disturbing nationalistic expressions.
The legend of Satan Panonski goes like this: he was born as Ivica Čuljak back in 1960 in Cerići, a village near Vinkovci. After being a model student, his turbulent entry into the punk scene caused him to drop out of high school. Towards the end of the 1970s, Satan sought psychiatric help, although he allegedly did so to avoid the mandatory military service in Yugoslavia.
During that same time, he started performing under the stage name Kečer II, then in 1979 became the frontman of Pogreb X ("Funeral X"), a band from Vinkovci. Satan became widely known for his peculiar stage performances that included cutting himself with a razor blade on stage. During his performances, he would also recite poetry, break bottles on his head, and cut himself with broken glass. Allegedly, he got an offer to play with GG Allin once – and to cut off his nipple on stage! He said he'd accept the offer if GG Allin did the same. Allin, however, declined.
"I shock people to free them"
Satan used to say he wanted to "shock the audience". He certainly succeeded in doing so, as those who could attend his concerts/performances and stay indifferent were few and far between. "I shock people to free them. When I shock them with my gaze, I know they'll listen to me, and when they do listen to me, then it's hypnosis, madness (…) In these moments, I set them free, I liberate them from the barricades that have been built through education," he tried to explain in an interview for Croatian magazine Globus back in 1991. For him, the violence inflicted upon himself wasn't a fight against the establishment, but a product of his "inability to change things for the better".
Towards the end of 1981, in a fight during a concert in a hotel in Vinkovci, Satan killed a man with a knife. Some claim it was self-defence; the widely adopted version of the story claims that he did so to protect his older brother. Although he was supposed to serve time in prison, he ended up in a psychiatric hospital. During his time at the hospital he wrote and painted, and sometimes he would get out to perform with his band.
He soon started performing solo, under the name Satan Panonski, accompanied by various performers. When the war in Croatia started in 1991, Satan enrolled in the Croatian army, as many young men of his age at the time. A report published later that year in a Croatian journal featured a photo shoot of Satan with a Kalashnikov, posing in a corn field, alongside many disturbing nationalist quotes about Serbs. Some of his last songs reflect that attitude, representing a sad nationalist turn in the career of a man who had once declared himself "a punk by nationality, a friend by profession".
Dead at 32
What would he about those quotes today, what did he really mean, and did he say it in those exact terms? We'll never know his version of the story, because he died the very next year, at the age of 32. The circumstances of his death were never clear. Did he shoot himself with his rifle by accident? Did he die by an enemy's bullet? Or did he commit suicide? There are several narratives, and each one has its supporting facts.
It's hard to sum up Satan's legacy today. There are too many legends about what he did and why, and what he thought while doing so. Those who love him tend to forget his nationalist outbursts and songs that could today qualify as inciting hate speech.
What remains are three albums, poetry, and a myth. Although Satan Panonski was a local and national legend for years, the Pavlo's interest in his place of burial showed Anton that Satan's notoriety outlived him, outgrowing Croatia and even the region. He discovered there was a group on the Russian social network Vkoktakte called Hard Blood Shock, dedicated to Satan Panonski.
Recently, a friend from Astana in Kazakhstan asked him to take something to Satan's grave on his behalf. He has been working on translating several of Satan's songs for punk bands from Kazakhstan and Ukraine. And, in an unexpected turn of events that Satan himself would have appreciated, Anton himself became the voice of Satan Panonski. In 2013, he was approached by punk magazine Teenage Waste from Ishevsk in Russia for an interview. They wanted to know why Satan called himself that, whether he struggled with drug addiction, and if he ever became famous – in his own village.