Neuigkeiten
---
Sonic Visions Music Lab & Festival 2018
Gesponsort / 5 min read
---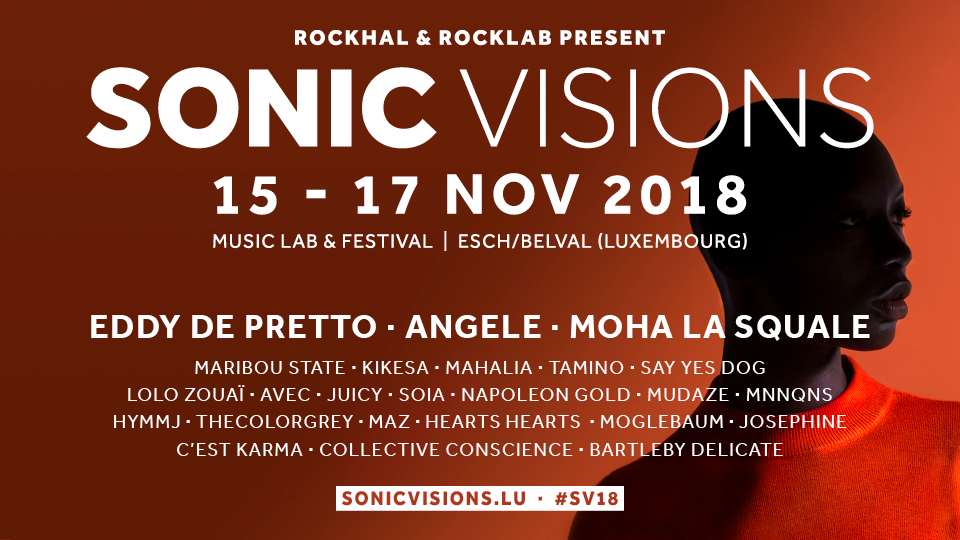 Rockhal and Rocklab are thrilled to reveal the program of the 2018 edition of Sonic Visions. Sonic Visions Music Lab & Festival is the leading event for the music scene in Luxembourg and the Greater Region, and has become a confirmed rendezvous in the circuit of the European music conferences and showcase festivals.
Again Sonic Visions is taking place in the unique setting of the old Belval steelworks, where history meets presence and sets out for the future. The spirit of this unique place reflects the DNA of this annual event: A three-day conference addressing all relevant topics on how music is made, performed, distributed and remunerated today and tomorrow. And a two-day music festival presenting the upcoming 2018/2019 must-see acts from Luxembourg, Europe and beyond. The festival site with its four stages will welcome the guests in a magical setting provided by an illumination in collaboration with the Nuit de Lampion de Wiltz. In addition interactive installations will not only provide light but engage with the festival crowd encouraging them to play, discover and enjoy an urban gaming experience defined by the 80's style of the days of Pacman, Tetris and Donkey Kong. From lunch to late night in front of the main festival entrance, and thus open to the public even without a ticket, the Sonic Visions Street Food Market offers a variety of delicious food for the hungry ones.
A handpicked line-up of amazing artists
This year on the bill is a handpicked selection of international emerging artists: Eddy de Pretto, Angèle, Moha La Squale, Maribou State, Kikesa, Cuco and many more, as well as some of the best music "Made in Luxembourg" with Maz, Say Yes Dog, Napoleon Gold, Mudaze, Bartleby Delicate or C'est Karma to name just a few. Sonic Visions Festival is the unique opportunity to see amazing artists who are about to leave their marks for the next years to come already today live on stage. Get ready for a new adventure and prepare to be amazed!
INFORMATION
The complete festival line-up and conference program is now online on www.sonicvsions.lu
3 Day Music Lab Ticket : 25€
3 Day Music Lab & Festival Ticket: 50 €
2 Day Festival Ticket: 35 EUR
Sonic Visions Food Market: accessible for free, open Fri & Sat noon until midnight
 Conference ticket (including 3 days of both festival and conference): 50 EUR