Neuigkeiten
---
Tech,Tech,Tech: WARM, transparency for radio monitoring
5 min read
---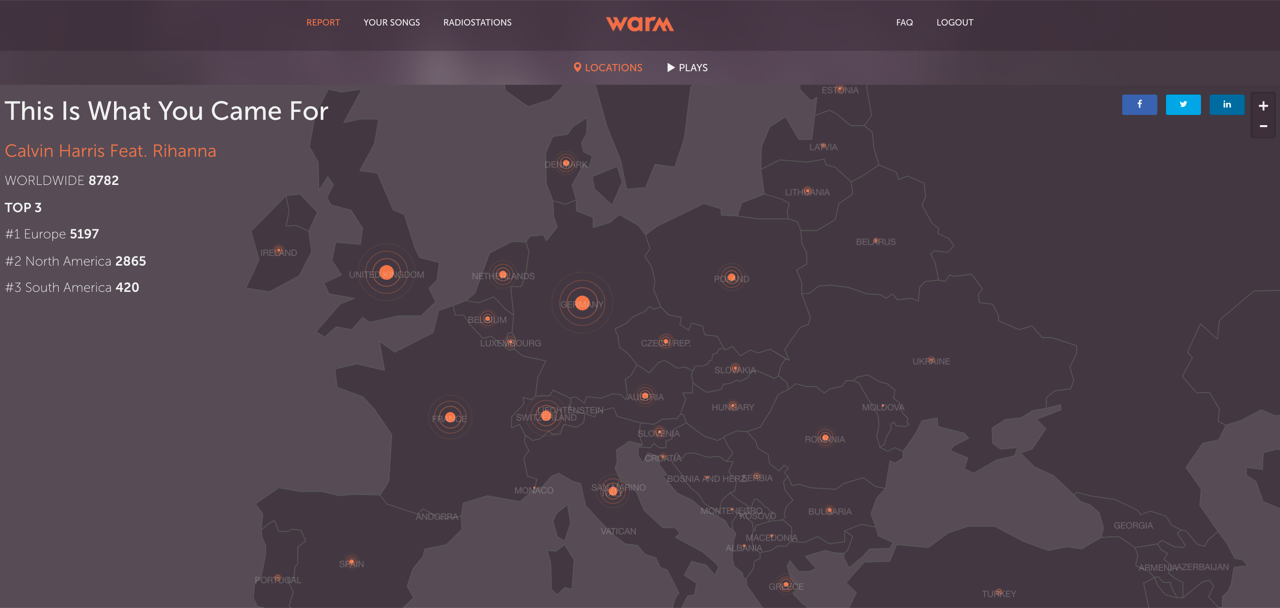 Analytics is one of the most important factors in determining your reach as an artist today, from websites to streaming platforms, album sales to music video plays, it has become a central point for many trying to find their audience. For Jesper Skibsby, an idea came when managing a band and thinking about an analytical tool that could offer transparency for radio monitoring.
What is WARM ?
WARM is the end product of Jesper's search for a service that could monitor radio play of an artist's track; "It is like a Swiss Army Knife" he opens, "you can control reports before sending out to your label, booking agent, getting real-time statistics".
"I think it is pretty important for the music creators and individuals to understand, that the key players of the global music industry both on the recording and publishing side, are prioritising only to monitor the large radio stations. This is because in most countries there are only made pay-per-play agreements with these stations. The rest is based on f.ex sample based tests, which makes it very difficult for upcoming bands to actually get paid for their plays, as their chances of getting selected in a sample based test are relatively small."
Transparency for radio monitoring
"From my point of view, it's a combination of not wanting to make big changes in existing systems and the fact that a lot of people and big institutions are making a lot of money of sample based testing – my estimate is that sample based testing and payments are active on about. 90% of the radio stations, globally. I'm also thinking that some of these major key players and institutions have very big catalogues which could end up being a massive expense to monitor everything."
"But why should everyone else not be able to monitor their own catalogues whether it's for marketing and booking purposes, controlling of radio promotion and collections. That is why I have created WARM. Everyone should be able to know when and where their music is being played in general, and radio is the missing link as I see it. Almost everything can be tracked one way or another, and f.ex with streaming, you are not only being notified if you have been added to a large playlist, you will get notified if you are added into any playlist and more or less in real time. That is the same with WARM – if any radio station we monitor is playing your song, you will be able to see this in real time as we use audio fingerprint recognition and it's 100% accurate."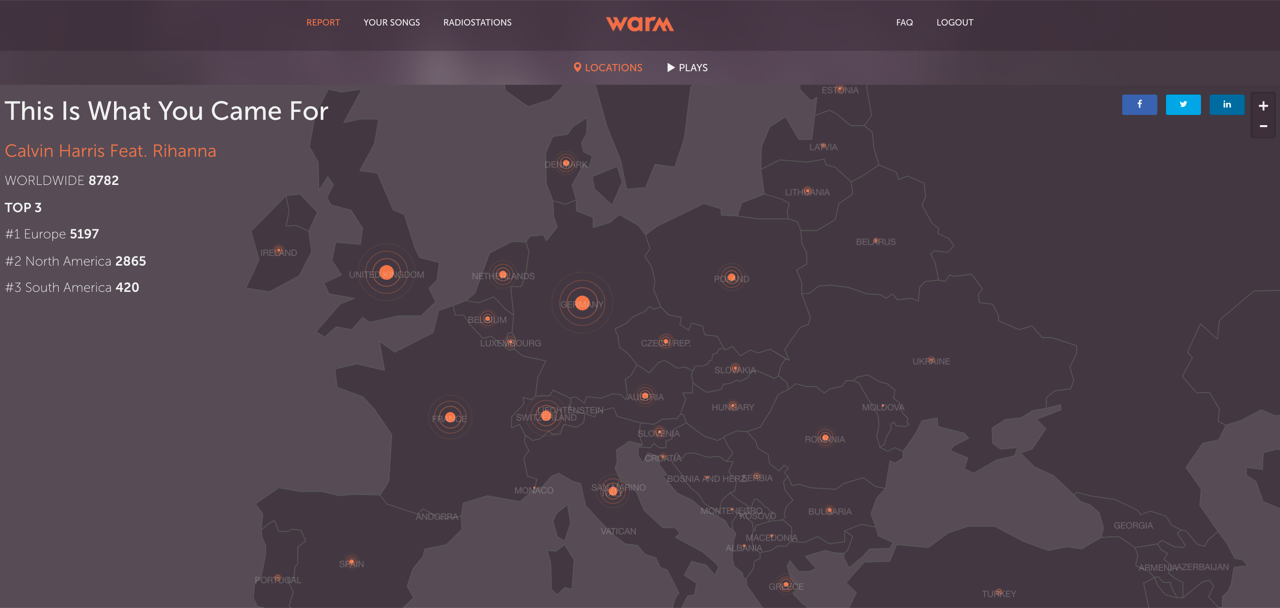 Building A Business
Jesper is joined by CIO Kristoffer Jensen or "the IT Translator" as he nicknamed, and Head of Communications, Sherin Almajid. Both Kristoffer and Jesper met by chance at a football match when their favourite team was in the cup final. They had a lot of mutual friends but had never met each other until then. The pair have been working together for the past year on the project before Sherin joined in May of this year.
Jesper has spent three years working on the project, adjusting and building a new business plan going forward; "Running a business daily. I did not know if I would be able to do it. I think we are the only company catering for this sector. It would be great to have this idea of building access with millions of things around the project. "
"We have a long list of new products and features we want to build. Especially within genre determination and a system which would allow everyone (radios, artists, managers, and labels) to better communicate with each other. I think we need a general system that can handle distribution of music to radio stations, and where radio stations can communicate, and see what other similar radio stations are playing in other countries. This could be very beneficial for both the radios and the creators as I see it."
Offering Something Different
WARM's business model is straightforward, they offer a free one month trial to monitor one song. After that, it is a €5 per month/song. For those who stick with the platform, there is a flat fee of €36 to monitor one song for the duration of a year, with the ability to change the song once a month in that period.
One aspect that showed the idea was marketable was to find out if it offered something different for bands to engage with it, "We did a survey, I really wanted to know what the users thought." says Jesper, " 85% of the respondents said they would use WARM on their next release. 89% of the users would recommend it, and 72% have found new radio airplay using WARM."
"I don't really see any direct competitors catering for the creators and individuals directly, but other monitoring services are focused on covering only large stations or selected stations in specific countries or areas. Our goal is to cover as many radio stations as possible on a global scale. We are currently monitoring more than 22.000 stations in 124 Countries and 6000 cities, and we expect to cover 95% of all radio stations in the World within 2019. In comparison and without mentioning any names, several other radio monitoring companies are covering 3000-5000 radio stations."
"For this data to be relevant to the creators directly, we have to cover 'all' radio stations, as not all music is being played on the large radios. A lot of radio stations are local, genre specific, school/college and community radios f.ex, and they are not necessarily only playing Billboard top 40."
The Journey
If there is one obstacle with a startup, it is trying to secure funding so you can get off the ground with your idea. Aside from this common factor, what else would Jesper do differently and what would he recommend to others? "I would have started building the tool without a credit card." he jokes. "Honestly, not a lot of things. It is a journey and as a startup, you have to go through different experiences and you learn from your mistakes. When we do bug fixes, you might have another causing a new error [to fix the problem]. So, I don't think there is anything I would change. I invested everything I could physically and financially. I wouldn't say it was unrealistic, there is a big market out there and a part of the industry that doesn't like this transparency. There is a lot of who would prefer this [tool] did not exist. Me against the world a bit. But do not be afraid to make decisions and errors and you can use that for future ideas. I was just a guy with an idea and it turned out great. Every single thing in this aspect, I have never tried or done before."
For Jesper, the project not only created something tangible that musicians in the industry could latch onto, but it did propel him into the startup sector also. Working from their offices in Copenhagen's Founders House with a network of 40 companies. They help and learn from each other in spaces like this, which is why Jesper and the team believe it to be crucial, "I would say that startups should really think about where they locate. For us, Founders House has been essential and you can talk with people and see how the scene works. So being in a place like this you can learn and find out about things like an accelerator program in LA or for example, winning the Startup Sesame because we got referred from another startup. I would never have known unless it was recommended."