Neuigkeiten
---
The Tortured Artist: Exploring Music's Profound Problem with Mental Health
5 min read
---
With mental health issues coming more into the public eye in the 21st Century, how are musicians coping, and how do those at the coalface view the problem?
Music, there's no question, makes me happy. I suspect that's true of a whole lot of people. For a lot of other people, however — those that make music, seemingly, above all — it is the accompaniment to a profoundly challenging life.
A glance at the dark side
One of music's most famous cultural references is the sad losses of the 27 Club. Made up of a long list of artists who, for various reasons, all passed away at the painfully young age of 27.
Of its most famous members, the causes of death do not make pretty reading. Kurt Cobain (suicide), Amy Winehouse (alcohol poisoning), Jim Morrison (heart failure), Janis Joplin (drug overdose), Jimi Hendrix (asphyxiation), Brian Jones (death by misadventure) and Richey Edwards (disappeared, presumed dead): these superstars passed away through a mix of difficult lifestyle choices and, tellingly, internal struggles.
It's a cliche that great art comes from great sorrow and hardship, but one that many of us can unquestionably relate to. Evidence, though, is starting to show that there are other aspects, too, that play into the apparent struggles of those who choose music as a career.
In researching this article, many of the people I spoke to suggested that it might be something of a vicious circle: difficulties with your mental health often lead to a devotion to making music as a form of outlet, but also, in turn, feed into an uncompromisingly tough associated lifestyle.
Of course, this view could be attributed to a number of things, from confirmation bias to correlation not necessarily amounting to causation. The thing is, the evidence very much backs up the case.
How bad is making music for your mental health?
A British charity, Help Musicians UK has a particular mental health focus. In 2016, they conducted research into the impact of a career in music on mental health, unveiling some astonishing figures.
In their University of Westminster study "Can Music Make You Sick", key findings included that over 70% of musicians believed they had experienced high anxiety or panic attacks. 68.5% believed they had experienced depression. These figures are three times greater than comparable stats for the general public.
The charity runs a programme called Music Minds Matter, an around the clock support line aimed at helping musicians with emotional issues, as well as practical advice, and pointing them towards obtainable mental health services. The charity has become very familiar with the issues expressed to them by more than 5000 musicians in the past year.
"Evidence shows that the low income, unsocial hours, irregular employment, working away from home and continuous use of the body in repetitive activity can all take their toll on musicians," the charity say. "Our 'Can Music Make You Sick?' research investigated factors that impact on a musician's mental health."
"Some of the themes we found included musicians' need to express their creativity, the fact that music is a unique, stressful and precarious industry, requiring luck as well as talent. There's also the difficulty in defining 'success', particularly as money isn't the only barometer."
"Discrimination, harassment and abuse all add to these challenges. Concerns about money worries were a constant theme in the conversations we've had with musicians. Some emerging artists have one or more jobs to not only survive, but also subsidise their music making."
"A dubstep producer from London said: 'I wake up in the morning and the first thing I
think about is money…it's constant stress.' One of the most important findings from the research was that those working in music were up to three times more likely to suffer from mental health struggles compared to the public."
The idea that putting your art out there in public opens you up to emotional judgement also played into musicians struggles.
"Many respondents in our survey said that they felt vulnerable to the criticism of others," Help Musicians Uk continued. "As one producer in Manchester puts it, "music is you. Stark naked in the street." A folk musician in Cardiff echoed this sentiment: "Writing and then putting music out in a public domain and waiting for some kind of feedback…that can make you really vulnerable", he said.

Musicians have started to speak out…
It's impossible to miss this kind of pattern when you work in any area connected to music. Musicians tell you the stories behind their tracks, some of them huge hits, but often riddled with self doubt, anxiety, or even self harm.
I once called Tony Wright, a Northern Irish musician who performs under the name VerseChorusVerse to talk about his new project, and learnt very quickly that he was living on friends' couches, essentially homeless.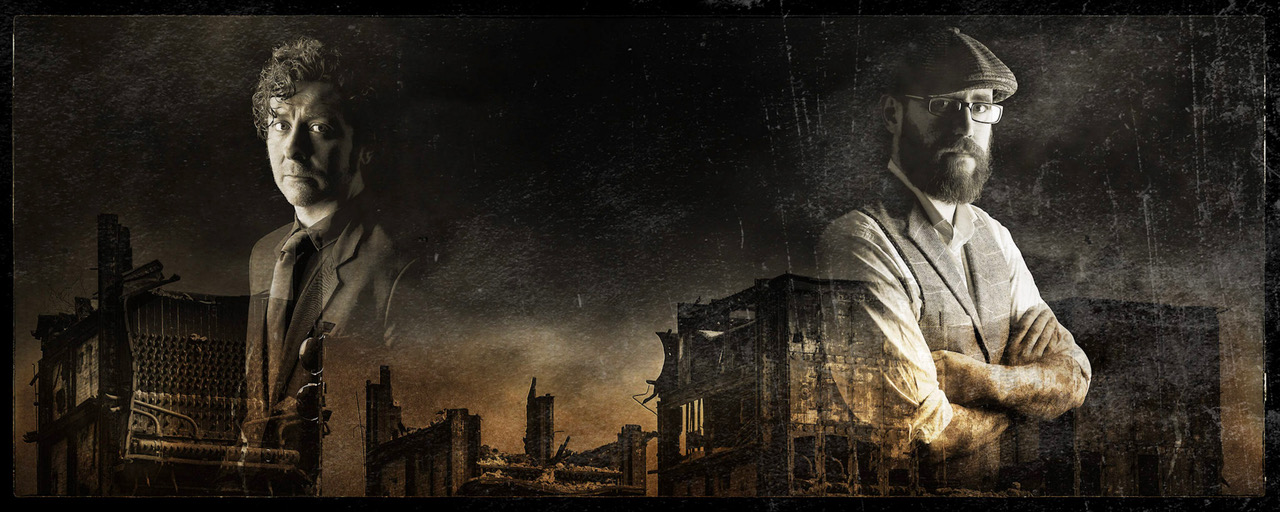 Oddly jovial as he explained his situation, Wright told me "I'm lucky enough to have a lot of friends who'll put me up, so I'm not literally on the street. It's partly circumstance and partly government policy that has me here. But mentally I'm doing well now. Some days it's like walking a tightrope, and you have to keep your eyes on the horizon to be sure you don't fall off, but I'm doing okay, I'm allowing myself space. Technically I'm homeless, but I'm still smiling."
Wright is not a household name, but he's certainly had some substantial success: he toured alongside the Foo Fighters on a Europe-wide tour with his former band And So I Watch You From Afar and recently released a book on his life. That he's been so outspoken on his own diagnosis of bipolar disorder, and the challenges that come with it, is just one example of musicians starting to lift the veil on their struggles.
Ireland shows that it's good to talk…
Ireland, generally, has undergone something of a revolution in mental health circles over the last decade. Having been hit extremely hard by the economic recession that pummelled the country a few years ago, the island found itself facing into a crisis, with rapidly rising suicide levels, an abundance of tough personal circumstance, and families torn apart by work-led emigration.
David Kitt, a leading and extremely widely-known figure on the Irish electronic scene, only recently announced that he could no longer afford Dublin, and feels forced out amid one of the city's most creative periods.
In some senses, the country still clings to a traditional "men will be men" style culture, a dynamic that meant issues were felt particularly by the traditionally sturdy male population. The work of charities looking to reach out has started to shine through. Pieta House' regular Darkness Into Light walks turn a great metaphor of a sunrise stroll into a symbol for emerging from hard times, as they fundraise to assist those with suicidal thoughts. The charity, now nationally known, only formed in 2006.
Bressie, who quit professional rugby to front a rock band called The Blizzards, and then headed out solo, has, on the face of it, lived something of an idyllic life. It's not that simple, though: he's spent recent years talking about his own mental health difficulties and trying to connect with the public through a programme called A Lust For Life.
"Don't look at therapy or counselling as an admission of failure or as something of weakness, it is the opposite," he's said. "It is actually an indication of strength. Look at it like if you had a sore knee, you would go to a physio. This is what they do, don't expect to be fixed in 15 minutes, it takes time. Invest in it, believe in it."
Stepping up for each other
As well as musicians, there are entire chunks of the Irish music scene that have looked to step in against the rising tide. First Fortnight, a fast-growing festival aimed at filling the creative fallow period in the New Year with spaces where mental health is open for discussion, has been a big hit in Dublin and beyond. CEO David Keegan has a profound background of mental health difficulties himself, which have allowed him to connect intuitively with the people he works with.
"We would identify artists as amongst the most vulnerable communities in the country," Keegan told us. "Most artists, even recognisable names in the arts, are operating at below the minimum wage, just on the line of being homeless. They walk that line of producing unbelievable work and overcoming the stigma of poverty. Artists open their hearts and minds, explore personal themes through their work. It has to be a passion, it's certainly not for the money."
That Keegan was able to identify this trend before it became a household discussion is very much a sign of his own past experience. He uses his background positively, creating what he calls "safe spaces" for people to talk about mental health during his festival, and finding that, given the right environment, many people are ready to share, to connect, and to lift a little weight from their shoulders.
"For me, I started self-harming when I was 16," he explains, "I loved music, and singing. But singing wasn't very masculine. I needed a prop to be able to do it, so I learnt guitar. It's interesting in itself that it's how I justified singing. I expressed myself through these songs, and that's what maintained me. I was very aware of the power of music and creativity. I wasn't writing those songs for anyone but me."
Music was Keegan's escape, but he was never a professional; he rarely performed publicly. His experience in his personal life and with First Fortnight, though, have made him a natural advocate for a profession, as he looks to reach out to the broader public when it comes to improving our own outlook.
"It's with great pride that we've built up this festival from nothing to an event that pays 500 artists at the quietest time of the year," Keegan says. "We're going to be rolling out a tailored service for artists dealing with mental health next, trying to provide an outlet for people to talk about things and get some of the support they really need."
"We're in the strange position of being very proud of what we've put together, but really wishing it wasn't necessary."
There's plenty of positivity to be found in the progress around mental health and music in particular, then, especially in recognition and in services. But it's also easy to forget that those producing the music we love — in a majority, research suggests -— suffer profoundly for their art, destabilizing lives and, in some cases, bottling up and intensifying deeply-felt problems.
"It came home to me how important this is when I sat in an airport, and saw a girl with her arms cut to bits, the kind of scars she'll have forever," Keegan said of one of his most memorable mental health experiences. "She just looked blank, and her mum was sat next to her looking devastated."
I wanted to go up to her and say 'it's okay, that you can come out of the other side of this kind of thing. I did it.' It's one of those situations, I guess, where it takes one to know one. I didn't go over, I didn't feel like it was my place. But it just brought home how important it is that we're all able to open up and communicate about this stuff."
Resources
Help for Musicians UK kindly provided a list of contact details for anyone affected by mental health issues, musicians especially, to sit alongside this article. If you're affected by the issues discussed in this article, please reach out via the following contacts, or the author would be happy to hear from you.
Music-related resources
Music Managers Forum – Beyond providing resources and networking for managers, the UK-based Music Managers Forum, in conjunction with Music Support, also recently produced a Mental Health Guide specifically for managers. Topics covered include anxiety and depression, drug use and alcoholism, setting boundaries, and more.
Music Support – Beyond serving as a mental-health resource in the UK, Music Support strives to help those battling addiction to drugs, alcohol, and more.
British Association for Performing Arts Medicine (BAPAM) – A resource that, as the name might imply, works closely with the medical side of mental health, BAPAM features a directory of psych-social doctors broken down by UK region. Currently, Music Minds Matter is working with BAPAM to build a network of clinicians and professionals across the UK.
Change Direction (US) – The goal of this US-based organization is to start conversations and "change the culture" around mental health and wellness. Recently, Talinda Bennington, widow of Linkin Park's Chester Bennington, who tragically took his own life in 2017, launched the 320 campaign to create programs and resources, like a five-sign guide, to help those struggling with their mental health.
General resources
Samaritans – A 24/7 helpline available to the UK and Ireland.
National Suicide Prevention Lifeline – A 24/7 helpline available to the US.
Mind (UK) – Beyond providing a mental-health helpline, Mind also has a legal helpline and a dedicated "blue light" helpline for emergency workers and their families. Also, for those who prefer not to call, they offer a textline instead.
CALM (UK) – Founded in response to the rising rates of male suicide — in 2015, 75% of all UK suicides were men — CALM (Campaign Against Living Miserably) offers an evening helpline and webchat.