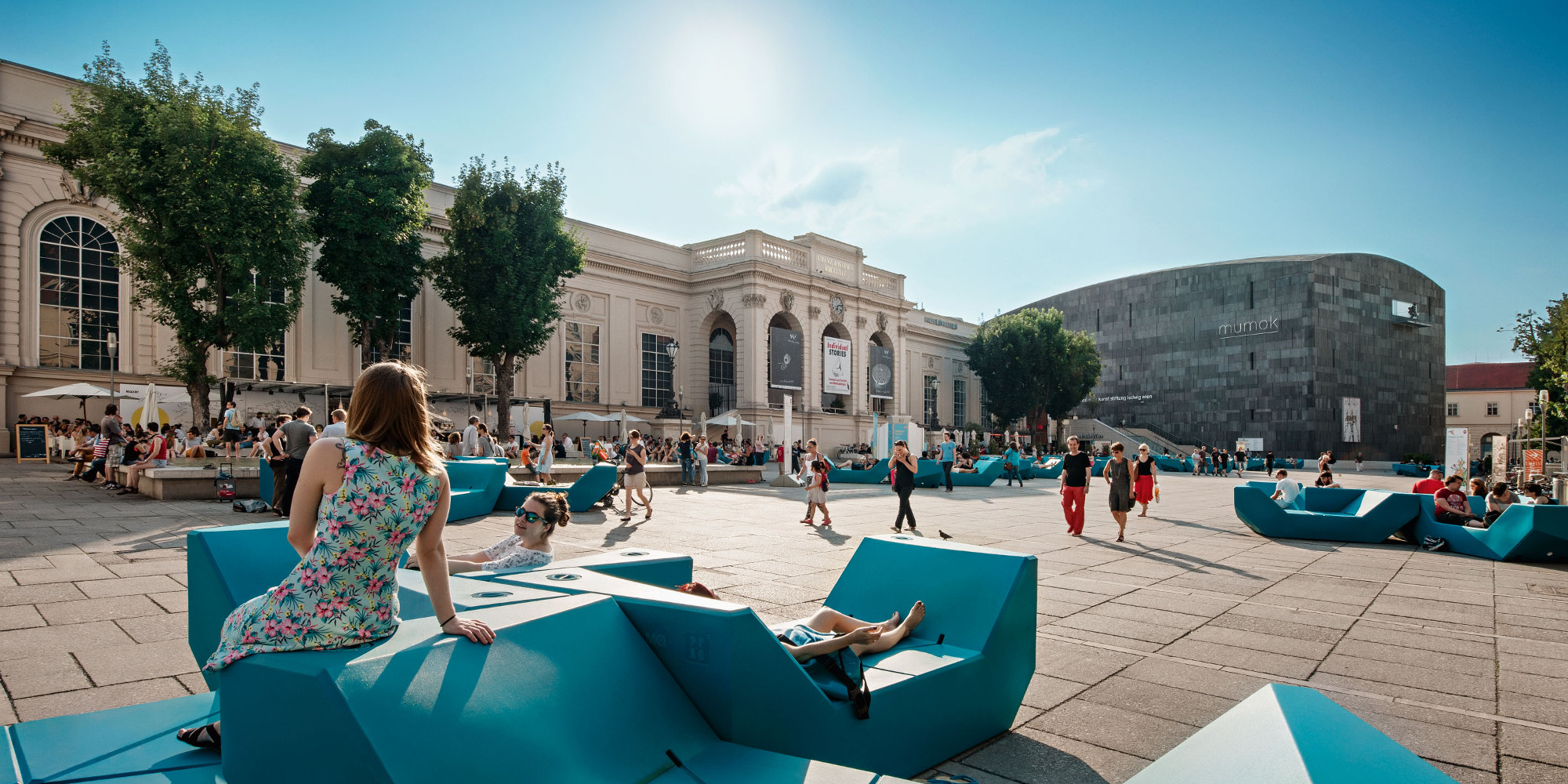 From dusk until dawn, what to eat, where to drink, to listen to music, to dance or simply to enjoy the atmosphere in Vienna.
The center of Europe
It's not only about Vienna's grand imperial past: in 1991 the Iron Curtain fell and finally placed the city back into the centre of Europe. Since then, the Austrian capital has witnessed a heyday of electronic music – with downtempo lumiaries Kruder Dorfmeister and avant-garde pioneer Fennesz, it pushed electroswing, smooth, deep house and balkan beats to a global audience, and has seen a resurgence of cultural life in general. Museums, contemporary art and music are far more prevalent than most other cities of its size. Vienna has also topped the Most Livable Cities in the World list for a couple of years now.
Winters can be quite harsh around here, so the old-timey thing to do as a tourist is to go to one of the many Christmas markets in December or a glamorous ball in January of February. In summer life is quite different, however, with people sitting in sidewalk cafés while others drink wine at traditional heurigen. Vienna is also a city of sausages and cakes – grab a käsekrainer (cheese kransky), leberkäs (baked corned beef, bacon and onions), schnitzel or something sweeter like apfelstrudel, gugelhupf (bundt cake) or sachertorte. For more bohemian things to do, look no further than here:
Afternoon
Museumsquartier – This is where urban youth and the bourgeoisie hang out day and night all year round. Situated between two impressive museums and spread across several squares, there are galleries, shops, cafés, a pop music archive and lots of leftfield spaces to discover – even contemporary opera, huge pop concerts and dance happen at the MQ from time to time. And don't miss the free Electric Spring festival in April.
Substance – This is the best place to shop for vinyl and CDs in Vienna. They maintain a strong local repertoire plus a decent book selection. Make sure to visit if you love jazz, but if you're more into reggae or electronic music you might also want to visit Rave Up Records or Black Market.
Donaukanal – In summer the Donaukanal becomes Vienna's inner city beach. You can eat and drink at this two-kilometre waterfront strip, look at impressive street art and maybe even catch some nice beats at places like Hafenkneipe, Central Garden or Slow Tacos.
Early evening
Zweitbester – Take nothing less than the second best; Curtis Mayfield's lyrics ring true at Zweitbester. They don't aim to be the finest cooks or have the fastest service, but they more than make up for it with great atmosphere, good quality and very affordable prices. And sometimes you get to see a concert, a market or an exhibition at the toilets. Yes, at the toilets.

Donau – With no signage and just a metal door to indicate its existence, Donau is a Viennese nightlife institution. No other place in the city ha managed to keep up with ever-changing musical tastes for more than 30 years. Located in a former synagogue, you get great DJs, shimmery light installations and smoking booths inside of ski gondolas – all without an entry fee.
Zum Gschupftn Ferdl – This place brings you a classic Viennese heuriger (where you can drink white wine and eat cold dishes) immersed in a 1980s computer game. Apart from its appealing design and food there also are concerts from Austrian artists who usually play far bigger venues but enjoy the blend of old and new here.
Night
Grelle Forelle – The best club in town. Period. For more than three years no other venue in Vienna has been able to match its high-profile DJs and concerts. It's mostly techno and house, but rap, classical and black metal also fit in here nicely, while markets, food events and discussions take place here, too. Outside, there's a waterfront terrace for hot days. To top it all off, the club has repeatedly told Austrian right wing politicians to fuck off.
Rhiz – For almost 20 years the Rhiz has been the key playground for avant-garde music in Vienna. Fennesz, Mego Records and Radian could've had regulars' tables here. New waves of glitch, lowercase, vaporwave, drone and minimal music always find a supporting homebase in this venue. Situated under the arches of a metro line in an area with several other bars, at the weekends the programme at the Rhiz tends to be a little more accessible than its usual awesome brrzz and KRFkbFF.
Fluc – Few places have such a diverse program. Rave, noise, drum'n'bass, punk, indie, gay nights, alt-country, stoner rock, cabaret all feature here, so you might want to look what's happening before visiting. At the overground floor, which is always free, you can have drinks in an oasis of deconstructivist chic while looking right at Vienna's giant ferris wheel.