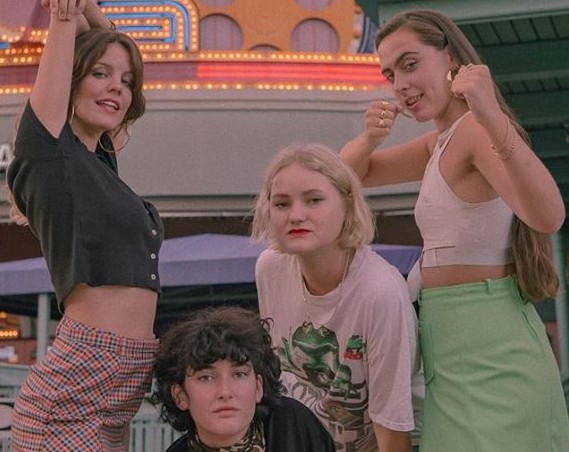 À propos de
Artistes comparables
The Strokes, Pavement, Sebadoh
Freestyle
Malasaña Sound 2.0
" The most international Spanish band "
Malasaña was the epicenter of the earthquake that shook Spain in the days of the Transition. That same neighborhood is the one that has seen Hinds and The Parrots grow, the two most important national indie rock bands. Hinds began as a duo, formed in 2011 by Carlotta Cosials and Ana García Perrote under the name of Deers. Three years later, they hung their first demo recordings on their Bandcamp page. These demos included "Bamboo" and "Trippy Gum" that quickly captured the attention of English specialised media such as "The Guardian" and "NME".
Due to the need to bring their songs live, the duo became a quartet incorporating Ade Martín on bass and Amber Grimbergen on drums. At that moment, Hinds was born as we know it today. After another single release by British label Lucky Number, they toured France, England and Germany. After that, they returned to Spain to record their first album, Leave Me Alone, with the legendary producer Paco Loco. The success surprises them and, from that moment, they keep breaking records and achieving feats until then utopian for the Spanish culture.
This year, Hinds have released their second album, I Do not Run, and it shows an enormous maturity and some amazing compositional advances. The band's psychedelic lo-fi style can look at the faces of the genre's greats without blushing. The great pride of Malasaña is conquering the world.