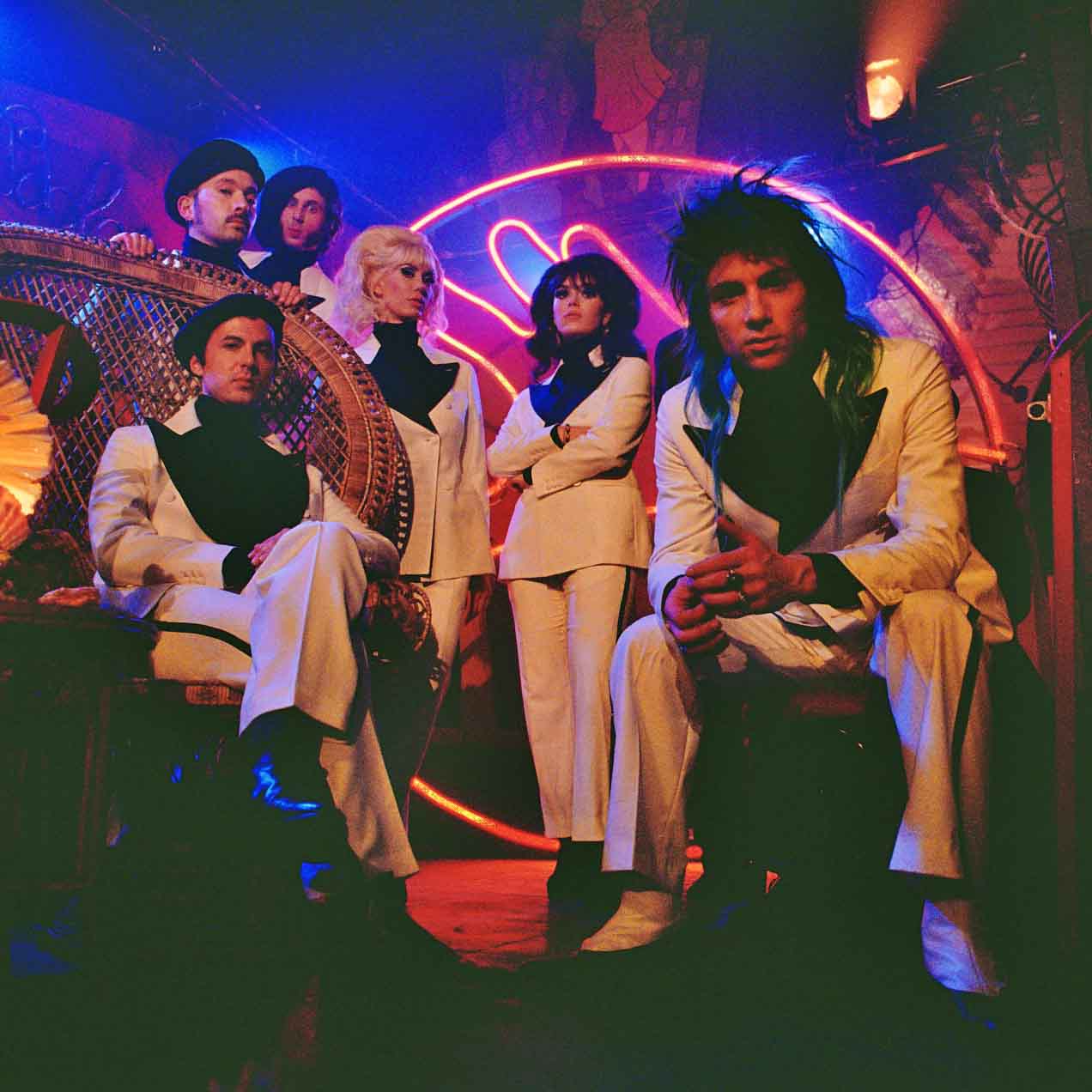 À propos de
Artistes comparables
Françoise Hardy, B-52s, The Drums
Freestyle
Dirty crazy French pop
" The ideal sound and the vital energy to transmute the violence of the modern era into crazy, positive, clever and electric escapism "
We saw it coming from afar. At first a modest, but already powerful wave. Two guys from Biarritz, Marlon Magnée and Sacha Got, not even old enough to legally drink alcohol – but probably drinking loads of it nonetheless –, started writing and releasing songs at the beginning of the decade. Several EPs and singles, a growing audience on the internet – the wave grew bigger and bigger and bigger, until it was reclassified as a tsunami with the (re)release of their exhilarating hit single 'Sur la planche' in 2013 and their exceptional first album Psycho Tropical Berlin the same year, which received critical acclaim not just in France, but abroad as well.
The sensation kept growing on the edges, on stages, in larger and larger venues: concert after concert, festival after festival, improving their sound, gaining in charisma, strength and pure rock efficiency, Magnée and Got, joined by Clémence Quélennec, Sam Lefèvre and Noé Delmas, slowly but steadily recruited an impressive legion of zealous fans. A few indie ayatollahs hate them with a passion; that's the usual price of success when such listeners feel they don't own it, when it doesn't emanate from the strict commandments of their Book of Good Taste. But hordes of dancing, raving, infatuated young and not-so-young people discovered the perfect songs in La Femme's music, the ideal sound and the vital energy to flee from the dullness and insecurities of their imperfect everyday lives, to transmute the violence of the modern era into crazy, positive, clever and electric escapism.
They probably understood that the band's lyrics were much more vicious than what their surface shows. That beneath faux teen naivety, beneath their sometimes unexpected themes (who else could write a great tune about vaginal mycosis?), beneath their constant and explicit lubricity were hiding incredibly relevant statements for a generation struggling with its identity, its relationship to love, desire, sex, frustration and despair, its blurred horizons and its place in an ever-transforming society. La Femme's mass of fans probably didn't spend too much time analyzing the band's music, preferring to lose themselves in this mind-blowing and hectic patchwork of rockabilly, psychedelic pop, surf rock, electronica and kraut, in this meeting of the B-52s and Françoise Hardy, of Taxy Girl and Broadcast, of the yéyé (the French take on American rock 'n' roll in the 1960s) and the future of amplified music.
The 2016 release of their second album Mystère, an impeccable refinement of their shapeshifting blends, as well as a collection of wonderfully crafted tunes, further boosted the sensation. La Femme is now a true rock phenomenon, playing the biggest venues and festivals in France (Rock en Seine, La Route du Rock, opening for Red Hot Chili Peppers) and perfecting its plan to invade the rest of the world (step 1: a sold-out date at Koko in London). Far from the waves of the La Côte des Basques beach in Biarritz, La Femme is now ready to surf the Seven Seas. And the whole world will soon happily follow.