Music charts say a lot about a country's pop culture, and its music industry: let's have a look at Portugal's Top 100.
Portugal is a country with a population of ten million. We have a long history of consuming vast amounts of foreign culture, especially in art forms such as music and cinema. While this brings us closer to the rest of the world, there's always the feeling that Portuguese art lacks funding and support to grow the way it should. Although the music industry here is alive and well, with concerts and festivals continuing to grow exponentially, it seems it's only able to move units for a very narrow set of artists. If you tried to find someone that is Portuguese, or sings in Portuguese, in the first ten positions of the chart that we're about to analyse, you would only find one.
We're going to take a look at 2016's Week 48 chart. The AFP (Portuguese Phonographic Association) is responsible for compiling these and they give us a glimpse into the country's commercial music industry. If we were to analyse the album chart, we would find more established acts, with an older audience, who move a lot more slowly in and out of the top. However, we'll focus primarily on the Top 100 Singles, as they represent a more up-to-date look at the music that is consumed nation-wide by a younger crowd.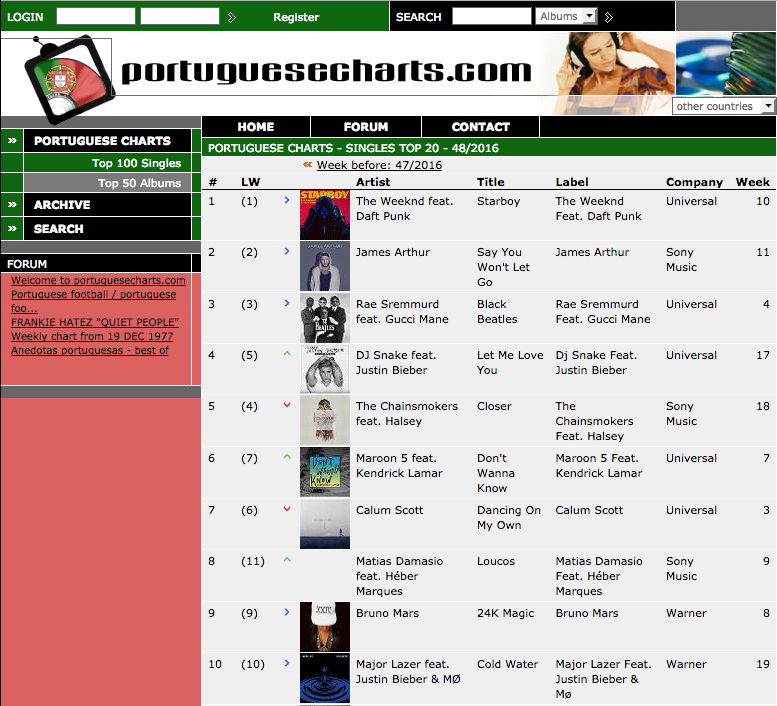 The entries mostly belong to three major players: Universal, Sony Music and Warner. Listening to all of these singles, we can find some common themes: they're all romantic, performed by male artists and tinged with a more urban sound, such as R&B, rap, pop and kizomba. Romantic lyrics aren't that out of place in a pop setting, but the male dominance may come as a surprise. Hip-hop has been growing worldwide and Portugal has also embraced African sounds, especially from Angola and Mozambique, in its commercial music.
What you see on the charts barely covers the whole spectrum of music around the nation, nor will I pretend that this chart has the final word regarding the popularity of artists that exist in the Portuguese music scene right now. Looking at our top singles, you have to dig a little to find an artist who is Portuguese or sings in our language. The AFP claims that the singles chart is calculated via a combination of streaming and download numbers. Since talking to you about The Weeknd, James Arthur or Rae Sremmurd won't teach you much about Portugal, I'll jump straight to the first five Portuguese (or Portuguese singing) artists.
#08 Matias Damásio – 'Loucos' ft. Héber Marques (Sony Music)
His name is Matias Damásio and his single 'Loucos' single is ranked eight. A romantic kizomba ballad that represents one of the trends that has been growing in our country: African music. Although Matias is not Portuguese, he represents the large African population which resides in our country and which came from ex-colonies such as Angola and Mozambique, having enriched our culture with its unique sounds and influences. He's been a singer for more than ten years and has created an exclusive edition of his album for Portugal, which allowed him to reach the upper echelon of our charts.
#25 Virgul – 'Só Eu Sei' (Warner)
Another good example of this type of sound is 'Só Eu Sei' by Virgul. The artist is famous for having been part of Da Weasel, one of our most acclaimed and sonically shifting bands, extinct since 2010. He's now launched his solo career and finding an identity is crucial if he intends to become a consistent chart topper.
'Só Eu Sei', his second solo single, currently ranked in 25th place, seems to be another step forward in that direction. The music is inspired by a production style that resembles Jack Ü, yet includes a more African flavour, befitting the tropical vibe that is ever popular here in Portugal.
#33 D.A.M.A. – 'Era Eu' (Sony Music)
Finally, a boyband at the top! In 33rd place, 'Era Eu' deals with how love can vanish from a relationship, over a simple pop composition. There's always a need for a boyband/girl group in any pop industry, as these bands live off the idea of youth.
If aging doesn't finish them, the members tend to separate in search of a more profitable solo career. Having risen to prominence around five years ago, D.A.M.A. is currently one of our country's biggest pop acts, drawing huge crowds and showing absolutely no signs of stopping. They can fill most venues in the country easily and opened for One Direction two years ago.
#40 Diogo Piçarra – 'Dialeto' (Universal)
'Dialeto' sits in 40th place. Remember when I mentioned that Portuguese culture draws a lot from international artists? You can clearly hear the influence of Justin Bieber's latest album on Diogo Piçarra's track, which doesn't detract from its quality, but clearly shows what our mainstream public is looking for.
Diogo, originally from Faro (south Portugal), was the winner of the 2012 edition of Ídolos, a Portuguese adaptation of American Idol, and has been able to ride the momentum into a fruitful solo career by knowing which direction to take his sound in.
#53 Valas – 'As Coisas' (Universal)
In 53rd place, we find the single 'As Coisas', a pop-rap song and our last featured romantic single. Valas is just now starting to enter the mainstream market and has been steadily garnering more and more fans. This was his first big hit to cement his radio airplay cred. After signing with Universal, he's been able to perform at bigger festivals and venues. The rapper comes from Évora and is the youngest of the five artists here, but through the pop-rap route, he's been filling a growing commercial demand for more hip-hop.