Actualités
---
Crate-digging: Where To Explore Dublin's Vinyl Revival
5 min read
---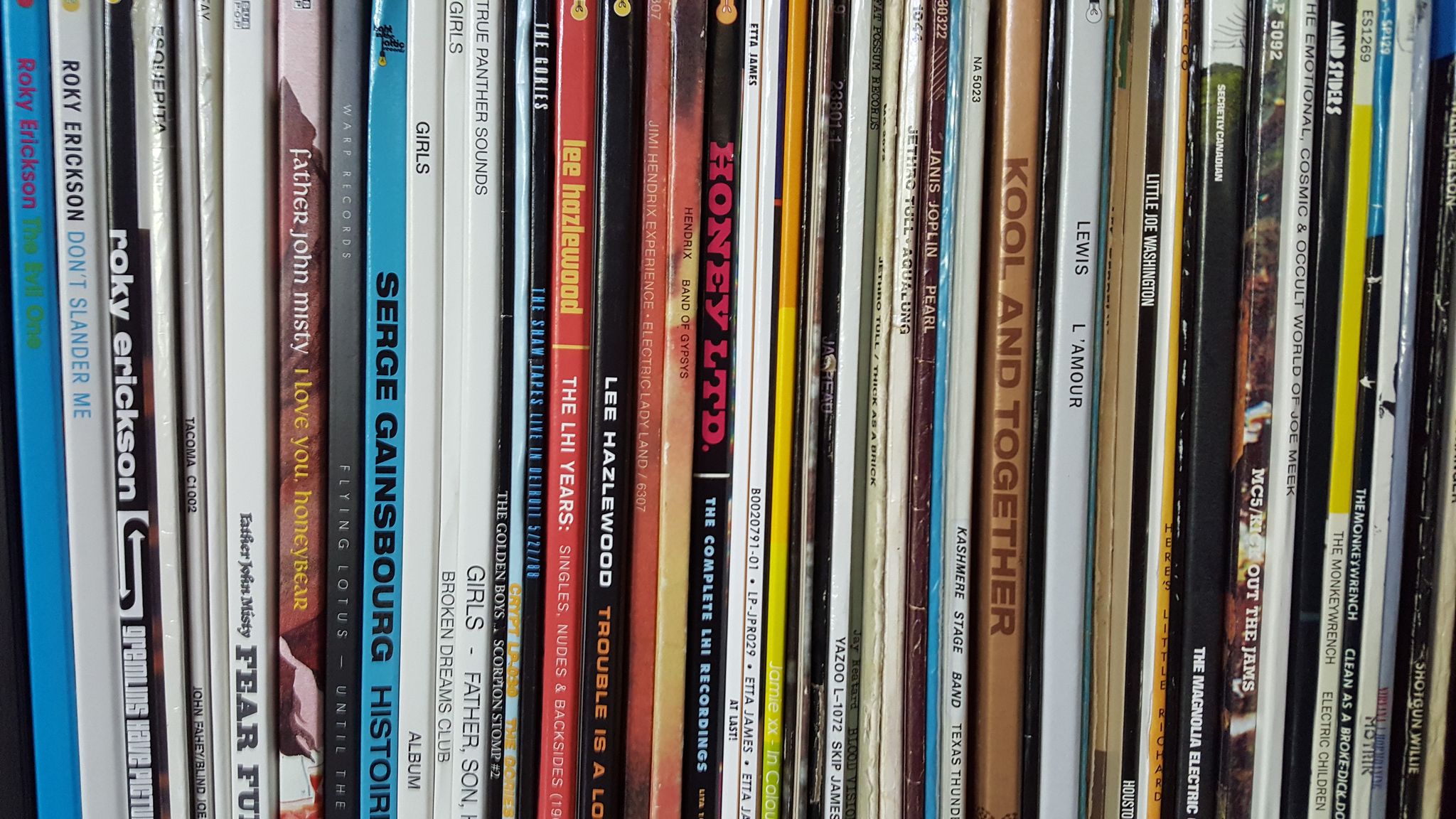 Dublin's musical footprint is alluringly unique. From boisterous, Guinness-fuelled trad sessions in packed, wood-coated bars, to a long-time penchant for busking, the city's music scene arguably sits behind only its pub culture and sublime Georgian architecture as the Irish capital's main calling card.
Matching a wider global trend, vinyl here is very much on the rise. Record Store Day, for example, has become a Dublin music fan's Christmas, with queues outside stores for opening time and dozens of in-store live shows.
In early 2018, the first new Irish record manufacturer since the 1980s opened its doors in Glasnevin, North Dublin. Local dance act Le Galaxie had the honour of the first pressing to ship from Dublin Vinyl, with their first post major-label record, 'Pleasure'. The presses are already fully booked for the coming year.
Imaginative local indie imprints explore genres: Rubyworks does pop (Hozier, Hudson Taylor), All City delves into dance and hip-hop (New Jackson, Onra) and FOAD focus on punk and hardcore (Paranoid Visions, Bulldozer).
There's even a new festival named for the old-school format. Dublin Vinyl (named, confusingly, identically to the new factory) runs in May. It recently featured industry talks from the likes of Kevin Shields (My Bloody Valentine), Portishead and Snow Patrol.
Vinyl's revival, then, has been as strong in Dublin's capital as almost anywhere else you care to name. From dingy basement hollows to bright, glistening store fronts and rugged markets, you won't lack for places to shop, including one of the best-stocked stores in Europe. Just visiting? Here's where to explore…
The key stop off…
Dublin's Tower Records is the iconic Dublin record shopping stop off, and while it moved locations a few years back (from a slightly roughshod spot in Suffolk Street to a shiny new hub in Dawson Street), it's still got the same combination of depth and imagination that made the shop such a big hit in the first place.
If you're here to riffle through racks, the entire top floor is home to acres of wax taking in all genres (don't forget to explore the drawers below the displays), while downstairs you'll find the best of the recent Irish hits (usually at the best price in town), a specialist DVD section, and regular live appearances from some of Ireland's best acts.
Tower, of course, was once a multinational institution, but liquidated in 2006, leaving only this franchised Irish store and a second in Shibuya, Tokyo, still running. They claim the expansive vinyl selection is one of Europe's widest; it certainly includes some real finds, including Tower-only releases that are simply unavailable anywhere else. Frank Black, Bjork, Lykke Li and The Pogue's frontman Shane McGowan have all appeared to play or sign records in-store over the years.
Tower General Manager Joe Plunkett says "Our philosophy first and foremost is to be sound to everyone who walks in the door. It doesn't matter if they're into obscure techno or love Chopin, music is music and we're all in this together."
The glossiness of Tower, where you can also sit and have lunch in the cafe or buy an entire hi-fi system from an expert, makes the store undisputed vinyl king in Dublin. Still, you should explore more: Tower don't do second hand, and plenty of other places are every bit as good at their own niches.
(Crate) Digging for Gold…
The R.A.G.E. on Fade Street is the place to head for abundant second hand records. Vinyl's given second preference to the store's other love, vintage video games, on the ground floor, but head down to the stacked basement and there's something for everyone in the chipboard racks, which are a nice mix of new and part-exchange records.
The big sellers make their way upstairs to a seperate section, but the depths of the second-hand section are our favourite. You can throw anything from international releases imported by Dublin's U2 obsessives to rare-press African beats on the stereo and try before you buy.
Around the corner, in the beautiful 19th Century George's Street Arcade, Spindizzy Records has a strong rotation of new releases and Irish gems, exploring folk, pop, trad and a few rarities. Indie acts also do well here: local stars like Landless, The Gloaming, Girls Names and Lankum fill the shelves and grace the stereos, crammed between American punk and Swedish metal.
The Secret Book and Record Store is a little tough to find, as the name might suggest. It's hidden down a tiny signposted corridor next to a health food store called Nourish, its entry walls papered with years of flaking gig posters, and its main area heaped with scattered political tomes and fading cartoons.
In the corner stands Freebird Records, a record store occupying no more than a few square metres but still one of the best spots to explore in the city. It's crammed selection is big enough to appeal to Sinead O'Connor, Stewart Lee, Andre 3000 and Robert Plant when they dropped in on the city. This is a high-rotation spot, and they post their second-hand selection online regularly: it's frequently heavy on the likes of Bob Dylan, The Boomtown Rats and The Pogues.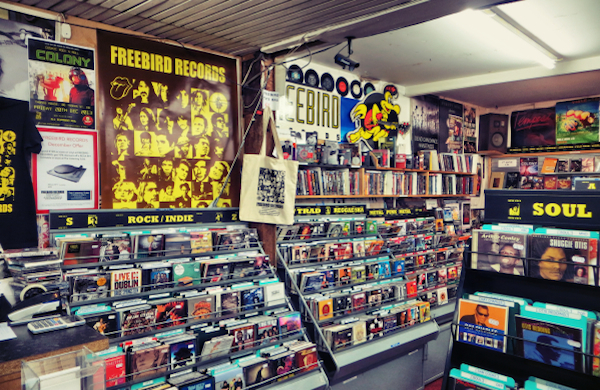 You're bound to drop in on Temple Bar, which is a bit of a cobbled, overpriced tourist trap, but great for buskers and also home to All City Records, probably the city's most urban friendly outlet.
Ireland has become a surprising hip-hop hub in recent years, with the likes of Rusangano Family and Rejjie Snow breaking into the mainstream, and All City can comfortably claim to stock the best beats, having become a heartland for those pushing forward urban music in a traditionally guitar and fiddle-led culture. They definitely have the most unique selection in the city, alongside graffiti supplies and a fun-loving feel.
One last essential city-centre stop: Little Gem Records is sparse and delicate, and does an outstanding job of propping up the weird and wonderful edges of the Irish music scene, whose limited-copy releases on vinyl, CD and cassette tape all land here. They've even invented their own release format, the 'Little Gem Player', a kind of high-end plug and play release system, and host the best of Ireland's music 'zines. Little Gem are also the home of 'Record Store Gay', an annual compilation started in aid of Ireland's same-sex marriage referendum, won by popular vote in 2015.
There are markets, too, of course, from the (currently homeless) Dublin Flea to the regular events put on by specialists Irish Record Fairs. Dealers at the latter have a few bargains, but are also the top stop off for those looking for high-priced, specialists pieces to nurse nervously on the flight home.
Side Wax for vinyl Obsessives
We can't talk about Dublin's record stores without at least touching on the plethora of loose-linked experiences that have slowly built up around them in recent years, from singalongs to music-themed meals.
Sing Along Social is a new Dublin institution described as a 'zero commitment choir'. It's a simple concept: a crowd are invited to sing along to various highly recognisable pieces of music en masse, usually along a particular theme, accompanied by boisterous hype-woman Aoife McElwain and, usually, a beer or two. Events are irregular but always worth exploring.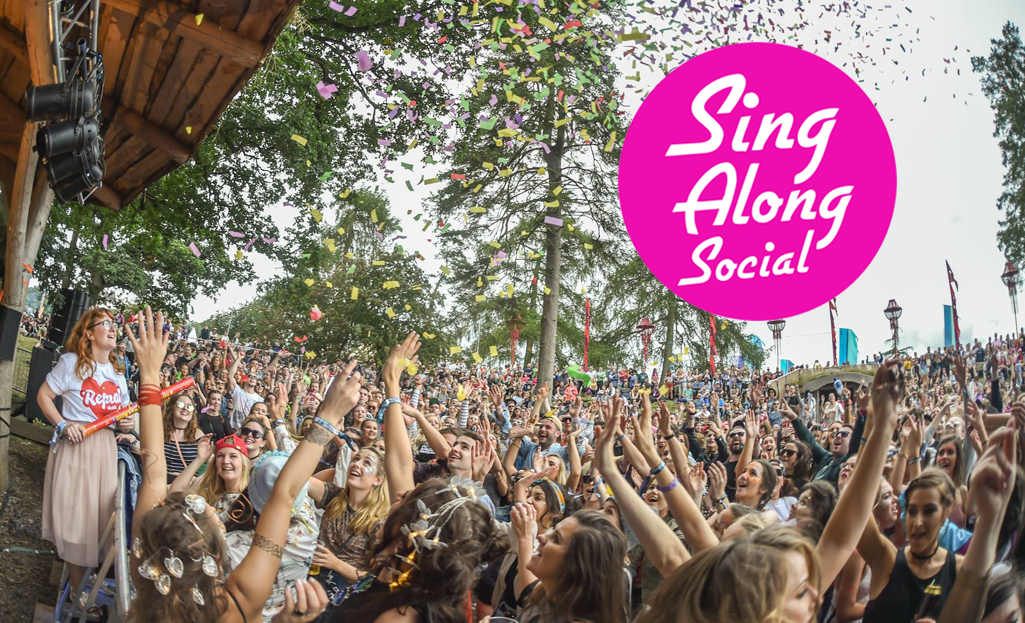 A mellower, more civilised offering comes in the form of Vinyl Brunch at the city's Cookbook Cafe, every Sunday, where you'll find yourself soaking up some Pink Floyd or Tom Waits on a beautiful sound system as you tuck into granola, falafel, or a prawn crostini.
Similarly, Vinyl and Wine takes our favourite musical format and a glass or two of red and creates a full-on listening party – typically with big, historical records – followed by an expert panel discussion. They turn the listening experience into something in-depth and special.
Throw in a stop off for some trad music in O'Donoghue's on Merrion Row (find the sweet spot by the bar, where the floor rises and you can see everything), a big night at the Olympia or The Button Factory, or Tuesday night at the iconic Doyle's Ruby Sessions, and you can hang an entire long weekend in Ireland's capital on tunes, chat and wax. And why wouldn't you?