Actualités
---
INmusic festival #14 daily line up announced!
5 min read
---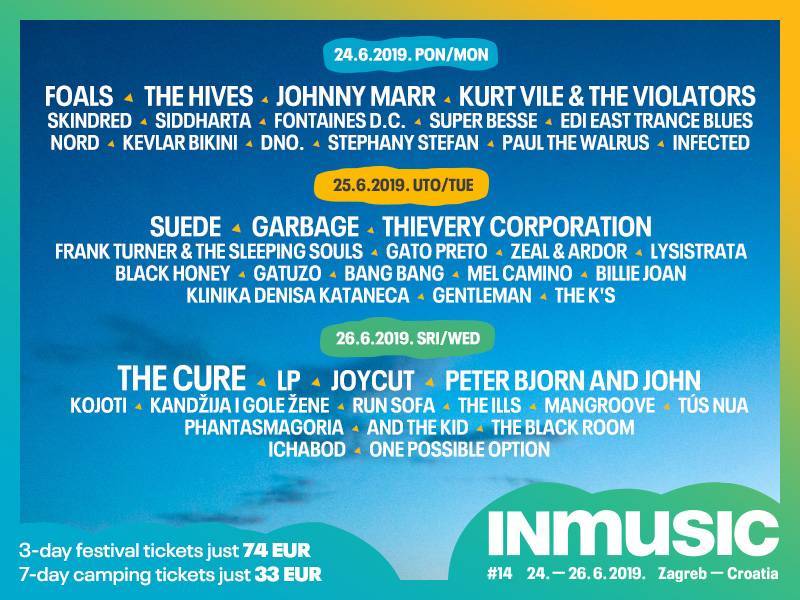 Lysistrata
Lysistrata was founded in 2013 and runs on fiery youthful energy, which is evident in their unique sound. Their music is mostly influenced by a mix of post-rock and noise, which is why Lysistrata is the must see act for fans of Fugazi, At the Drive-In and A Place to Bury Strangers. The talented trio released their debut album The Thread at the end of 2017, and in 2018 they performed at one of the biggest European festivals, Rock en Seine. With new music on the way, Lysistrata is heading to INmusic festival #14 in top form, ready to conquer the audience in Croatia as well as around the world.
Super Besse
Two passionate music lovers are the masterminds behind the name Super Besse, and are returning to the INmusic festival stage after a riveting performance in 2018. Their career began with live performances in their homeland of Belarus, and they broke out on the international stage at Tallin Music Week in 2014 in Estonia. Since then this post-punk duo released their first album in 2015, their second album in 2017. Super Besse will deliver their newest material and a guaranteed dose of post-punk riffs to this year's INmusic festival!
The Ills
The Ills were founded in 2008 in Bratislava and despite the fact that their music is described as post rock instrumental, it is a group of musicians who flirt with numerous genres in their songs. They are definitely most widely recognized by their live performances where their musical skills combined with the audience feedback delivers a great atmosphere. They performed all around Europe, and during their career they released five praised studio albums, and the latest album "Disco Volante / Mt. Average" was released in February this year.
Run SOFA
Run Sofa is a Charleroi based foursome formed by two cousins, Antoine Romeo on vocals, and Julien Tassin on guitar, and backed up by drums and bass. Their first EP, ''Shenanigans'' made them the talk of Printemps de Bourges, which followed by a UK tour. Their first album, Say, was released in early 2018 and their European breakthrough has commenced. it is near impossible to label Run Sofa's sound – varying form jazz influences, industrial rock and hip-hop, critics have coined a new handle for the unique foursome sound – Zappa-style hip-hop.
Gato Preto
Gato Preto is a band that moves the boundaries of African music to which the audience is accustomed to and they do it the best way, considering the critics from all around the world. Their popularity is growing every day due to impressive performances all over the world, despite the fact that no official single has been released so far. Gato Preto is a combination of electronic music, African rhythms and a culture that connects all parts of the world, from Germany via Ghana to Senegal.
Zeal & Ardor
Metal, blues and African-American southern rhythms are the dark and purposefully unexpected trademark of the unique project led by Manuel Gagneux, receiving more attention day by day. After moving from Switzerland to New York Gagneux dismissed his former moniker Birdmask and began the project Zeal & Ardor, accompanied by a talented and versatile live band joining him on stage. Zeal & Ardor's music is far darker and heavier than the music Gagneux has created before, but this particular exploration of musical styles is what makes his music irresistible audiences worldwide.
Siddharta
Siddharta, a group that has a great impact on Slovenian music scene and is active for more than 20 years, is joining the stellar INmusic #14 lineup. They were founded in 1995 and built a cult status by now, and from the beginning of their career they are receiving platinum editions of their albums. Already with their first album ID from 1999 they jumped to the top of the music charts and did not disappoint with any other further release.
Peter Bjorn and John
Peter Bjorn and John formed in Stockholm in 1999 and named their new band simply after the first names of the band's members, Peter Moren, Bjorn Yttling and John Eriksson. Worldwide audiences were won over thanks to their hit single "Young Folks" released in 2006 which was a chart topping hit the world over and featured in soundtracks of numerous movies, TV series and even video games. As they point out, the secret of their longevity is a constant change of sound, and in nearly twenty years they released eight studio albums. The latest album, Darker Days, was released in October this year and will be presented to local audiences on the always exciting Europavox Hidden stage and as part of the fantastic lineup of Croatia's biggest open-air festival!
In addition, our ambassador : JoyCut
JoyCut was hand picked by The Cure's Robert Smith last year to perform at the curated edition of Meltdown Festival in London is set to perform at this year's INmusic festival! JoyCut is joining the stellar line up of the largest open air festival in Croatia!
The Italian electro / dark wave band JoyCut was formed in Bologna in 2007, and in recent years their career has started upwards. This is to a large extent thanks to Robert Smith and The Cure. Robert Smith personally invited JoyCut to perform at the last year's Meltdown Festival in London while he was in charge of selecting bands. Meltdown's performance is a big step for their career, as they say, The Cure has a big fan base around the world and their music was heard from London to Argentina, if not further. After the festival, Robert Smith said that JoyCut and other bands at Meltdown served him as a great inspiration in creating a new The Cure album which will soon be released.