Actualités
---
You Never Know What You're Gonna Get: Europavox @ Eurosonic
5 min read
---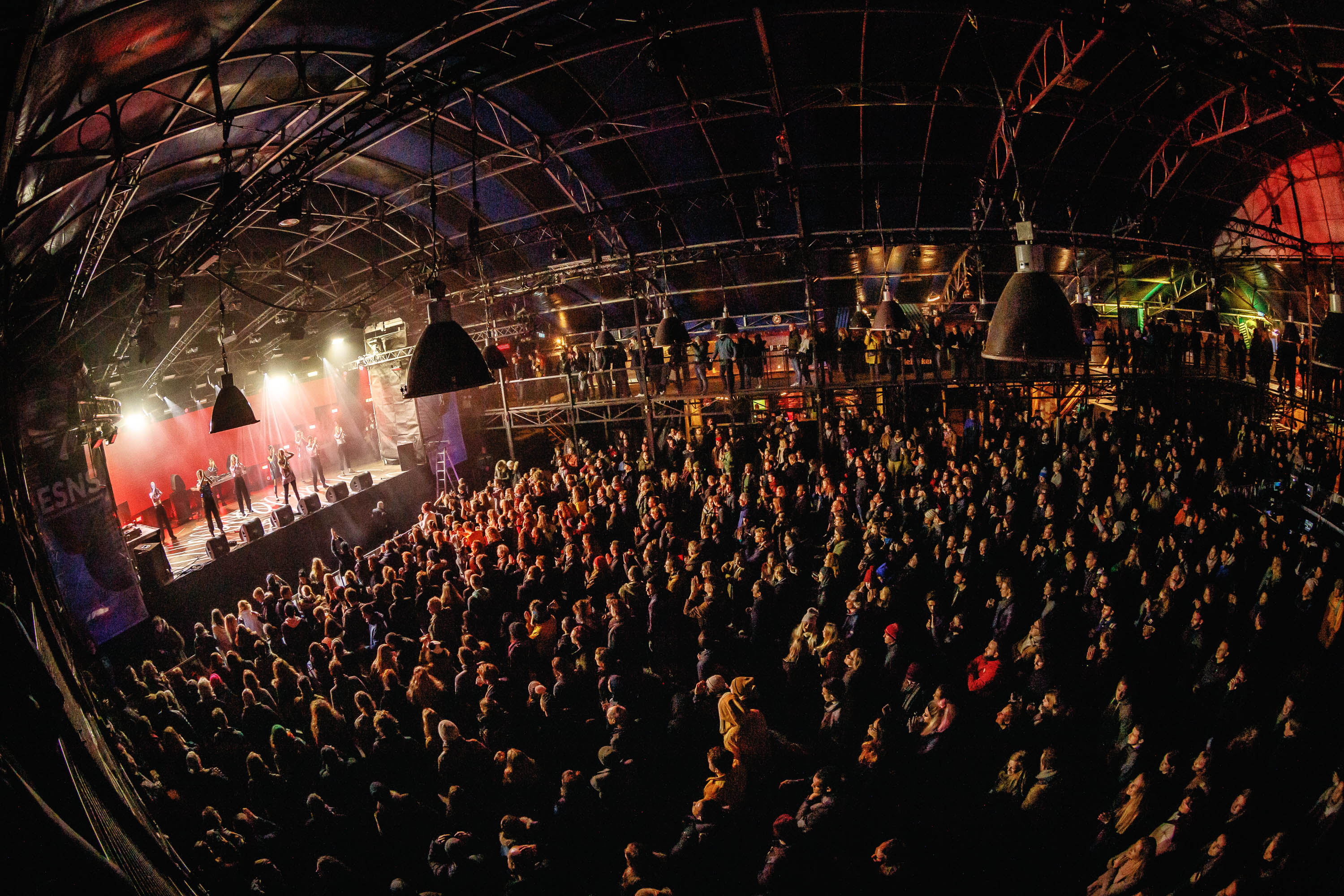 Want some socially aware, Icelandic industrial doom metal? Winsome, pastoral acoustic folk? Skeletal, post-classical piano loops? Fuzzed out, three-chord lad rock? Intense, grime-rap hybrids with pulverizing beats? The poppiest of pop, radio-friendly and primed to storm the charts? Stark, glitchy techno? Well then, Eurosonic Nooderslaag is the festival you, for all of the above is merely a taster for the variety of music on offer over four days and nights in Groningen, The Netherlands.
For an event in early January, taking place at a time when most are still struggling with post-Christmas blues, there's a lot going on. The sheer scale of the event is mind boggling; 42 stages, 342 artists playing, and over 40,000 visitors hunting down Europe's best new music. As a showcase festival, things are kept regimented – nobody plays more than 45 min (although some bands do have multiple slots), turnovers are quick, and there's a strange flow to many of the crowds; packed for the first three songs, then half full for the rest as people drift off to catch the beginning of the next act on their list.
We also learn that precious few acts are granted even a cursory soundcheck, a plug-in-and-play setup that seems a little cruel on artists trying to shine in front of the massed ranks of the continents' music industry. As such, technical glitches are not uncommon; two of Wednesday's opening acts, Manon Meurt and The Ills, have to grit their way through sound issues before settling into their stride. Both deliver euphoric clouds of noise, but in different ways; the former blend shoegaze and reverb-heavy dream pop while the soaring post-rock of the latter takes in prog, metal, and melodic riffs that bloom into widescreen crescendos.
Austria's MOLLY are another band who sculpt great walls of noise with grand, sky-high guitars, yet they're just as adept at subtlety and grace; witness the recent single "No Soul Will Remember". Some of their melodies have a haunting fragility, the quieter moments conveying just as much power as when guitarist Lars Andersson thrashes his guitar to within an inch of its life. There's a healthy turn out for their early evening slot in Vera, but a day later it's packed for Italian singer-songwriter Adele Nigro, aka Any Other.
Her autobiographical songs about breakups and abusive relationships have a steely character – tales that slap you in the face and demand attention. It's a shame then that, at times, the incessant chatter from those near the back render some quieter moments all but inaudible, yet Nigro simply doubles down on the drama, barking some lyrics and angrily strumming. At one point, her voice even becomes so cracked with emotion you worry she's about to cry. It's a cathartic, deeply emotional set, and one of the best we witness all week.
There are two ways to approach such a sprawling event. Many simply roam around and catch random bands, a kind of festival lucky dip in search of gold. So it is that we find ourselves enthralled by the brassy, self-assured "tigress rock" of LION, the twangy, mysterious surf-pop of Estonian five-piece Holy Motors, and the post-classical piano soundscapes of the Netherlands' own Pieter de Graaf.
The Psychotic Monks, whose darkly atmospheric psych-rock swirls like a hurricane, provide a gloriously surprising end to Friday, while Juniore's stylish, studied "yéyé noir" – a delicious throwback to classic 60s French pop – thrill Thursday's early birds in Huize Maas.
Others prefer to get an early taste of those hyped by tastemakers and the press, the buzz bands that are making waves. Huge queues mean we miss Boy Azooga, Sports Team, and The Slow Reader's Club, but we are early enough to catch the riotous, surrealist punk-rock of Dublin's Fontaines D.C. They're certainly loud, and the agitated antics of singer Grian Ghatten perfectly convey the disillusionment and sense of frustration that power their music. Big things are expected of them, and while their poetry-first approach is a tad unconventional, a tour diary stretching all the way to summer is evidence of how well they already connect with ordinary music fans.
Black Midi are another group of angry young noiseniks, and they set about impressing on a packed Vera exactly why they've been hailed as "London's best band" for quite some time. Jazzy riffs, dirty grooves, and atonal guitars add brain to their brawn, and they're genuinely as weird as they are thrilling. Inventive too; "bmbmbm" is a sprawling, beast of a song built on a one-note bass riff, while other tracks meld post-punk with math rock in chaotic, mesmerizing ways. In many ways, they're redefining what a guitar band should aspire to, and a huge 2019 surely awaits.
Two of the UK's hottest new solo stars also impress, playing back to back on Friday in two very differing venues. The packed, claustrophobic Platformtheater plays host to Flohio's genre-bending rap, grime, and trap hop and some heavy moshing. Her delivery – a potent, dexterous stream of tight lyrics – is dazzling, as are the menacing, fiery productions. Her MC often comes down to bounce around the stage with her. She's leading a pack of young, assertive artists, and performs with the assuredness of a seasoned veteran; unafraid to confront serious topics, her skills more than match her swagger.
Octavian, fresh from winning the BBC's annual Sound Of… poll, is another riding a wave of goodwill. There's a greater soul and R&B flavour to his set – hints of dancehall as well – but when it punches hard, he really connects. He's on good form too, climbing the speaker stack and exhorting everyone to "big themselves up" numerous times. Drake is a fan, as are Pitchfork, and his "daring eclecticism and galactic cool" shine through on stage.
The Dutch have a particularly vibrant music scene right now – especially the burgeoning underground – and a raft of acts trudged north to Groningen. EUT and their electro-filled pop rock put in a number of appearances and impress many, as does the fuzzy, cool-smart indie of rising stars Pip Blom. Pitou, an artist possessed of an angelic, haunting voice and a neat line in pastoral folk-pop, has the perfect setting to shine in Doopsgezinde church and duly delivers, the music a perfect match for the plain, austere surroundings.
And Nooderslag, the Saturday night event that takes over the main hub of De Oosterpoort, is given entirely to Dutch acts – five stages showcasing the best homegrown talent until the small hours of Sunday. The Visual, the project of singer songwriter Anna van Rij, is one of the best, slow-burn sultry pop that's by turns lush, intricate, and melancholic. "The female Jeff Buckley" says one of the comments under the YouTube video for "Hold Your Breath", an achingly forlorn tale about saying goodbye to a certain side of your self, and it's an apt comparison; the song swells on waves of the same longing and tenderness.
Rotterdam's Lewsberg steal the night though, something they've done frequently over the last 12 months. There's a quality about singer Arie Van Vliet's sardonic, deadpan delivery that conjures big city cynicism, the lo-fi two and three chord strums that become the perfect backdrop for his strange tales. The Velvet Underground are an obvious touchstone, but so are Modern Lovers and Talking Heads, bands that channeled their weirdness into something compelling.
Eurosonic exists precisely to give such artists a platform – to give the industry a chance to reach such talents as opposed to vice versa. Everyone's chasing after the new and the fashionable, and sometimes a band simply falls between the cracks, never quite achieving what they deserve. Where these bands will be in 12 months time is anyone's guess really, but for one week in January at least, they get a little glimpse of the spotlight and a chance to shine.