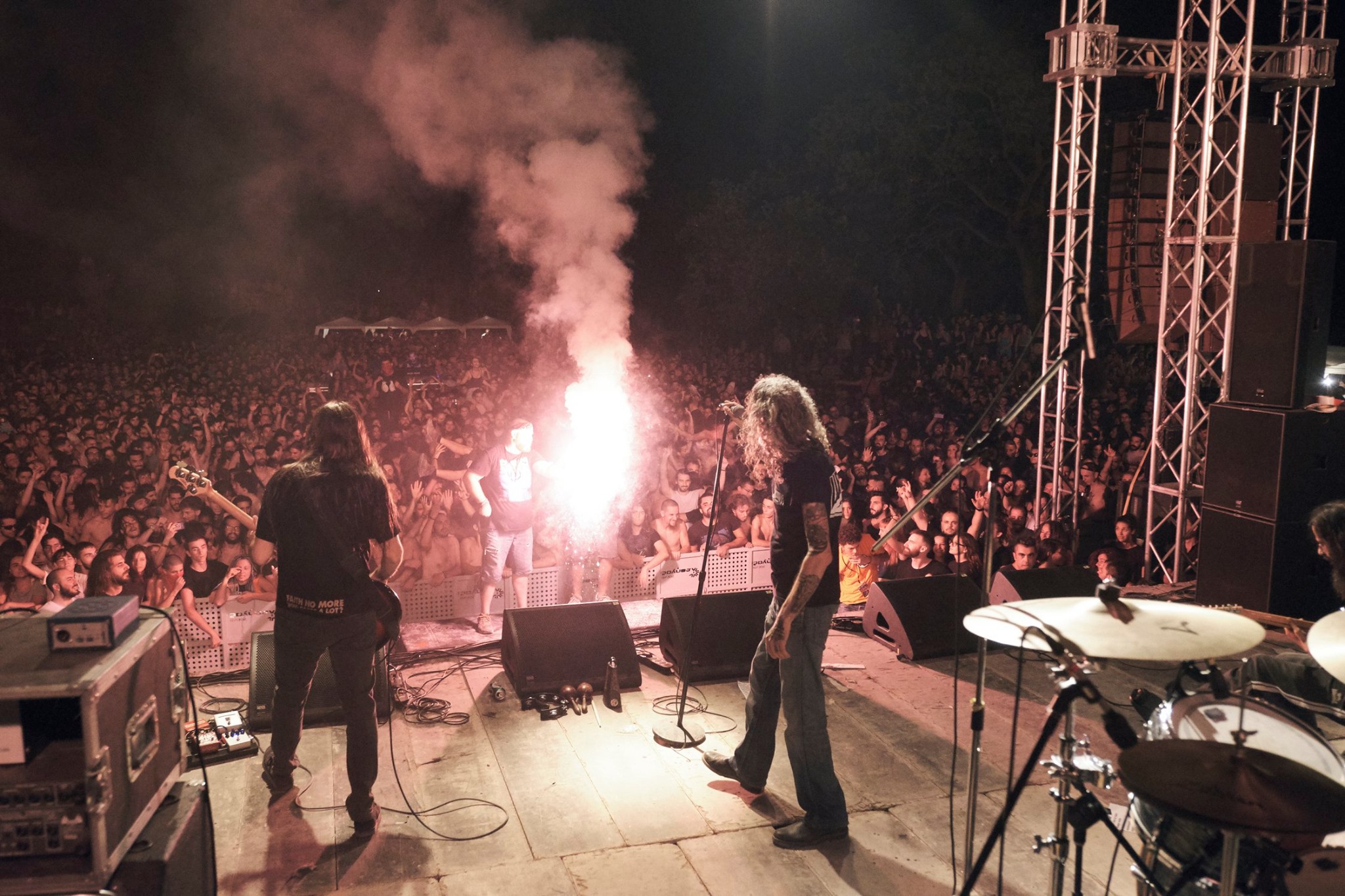 In Greece runs an alternative, yet powerful artistic current: a rich and dynamic stoner rock scene that boasts a variety of independent and highly original bands.
Stoner rock is one of the metal subgenres that took on a life of its own, and there's a reason for that. It has tons of tasty vintage riffs, fuzzy tones and a trippier groove sound. All of that adds up to create, maybe, one of the coolest types of music. And even though it is considered by many as a loose term to throw around — due to the wide scala of sounds the genre has been associated with — nevertheless it hits hard.
Of all the European stoner rock that makes its way stateside, Greece is not an especially big exporter, owing to lack of a steady music export strategy. Also, the country's geographic spot makes it difficult for local bands to tour abroad. And, yet, the scene is flourishing — there even was a documentary made earlier in 2019 by Spanish director Miguel Angel Cano Santizo to show its impact. On the heavier side, bands like Nightstalker, who set the foundation for Greek stoner rock, or Planet of Zeus whom Bruce Dickinson described in his BBC radio show as "hairy ass stoner rockers", have long been successful in shaping a solid sound. Having toured and played myriad gigs across Europe, they have created a dedicated following. The Greek stoner sound was defined by a long-established heavy metal riffing, with elements of post-rock and QOTSA-esque fuzzy dessert rock — like 1000 Mods or Puta Volcano — and even at times using traditional folk music. Such is the case with Villagers of Ioannina City (in short, VIC) who blend stoner rock with folk sounds from the region of Epirus (Greece's own Grand Canyon), creating a distinctive mix of trippy guitar playing with the use of traditional clarinet. A surprising number of bands have slowly but steadily created a diverse soundscape that reflects their ideas as well as the difficulties they're facing, while also enfolding their creative impulse. No matter in which direction stoner rock's particles flow, all the bands orbit the same earthy and unearthly values of riff-worship, epic volume and real mental escapism. But how has this scene gone supernova? And what's the future of stoner rock in Greece? We turned to Argy, the frontman of Nightstalker, Puta Volcano and Eva Kolomvou, booking agent and manager of the historic venue An Club, and answers came.
"It's all about the rock n' roll attitude"
Sitting squarely at the centre of the Venn diagram for fans of Black Sabbath and Monster Magnet, Nightstalker laid the bricks for stoner rock in Greece, having easily solidified their place in the scene. Formed in Athens in 1989, they released their debut EP Side FX in 1994. Their new album, Great Hallucinations (October 2019), coincides with an extensive European tour which marks their thirty-year lifespan. "In all these years, music has changed so much; in fact, what has actually changed is the incredible amount of information that you can find through the internet", says Argy, founder and frontman of the band."When we were starting as a band, vinyl records were the main medium as well as cassettes, which was a charming but time-consuming process. And here we are again, reliving the moment, with the vinyl comeback and the tape revival. It's all part of the wider analogue trend. Who would think that 70s rock style, with the old school amplifiers, would be huge again? That's one of the reasons for the success of stoner rock. Yes, we are accosted by excellent 70s-like rock releases of different flavours, and, yes, music, much like history, is full of cycles but in the end, it all comes down to the rock n' roll attitude. That's what stoner rock, as any rock sub-genre, is all about". Aside from their musical influence in Greece, Nightstalker have built an important fanbase abroad, especially after the release of Dead Rock Commandos, via the American label Small Stone Records in 2012, when the scene was reaching its apex. "It takes time", says Argy. "Time reveals all, and that also stands for a band that's really good. Of course, you can't go far without proper material. The truth is that when we record, first and foremost we are interested in making music that represents us and that mindset has proven to be right".
In the slump that followed Greece's economic crash in 2010, scores of young people fled the country. But for some of those who chose to stay, fuzzed-out rock provided an escape from the daily routine. "And that's when the big bang happened!", says Argy. "Music has always responded to difficult sociopolitical times, like here in Greece with the crisis, which was and still is not only financial but social as well, and that's the biggest problem. Many kids found themselves unable to find a job, unable to do anything. They played guitar or drums and formed a band; they rehearsed, started playing gigs, released good material and that was it: a scene was born". But in terms of gaining money, is the scene enough, even if it's vibrant? "It's difficult for an underground band to make a living off music. It takes time and lots of work. When we started, we were doing various jobs to survive, but now we are full-time musicians".
The catalyst for the stoner rock scene to grow was that most of the music that came out sounded fresh; not necessarily that it was technically new, but it was done with verve. And there lies a paradox: Notwithstanding that new and amazing music was and is being released, its influence and sheer raw power has become criminally neglected by traditional radio. Argy, laughs. "Apart from some, isolated, radio shows, you will never hear any underground music on the Greek radio, although the scene is boiling. In the past, that was a problem, along with the fact that there were no music venues to support new local bands. But at least now, with the internet and the booming of streaming, music is heard. You play in Athens and they hear you in Thailand, it's crazy! Music travels fast and everywhere. That's bad for companies, because they lose money, but it's good for the artists because their material is more accessible". Though the internet has enabled bands to distribute their material directly to the public, Argy stresses the importance of exporting music: "It happens everywhere in Europe and, unfortunately, we haven't taken it seriously here, yet. In Greece, those who play rock music are treated by many as crooks who just hang around having fun. It's not like that. The fact that music is an art form does not mean that the musician is a hobbyist, amateur and unworthy. This mindset is so wrong; I really hope it will change".
"Greece is the home for some of the world's best bands"
Puta Volcano embrace stoner rock followers, while also incorporating grunge-like moments in their songs, thus creating a "volcanic rock" (as they call it) experience.  Although rock music has historically been a boys club, this female-fronted band from Athens changes the game. "We never cared about any stereotypes. Luna is an excellent collaborator and her voice is like an extra-musical instrument, it blends so well with the rest of the music", they say. Since the release of their debut album, The Sun (2015), their stoner rock sucks the listener into a chaotic and dizzying journey. Add on their ferocious live performances and you've got something that comes in like a beautiful mammoth; so, it comes as no surprise that their first European tour in 2018 was a success. "It's important that Greece is now the home for some of the world's best bands, and that makes it a bit easier for artists to tour abroad and gather hundreds of people. What we have experienced during our gigs in the Balkans is that there's no solid rock scene, therefore the audience is eager to see a stoner or any other heavy rock band, especially if it's Greek. So even if they don't know you, as a band, they will come to see you and if you're good, then things move fast. In the 80s or 90s, that was like a sci-fi dream! Back then, it was difficult to record music or find a venue to play anywhere in Greece. Nowadays, recording techniques are of higher quality, sound engineers are better educated. Also, there are more bands now than before, with much better material. And correspondingly, there are different models of venues for various audience capacity, which enables bands to start and develop", they add. For Puta Volcano, this evolution is a matter of creative urge and a drive for change. They believe that "There's a lot of room for creativity and a lot of exciting things are being done. To us, right now, a musical Renaissance is taking place in the genre. And, musically, it is so energetic!" Indeed, we are existentially starving, seeking something emotionally authentic and, at its best, timeless. "That's why live music is so important. Not very long ago, from 2010 to 2015 there was no place for a new band to play in Athens, apart from Six d.o.g.s. and, of course, An Club. Fortunately, now there's a high diversity of music venues around the country. Local promoters, agents and the bands, as well, understand that there always be profit in it, no matter how much the industry changes. For bands, playing live is the biggest source of revenue", they say.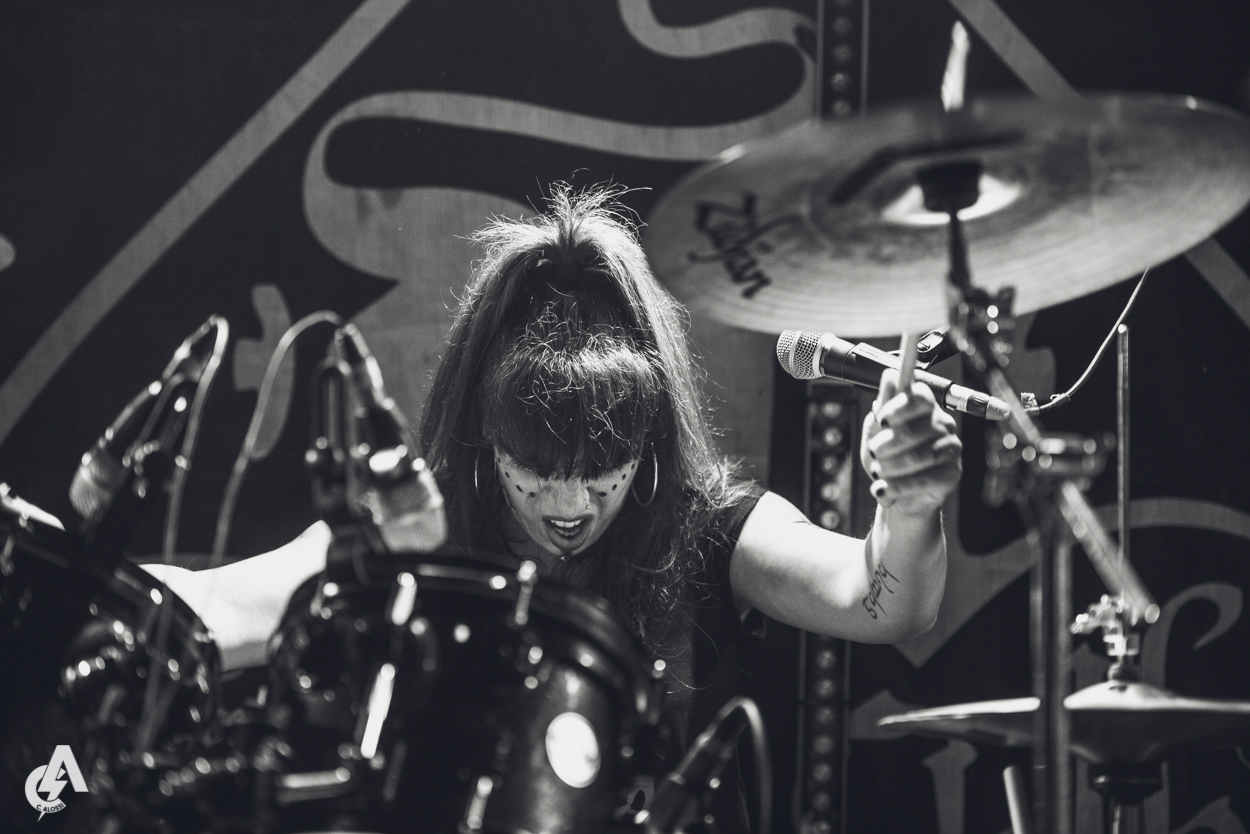 Stoner rock came to withstand any economic war, fascism and intolerance
An Club has been welcoming the local and international underground rock scene for 37 years now and has been rightly considered Greece's CBGB. In addition, it not only bonds communities and goes into the local economy, but it ensures musicians have a place to get heard. Eva Kolomvou is the manager and booking agent of the iconic venue, which was the first in Athens open to new and upcoming Greek bands. "Our philosophy is that everyone is entitled to 20 minutes of glory. Bands sacrifice time and money to create music and they dream to share it with the audience. An Club will always embrace art, regardless of its status, thereby contributing to the creation of new shapes and pitching in the preservation of rock attitude as a means of expression", she says. Located to the edgy area of Exarchia, it is playing host to a diverse range of artists and bands most nights of the week amid changing popular tastes, giving them the chance to emerge and built a regular audience. "An Club is synonym for every cultural, quirky and alternative expression. For over three decades it has been the home to countless bands that they were starting out, in front of an audience of 100 – 200 people, and now they have managed to gather thousands of people worldwide!" says Eva.
Regarding the popularity of stoner rock, Eva attributes it to the sound and attitude. "In the irrational world we live in, people had the need to express themselves in a way that would not only make them endure all this madness, but also would empower them to raise their voices against everything absurd or fake. Based on a tougher, heavier and rougher sound, stoner rock came to withstand any economic war, fascism and intolerance. This whole attitude eventually spread quickly, especially affecting the younger generation. After all, the younger generation has a bigger purchasing power and manages social media much better than older people. The result was the boom of stoner rock." It's 2019 and bands pop up in Greece crushing it here and beyond, jamming on the infinite sludged out riffs and offering a heady trip. "And the audience is getting bigger!", she adds.
For that, we couldn't be happier.