Actualités
---
The Place To Be: Le Port Franc (Switzerland)
5 min read
---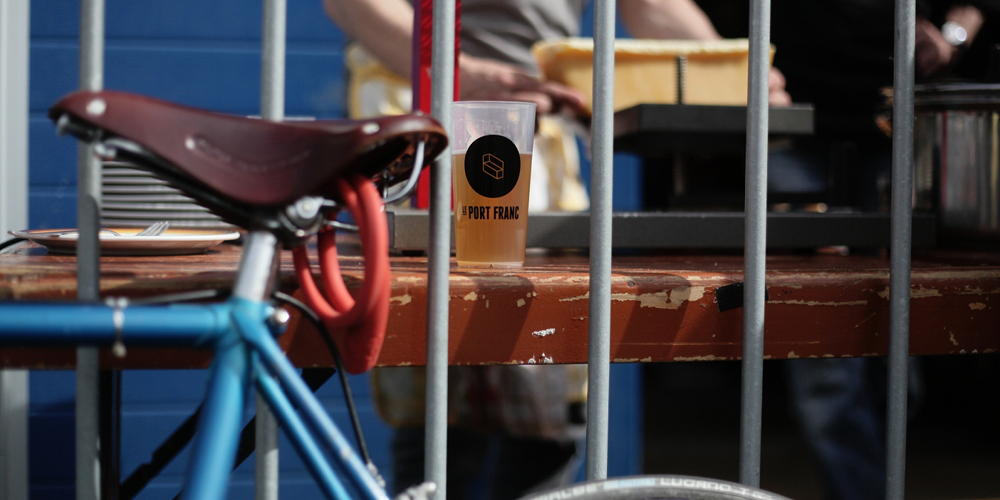 It took time, talent and courage to create a club in Sion, a small Swiss town nestled in the mountains of the Valais: that's how Le Port Franc was born.
A venue with soul and character
"Where can I see decent gigs in this town?" If you asked any of Sion's 34,000 inhabitants this question two years ago, the answer would've been "nowhere". There was simply no venue in the capital of Valais, a mountainous region in southern Switzerland. Sure, you could sometimes listen to live music in bars, but there was no dedicated club with the ability to book international acts and give local bands the opportunity to perform in front of 300 or 400 people. It was a problem for Sion's music lovers.
However, the situation changed for the better in April 2015, when some local musicians and other supporters founded an association called Pro Forma and opened Le Port Franc – a club made of shipping containers which is situated in the town's industrial area. It's become known as a venue with soul and character that's since hosted some of Switzerland's finest bands as well as acts from across Europe and the United States. Its programmer, Bastien Crettol, tells us about the birth of the club and the gap it's filled in the city.
« Sion is known as the bourgeois town of Valais »
Before the creation of Le Port Franc, where did people go to see gigs in Sion?
Bastien Crettol: Nowhere! Sion was one of the only Swiss towns with more than 30,000 inhabitants that hadn't a true club. Thus, to see gigs and find alternative culture, we had to go to Martigny or Monthey, two industrial cities of the region.
Had there been attempts in the past to fill this gap?
Yes, in the '80s and the '90s some people tried to open a concert venue but it didn't work, mainly because of the lack of political will and support. You have to understand that Sion is known as the bourgeois town of Valais. There, people don't like noise or parties. They don't like to be annoyed. So it was difficult to convince them – and the politicians, too – to support this kind of project. It took quite a long time for them to understand it was important for the capital of the region to have a club.
What made them change their mind?
First, local authorities have been renewed. Younger people, who liked to go to concerts, took the helm of the city, so 10 years ago they decided to pull a music club project off the shelf and began to work on it. Over the same period, the town's Youth Department started working on a project of rehearsal rooms for young musicians. The two efforts finally met up. The final impulse was given by BEA Foundation for Young Artists, a local institution that supports young talent. The foundation gave CHF1,000,000 to support the future club. This donation convinced the authorities to give the 'yes' to the project.
« Old shipping containers »
Something was still missing: the people who were going to lead the club. That's where you and Pro Forma came into play…
Yes, it was in October 2010. The City made a call through the main newspaper to find people interested in managing the club. When I saw the advertisement, I was at the pub with friends. Some of them were musicians, others were people working in the cultural milieu. After a few pints, we decided to go for it. It took us less than a month to achieve a solid proposal. And we got the job!
The club was due to open in 2011 but you had to wait four more years. Why?
First of all, because the core budget of the project had been underestimated. Secondly, because the authorities changed again, so we had to approach the new politicians to convince them to accept the new budget. And, thirdly, it took us more time than expected to find the right place to set the club.
Tell us about this place.
It is a former warehouse, bought by the city. It was used by a famous Swiss chips brand. Then, the architects in charge of the project brought some old shipping containers to create several spaces in it. I loved this idea right away; it gives to the place soul and character, which you rarely find in brand new clubs.
What's the target audience?
We can't afford to target only one kind of public. If we want to propose events every weekend, we have to reach various types of people. But this doesn't mean we don't care about artistic demand.
Your programming has been ambitious since the beginning, with bands such as Suuns  (Canada) and Thee Oh Sees (USA). Isn't it risky for a new club that has to build its audience?
Maybe, but I prefer a club half full with a band I'm proud of on stage than the opposite situation. It's important for me to stick to this line and it works quiet well. We have an average of 170 people per night – not too bad for a club with a capacity of 400 people. Furthermore, when we book those kind of bands, it gives credibility to the club; towards the public but also the music journalists and, above all, the booking agencies. This brings to us more and more interesting offers from the bookers.
« To keep on the same artistic line »
You stimulate the local scene, too, by providing a few rehearsal rooms in the venue…
Yes, our six rehearsal rooms are full now. We rent them to young musicians for a very cheap price. In it, we find for instance a young rapper called KT Gorique and a young metal band called XAON. They are all starting out in music and a great dynamic is growing between them.
To conclude, what are the plans for the future?
We'd like to keep on the same artistic line and book bigger names. We'll also try to develop side events, like brunches on Sunday afternoons or record fairs. We want to focus more on after parties too, to appeal new audiences and make them want to come back regularly, with the idea that eventually they'll come to see gigs.