Actualités
---
We Went To... Musikmesse 2018 Showcases
5 min read
---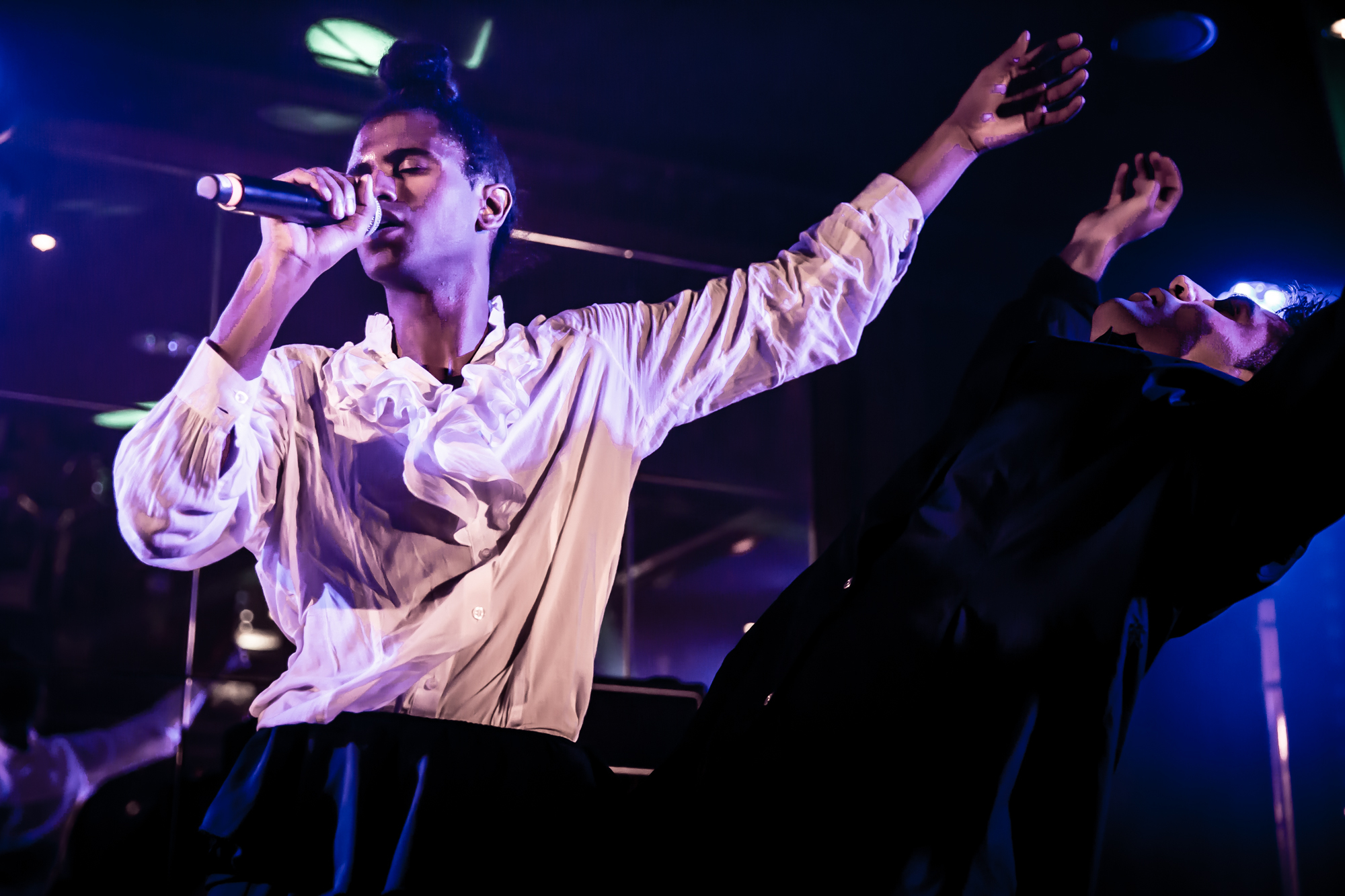 Musikmesse 2018 hosted three nights of concert showcases from different parts of Europe: Luxembourg, Central Eastern Europe and Ireland. In what sounded like a nice spread of European talent, Europavox decided to send me on a quest to dig out the gems that these three shows had to offer. If you want the short of it, these are the names you need to be paying attention to: Edsun, Thom Artway and Candice Gordon. Keep reading to find out why.
DAY 1 – Luxembourg Sounds Like…
Luxembourg went first. The acts took over the Maritim's Life Style Bar, a dark, tight and mirror-laden venue. Walking on stage barefoot, Edsun showed himself as the star of the bunch. With a high-pitched voice and a fearless attitude, the R&B singer from Luxembourg made his thirty-minute performance into a constant surprise.
The moment that made this artist go from a good singer to a real threat was when he started dancing to drum breaks like every drum stick was hitting his body. The more the concert went on, the more you could feel the heritage of Michael Jackson in him. A couple songs in, another dancer joined him on stage and their choreographies synced up to bring another layer of drama to the already dark and dense sound.
If the crowd thought Edsun had done enough, he proved that he still had plenty to show: jumping off stage and waltzing around the crowd while singing or even performing the final parts of his act while piggybacking on his backup dancer. All done without missing one note.
Seed to Tree went next and brought forth a progressive take on folk mixed with pop and rock sensibilities. "Here's what Luxembourg sounds like," went the vocalist moments before climbing the bar and stretching out to his own reflection on the mirrored ceiling. Later, he questioned why he was speaking English at a German event, and, from then on, I lost any comprehension of what was being said.
Following, Dream Catcher exploded with energy. The Celtic pop mixed with rock went on with a lot of chants, and, let me just say it, showcase crowds are hard, but they got the crowd to play along. If I got into a ridiculous bar fight, then this would be the soundtrack that I would want in the background. Of course, we all know it would end with everyone hugging and singing along, totally out of tune.
Tuys were the last to the stage, bringing some indie rock to the night. The band confirmed that most of the acts bands were adhering to their genres rules without bringing something fresh to the mix. There were some moments where the band seemed to show a more progressive side but too soon went back into their safe area.
The second day of the showcases took us right into the hotel's lobby. More spacious, more inviting, and with a lot distractions going on. The night belonged to Central Europe and they were serving us R&B with Babé Sila.
The style was reminiscent of 00s R&B stars and the band, composed by a vocalist, keyboard player and a backup singer, came out wearing all white and beige, on a look that would have made a 90s-band jealous. That was the highlight of the concert as somehow the volume of the backing track was so low that it was barely audible and took out all the punch out of the act. Can't do rhythm and blues without the rhythm.
The next act came from Russia. Jekka took up to the stage and started modulating her voice and arranging several layers on top of it. Although the singer-producer started out shy, she started to show herself the more she acted. The productions felt like a fresh take on bedroom beats, heavy and loaded with folks choirs that served as a backdrop to Jekka's voice, making her sound visceral and even a bit dangerous. A promising proposal that started to feel watered down as the concert prolonged itself past the thirty-minute mark and started to lose strength.
Thom Artway came from the Czech Republic and there was just something about the pop rock group. The band format always makes more sense when you find a group that drips with chemistry and these four boys just played well off of each other. Still, the general shyness of the CEEntral Party continued, with bands merely presenting themselves and the name of the next song. But all is forgiven if they bring us great music, and Thom Artway delivered.
Special mention to the drummer that was brimming with energy and was hell bent on letting it out. Even when the band went into ballad mode, their charisma shined through, thanks to the vocalist's great voice. All in all, they had a charming melodic sound and the band's chemistry made me quite curious about what they just might achieve in the coming years. Showcase crowds might be hard, but they definitely opened up to the sound of Czechs.
Riding on a wave from Latvia to Frankfurt, Carnival Youth were the last on stage. Another band made up by four boys that brought a west coast surf rock sound that progressed into indie rock territory. The band was another interesting example of vocals. Three of the four members took over the mic and did it with skill. Instrumentally, the band didn't feel so nimble and felt like they could rehearse a bit more.
DAY 3 – youbloomConnect Irish Showcase
The last day was all for the Irish. Did someone make an order for attitude at the Maritim's foyer? Because the show kicked off with a full dose of Candice Gordon, and attitude is what everyone got. The Irish showcase kicked off with power and volume and a lot of (so great) shouting.
With a band composed by a drummer and bassist that further helped her personality shine through, Candice endeared the whole audience with a no-apologies act of garage rock that went full punk when needed. And I am not using the term endeared lightly, as even the hotel director was curious about the girl that was rocking his lobby upside down.
"I have vinyl and cds and none of them are free… but I'll swap them for a guitar."
After playing a couple more tracks, Candice snapped a chord. She promptly updated her statement to show herself available to trade a vinyl for a new set of chords. The performance finished with a charismatic, and disturbing, performance of "Cannibal Love" and a great imitation of the sound that a zombie would make if he feasted on your brains.
Shane O' Ferghail stepped on stage alone for his first song: "Rumor has it that there are people from the music business here, so absolutely no pressure." After the first song his band, The Host, joined him on stage to play Irish pop folk with great vocal harmonization. The sound felt like it was lacking percussion. Shane interacted frequently with the crowd, prodding them to sing along or come closer, and, although he got them to sing at the first time, he wasn't so lucky with his subsequent requests. Man, showcase crowds are tough.
Dreaming of Jupiter jumped on stage with a cool, grooved-out instrumental intro. Their sound started as an interesting mix of soul and pop, and everything was going well until… the keyboard died. The concert stopped. A technician came on stage twiddled about and finally left and took the keyboard with him.
"Let's pretend that never happened! Live music is all about improvisation, right?", said Zoë the group's vocalist. The concert went on and, after a while, even the Chinese man that was standing next to me was now checking his email on a small laptop while humming to the melodies.
A moment later, the keyboard made its way back on stage. Silence reigned while they set it up. But poor Keyboard clearly wasn't ready to let his stage fright go. Four people leaned over the keyboard to see if it would make it. Flat line. The concert took a ten-minute break.
Finally, the concert resumed and at least two thirds of the crowd stayed. Not bad for a showcase crowd. Two songs in and a miracle happened: The drummer got up and flashed a huge smile and motioned his hands for people to come closer… and this time it worked!
…Man, showcase crowds are unpredictable.