News
---
Europe is their playground: the story behind Banane Bleue
5 min read
---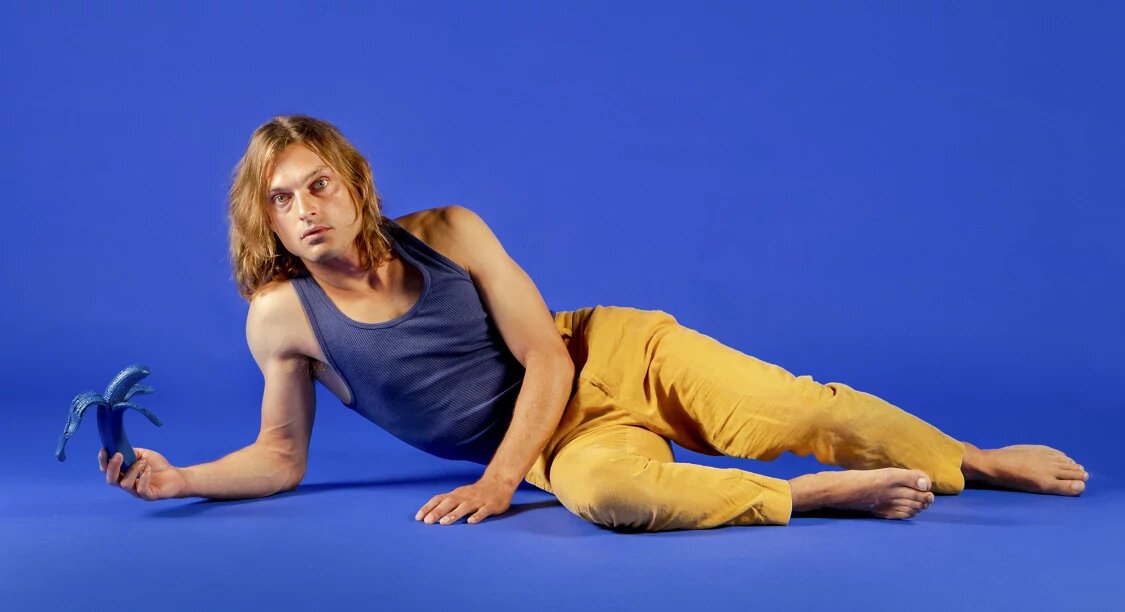 Both the French songwriter and the Finnish musician/producer belong to the Domino family, a British label. This fascinating record was made at various locations across Europe and uses several languages from this continent. We joined the two masterminds over Zoom (François being at home in the Landes department in southwestern France, and Jaakko at his studio in Athens) for an enthusiastic chat.
 

 

Voir cette publication sur Instagram

 
What makes you feel like a European artist?
François Marry – It makes sense when I listen to music. I can listen to a band from Germany, Britain, or France and put all these influences in the same bag. Also, I formed this band when I was living in the UK in the early 2000's, so living in different countries makes me call it 'European pop'.
Jaakko Eino Kalevi – I guess it's something quite natural that you don't really think about. Touring in Europe is just the best! Obviously not right now, but in general…
FM – The artists I've played with who are from America or Africa always dream of coming to Europe because the conditions are comfortable, with subsidies, good media coverage and people coming to see the shows.
How did your collaboration begin?
FM – Domino were really keen on me trying to produce music with people other than my band members. I had a couple of old songs, which I had written but never came out, and I thought they could find their way with Jaakko's style. I saw some connections between some of our songs, for instance 'Double Talk' by Jaakko and one of my new tracks, called 'Revu', in terms of pace and the layers of synths, or between Jaakko's 'Don't Ask Me Why' and my song 'Gold & Lips'. Jaakko was living in Berlin then, so I booked four days in a small studio there and we tried out a couple of rough sketches. Jaakko often asked me to play the song and record my voice and guitar, then he would add his own interpretation of the music. I'd never done that before, just relying entirely on someone else's skills to shape the music. I really enjoyed that!
JEK – It felt very easy, no fighting!
Why was it important to work in the flesh instead of remotely?
FM – I don't like spending too much time on a screen. Working alone makes you try lots of different paths and can lead to inner exploration, but sometimes you don't know if your idea is the right one. Whereas when another person is nearby, you can take a step back, and you know if you're heading in the right direction. I also think when you're in the same location, you eat and drink the same things and it all puts you in the same mindset.
JEK – The communication is more direct. You can comment faster, as the thoughts come.
Banane Bleue was recorded in Paris, Berlin, Athens… Why did you make this decision?
FM – It was a matter of convenience, going to places that are exciting and affordable, but also because I like living slowly, and I had a feeling that hanging out in Berlin and Athens could be good for the record. We recorded outside Paris as well, in an old people's home in Nogent-sur-Marne which has a large park so it didn't feel like Paris at all.
JEK – As for Berlin, I was just living there before moving to Athens.
 

 

Voir cette publication sur Instagram

 
'The Foreigner', the first song on this new album, uses Italian, Spanish, Greek, French and Finnish. How did you get this idea?
FM – The idea came from travelling in Europe. I wrote it when I was 18 on an Interrail trip through Greece and Italy, from one archeological site to another. On this trip, I was with lots of other young people from Germany, Spain and Italy, so there was always a mixture of languages, like in a train station hallway. As I was recording with Jaakko, I made the effort to add a line in Finnish!
Do you feel different depending to the language you're singing in?
FM – Yes, I guess you can reinvent yourself a little bit. Manipulating the sounds in your mouth is fun, you can add more panache.
Which European artists have been important to you?
FM – As a teenager I was really excited about the German band The Notwist, lots of British bands and some classical composers from Germany like Wagner. Today, I listen to some German artists like Nils Frahm, Easter and Jan Jelinek.
JEK – I would say Kraftwerk and The Beatles, legends!
Listen to Banane Bleue (Domino) here.
---
Check out Frànçois and the Atlas Mountains & Jaakko Eino Kalevi's best places in Athens, Berlin and Paris here.