News
---
Follow Frànçois and the Atlas Mountains & Jaakko Eino Kalevi through Berlin, Paris and Athens
5 min read
---
Produced by Finnish musician Jaakko Eino Kalevi and recorded in Berlin, Athens and Paris, 'Banane Bleue', the new album from Frànçois & The Atlas Mountains is a very interesting pan-European collaboration. Discover 10 places that influenced their music, and let Frànçois himself show you the way.
« Berlin, Paris, Athens. Banane Bleue was recorded in these three European capital cities. Here are a few spots Jaakko and I would recommend checking out along the way… »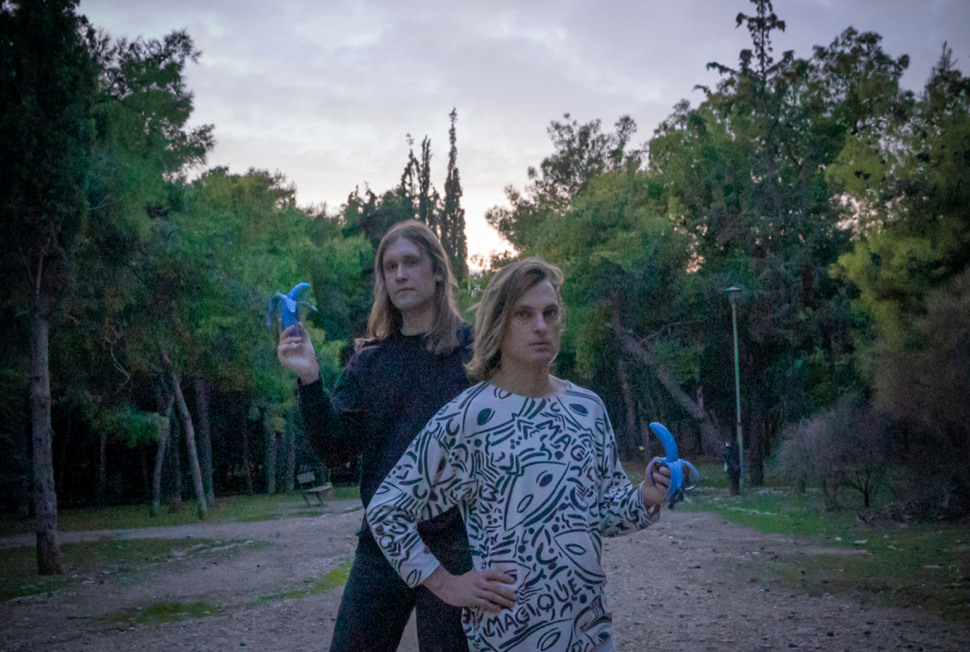 Liquidrom – BERLIN
"During the week of recording the Berlin chapter of Banane Bleue, I spent 4 hours bathing in steam and underwater music at Liquidrom. It is such a comforting experience to listen to music by putting your head in the water. It feels like obvious headphone to put on, just finding the right floating foam sticks to rest your back, lean your head back and chiiiiiiiiiiill out."
 

 

Voir cette publication sur Instagram

 
Sameheads – BERLIN
"The hippest place on earth. Everything will stimulate your retina there. You might as well go and dance, to have the live equivalent of scrolling on soundcloud for hot electronic/pop/bouncy/juicy  new new new sounds."
 

 

Voir cette publication sur Instagram

 
Maison d'Arts Bernard Antonioz – PARIS
"This is where Jaakko and I sat up our equipment to record the French chapter of Banane Bleue. It is an old people's home twinned with an art gallery. The park is huge. It was a perfect spot to rest our minds from a tumultuous city."
 

 

Voir cette publication sur Instagram

 
Chambre Noire – PARIS
"Vin Nature is in every Parisians' mouth these days. Natural wine is very big in the drinking capital. Chambre Noire is near where I live. The owner studied lighting design, so the vibe is right. They are convinced the chemical reaction in their brew will start a revolution of the spirits."
 

 

Voir cette publication sur Instagram

 
 

 

Voir cette publication sur Instagram

 
Quai Bourbon – PARIS
"Just before the pandemic this old jazz club reopened with tasty wine, ace cheese platters and most importantly, a music curation that allowed weird sounds and a non-music-industry led attitude. Ok, they announced the whole thing is over. But let's bet it will reopen in one way or another."
 

 

Voir cette publication sur Instagram

 
Mutual Sounds – ATHENS
"This is an artists' workshop, it smells of oil painting and wood cutting when you walk in. A Finish friend of Jaakko's installed some music gear there: there's a bunch of weird mandolins and Chinese one-string instruments. We recorded some great licks there."
 

 

Voir cette publication sur Instagram

 
Valteziana Pizza – ATHENS
"Snacks are an important part of a recording process. It's mostly necessary to step out of the recording,  and to get musicians to bond on a different level, music aside." Hungry?
 

 

Voir cette publication sur Instagram

 
Benaki Museum – ATHENS
"There are a lot of independent galleries emerging in Athens. That one is a modern classic. Galleries are a good sign of how open minded a city is and Athens looks healthy in that respect."
 

 

Voir cette publication sur Instagram

 
Lycavetus Hill – ATHENS
"The old capital is attractive for its lengthy hangouts. The streets sometimes feel like a maze. This spot enjoys a view above the intricate streets from one of the many hills." 
 

 

Voir cette publication sur Instagram