News
---
How the 'featured artist' is excelling across Europe
5 min read
---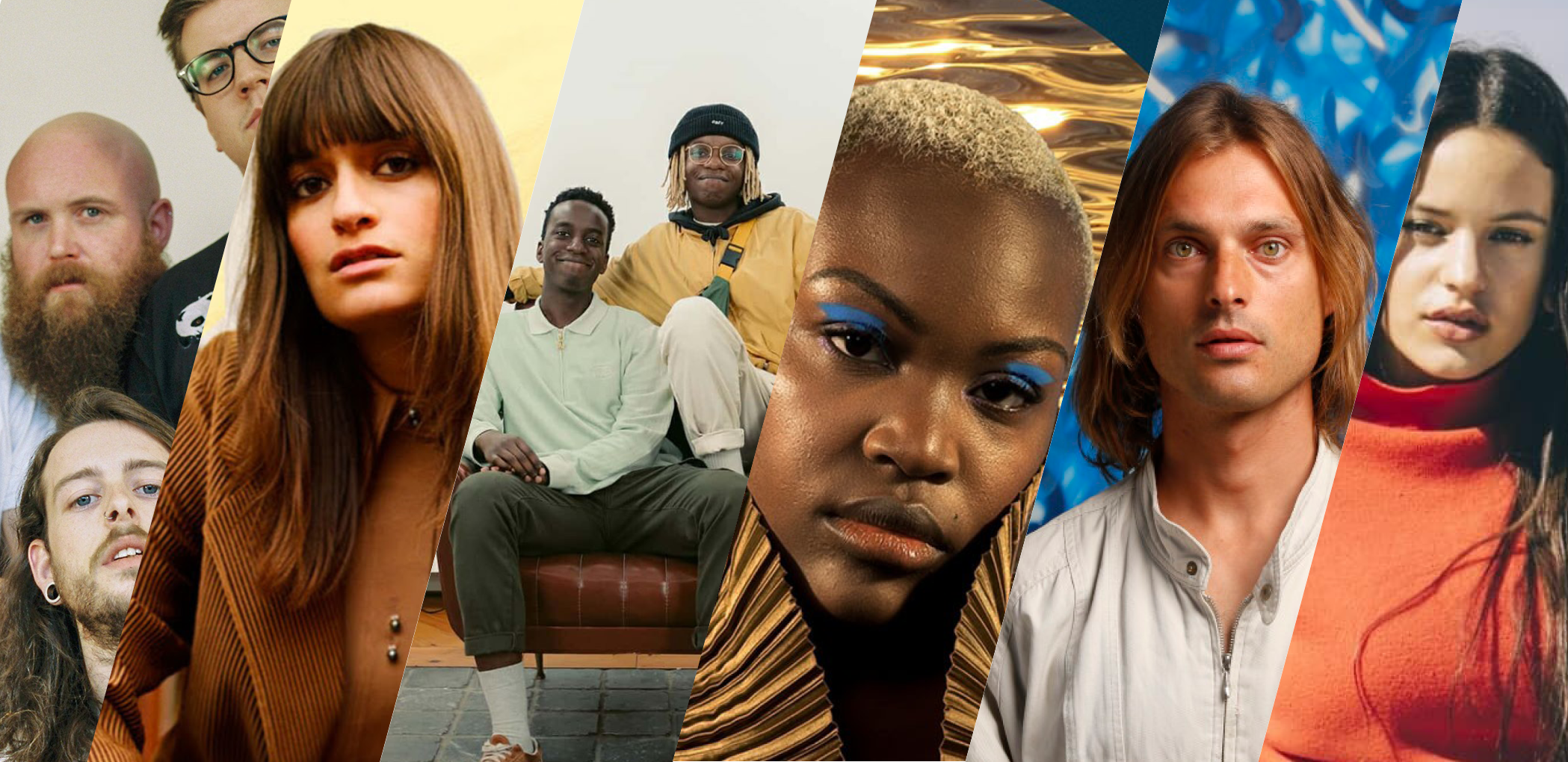 What is it about artists coming together that translates into success?
Music is typically not the product of an individual mind, but the result of a collaborative effort involving many people, sometimes with diverse backgrounds. The world of musicians is a complex social ecosystem, showcasing a myriad of genres, tools, trends and audiences. And therein lies the importance of the growing trend of music collaborations. From expanding an artist's audience to prolonging success, collaboration is an artist's best friend in today's music economy. Along with "feat" or "with" or an ampersand between acts which typically do not team up, many tracks on today's hit playlists consist of one-off collaborations. The motivation is obvious: the creative spark that two (or more) artists sticking together can generate.
Moving music genres from their traditional spaces and audiences has and will continue to develop and change ways of expression. The rapid technical developments facilitate the search for new arenas, with digital hardware and software becoming more accessible and less expensive, and thus enabling artists to communicate their music in new ways, and reach out to new audiences. Simultaneously, new technologies put creative tools into the hands of people who previously couldn't access them. For example, TikTok allows listeners to use music in unique ways, breaking down barriers between genres (and between creators), and turning new artists into viral sensations. Each year new platforms and mediums skyrocket to popularity, reshaping the way audiences connect with artists, and making music more easily shared to an audience which demands a 24/7 curated social media presence. Artists feel the need to relentlessly connect with new audiences to stay relevant.  As a result, more and more artists are finding a path to that connection through collaborative means. There are two types of collaborations: the ones that most commonly occur through a homogeneous style within a complementary or co-equal approach, and the ones that take you further as an artist and may even transform you through experimentation with cultural diversity. Whether cross-genre collaborations are cooked up in a label's office or driven by an inner need to innovate, they can have huge positive effects on musicians' careers, and on their music scenes.
Many hands make light work, and acts are collaborating now more than ever. At the time of writing (February  2021), 50% of the Top 10 Billboard charts are collaborations; and the number one streamed album in Spotify for 2020, with 3.3 billion streams, is YHLQMDLG by the Puerto Rican rapper Bad Bunny, featuring collaborations with Sech, Anuel AA and Daddy Yankee.
Music collaborations have been steadily growing in Europe as well, where there is growing evidence of a significant increase in collaboration between acts, songwriters and producers from different countries, searching for new influences and new inspiration. The examples are numerous. Sigur Rós' frontman Jónsi Birgisson released his first solo album in a decade, Shiver, in 2020, featuring Robyn, Liz Fraser and PC Music's A.G. Cook. One of the highlights of UK art rock outfit Django Django's new album is 'Waking Up', featuring Charlotte Gainsbourg; "We've admired her for a really long time, you know she's French musical royalty", they stated. Philippe Cohen Solal from the Paris-based dub/ nuevo tango outfit Gotan Project teamed up with Mike Lindsay from the English experimental folk band Tunng–  also featuring Adam Glover and Hannah Peel-  for a fascinating new project entitled 'Outsider', dedicated to the artist Henry Darger. 
There's an alchemic power in collaborations. And if there is one thing we want from music, it's a sense of possibility and endless horizons. Along with Noémie Lecoq and Amorim Abiassi Ferreira we surf through France, Spain, Portugal and Greece to observe some of the most recent music collaborations and the impacts of these small, yet powerful waves in these countries' musical realities.
Pan European collaborations with francophone artists
By Noémie Lecoq
When pop music emerged back in the Sixties, French artists already had strong links with foreign music, although it had more to do with admiration and appropriation than collaboration. Translating British songs into French soon became a successful trend in the yéyé era. Admittedly, collaborating with artists from other European countries is hardly an ancient tradition in French music, although it's difficult to pinpoint the reasons why. Could it be attributed to the long-standing cliché that French people are awful at foreign languages? These partnerships are often the results of cross-channel friendships or romantic relationships, rather than marketing strategies to conquer Europe – for instance Serge Gainsbourg and Jane Birkin, Françoise Hardy and Blur, Etienne Daho and Marianne Faithfull, Benjamin Biolay and Carl Barât…
A more recent example is Clara Luciani's duet with Alex Kapranos (of Franz Ferdinand) on a sensual cover of Lee Hazlewood's 'Summer Wine'. Just like the French adaptations from the Sixties, Clara has translated her parts into French. No doubt this collaboration has made her more visible internationally.
With the development of music software and remote teamwork, these kinds of pan-European initiatives are more frequent than ever for French artists, whose creative partners are often British. Jehnny Beth,  the fiery frontwoman of Savages, released her first solo album in 2020, 'To Love Is to Live'. The French singer, who lived in London for a few years before returning to Paris, has invited some of her British friends (Joe Talbot of Idles, Romy Croft of The xx, producers Flood and Atticus Ross), Irish actor Cillian Murphy and Danish artist Trentemøller to contribute. Being the leader of Savages, she has already gained international exposure in the past. The intention behind all the guests on her record seems to be a matter of gathering people she respects, wherever they live.
Another interesting pan-European collaboration is 'Banane Bleue' (out Feb 26), the upcoming album from Frànçois & The Atlas Mountains produced by Finnish musician Jaakko Eino Kalevi and recorded in Berlin, Athens and Paris. Both of them are signed on Domino Records, and sharing the same label has probably made their connection easier. French singer-songwriter François Marry told us what he had in mind: "Jaakko and I decided to try to work together, so I went to Berlin, where he lives. I stayed for five days and we recorded four tracks, two of which made their way onto the album. I've always liked working with non-francophone producers. I'm always wary that a French-speaking producer would try to illustrate the lyrics with the music. I prefer focusing on the sounds of the words rather than what they mean. Jaakko is an aesthete, I like the way he simplifies his own music with a sense of elegance and timelessness. Working with new people is a way for me to avoid self-caricature and explore new music galaxies."
Among the many examples in francophone music, the Belgian brothers of Yellowstraps provided a much-needed source of creativity and communication last year when they launched the Yellockdown project. From March to June 2020, when their country was in lockdown, they challenged themselves and other artists: one track per week, written in 24 hours, each track featuring a different artist from across the globe.
In a diverse cultural environment, musical cross-fertilisation is enhanced and creative paths are nurtured, connecting artists across music scenes.
A collaboration triangle between Portugal, France and Spain
The triangle that is France, Spain and Portugal has been bubbling with creative juices and partnerships. We've seen collaborations from pop giants like Rosalía (Spain) and Billie Eilish (United States) and projects that want to breathe new life into folklore and tradition such as the collaborations involving Lina (Portugal) or Cocanha (France) with producer Refree (Spain). The story behind each of these collaborations feeds our imagination as to what is possible, regardless of whether people are able to get together in the same place or have to get to work with thousands of kilometers between them.
Electro French duo Synapson wanted to infuse voices from around the world into their music and get away from American and British tropes that seem to replicate infinitely inside electronic music. The duo, which became known through 'Djon Maya Maï', wanted to dive back to the fusion of cultures that put them on the map in the first place. That resulted in the album 'Global Musiques vol.1', a release dedicated to crossing boundaries. In it, they also got none other than the firestarting Pongo, singing in Portuguese mixed with Creole, for the kalimba-paced single that is 'Lengueno'.
What is also clear is the strength that the Spanish language has been gaining across the commercial music world, where English usually rules. The recent collaboration by Rosalía and Billie Eilish on 'Lo Vas A Olvidar' became the most recent example, when the teen popstar surprised the world by singing in Spanish. In an interview to Zane Lowe, she stated: "When we were writing the song, I remember her [Rosalía] saying 'it should be in English' and I was like no no no, it should be in Spanish, it's so beautiful."
The man behind Rosalía's first album, 'Los Ángeles', was invited to go to Portugal's fado houses to learn more on one of the most traditional music styles from the country. There he met Lina, and once they went into the studio the decision was quickly settled, as Refree told us: "From the first moment I played with her I knew that I was able to say something, to create something from those songs. They are so well known that I could create something new." Between Lisbon and Barcelona a new interpretation of fado was born, working with synths and pianos instead of the traditional Portuguese guitar, which carried the genre to an uncharted territory and won it international acclaim.
A group from Toulouse, France named Cocanha also got in touch with Refree after being amazed by his work on Rosalía's debut. "Raül knows the traditional Iberian repertoire very well, from work with Sílvia Pérez Cruz, Lina, all these artists of traditional roots," said Caroline Dufau vocalist of the group, "we contacted him out of the blue, because we are very little as artists and he's very big. He liked the idea and said yes." The trio sings traditional Occitan songs, which are closely related to the Catalan heritage that Refree lives surrounded with. "I knew that it was a low-budget record but I really wanted to do it," he told us. Refree ended up producing the album Puput, in which they found new ways to present the tradition of Occitan singing: "Sometimes nowadays we record everything separately and forget how good it feels to see a band play at the same time. And I wanted them to have the energy that they had before, when they were playing live together."
Music collaborations involve a dialogue, an exchange, an interaction over space, time and culture. The standpoints of France, Portugal and Spain, as expressed above, open a conversation around being as open in music as possible in matters of musical styles, in order to note change, and collaborations. In my country, Greece musicians also try to collaborate and create fusions and crossovers.
Greek alternative music: searching for new musical territories
A new generation of Greek artists reflects the growing genre-hopping phenomenon and multiculturalism via collaborations in one of the country's healthier music scenes: the alternative, whether it is folk, pop or something else entirely. There are huge hip-hop (which has always been the most-collaborated genre) and alternative/indie scenes at the moment, both sadly overlooked by the majority of local radio stations. Reaching out to new audiences through new media is becoming increasingly important for local artists, who look beyond the country's borders for inspiration, proving that folks from all geographical locations, despite perceived barriers, can crossover and find partnerships. A couple of strong examples are Smalfeels and Irene Skylakaki.
Smalfeels (aka Nikos Yiannakakis) is an indie pop artist hailing from Athens, who collaborated with the Polish cellist/bassist and vocalist WERA  in the song 'Easy' from his 2020 mini-LP 'Some Stars'. Smalfeels spoke warmly about this collaboration, describing Wera as a perfect fit: "Wera is an artist and a performer who I really admire, and I am incredibly lucky that we have collaborated in many ways during recent years."
A few years ago, a Greek collaboration between a nu retro-pop artist and an artist experimenting with loops of cello and voice was something to marvel at especially since many artists are reluctant to chase collaborative possibilities, perhaps afraid of losing sight of their own roots. But Smalfeels doesn't fall into this category. "I am a big fan of collaborations, in music and in creative projects in general. Usually, it's not easy because every artist has her/his own unique way of approaching the creative process and before you start writing you basically need to create a new common language together. So, in my experience most of the work goes into tending to the relationship rather than the actual music", he says.
Smalfeels is even optimistic about the future of music collaborations in Greece. "During the pandemic, collaborations of any kind have become difficult due to the restrictions. I have a feeling though, that after all this is over, there will be a craving for connection and artists will be eager to reach out creatively and co-create. "
Irene Skylakaki is making an impression across the world with her recent album, 'Souvenir', featuring Swedish singer/songwriter Jay-Jay Johanson on the eponymous track; David East (known for Foals' epic video on 'Neptune') directed the video. Irene is a confessional artist, with insightful lyrics. But can collaborations happen when the writing feels so personal? According to Irene, "Collaborations occur when you ally with chaos, when you're open to being pleasantly surprised at what you create. Great things can be done by a team of people, and I always find myself being engaged with a team during creative work. Although I write on my own, the involvement of many people is necessary and decisive until we end up with a finished song".
In her collaboration with Johanson, their measured, slow-burn folk/pop aesthetics are infused. They both met when Skylakaki was the opening act for the Swedish artist in Athens, and he was impressed by her performance. Fast forward a few months later, and in LondonIrene accompanied him with her guitar onstage. "We started talking about our projects, so he sent me a song of his and I sent him 'Souvenir'. He said he really liked it and suggested we do a remix. He sent it back to me with his own voice, as a duet! This collaboration was a real gift", she explains.
Irene splits her time between Athens and London, and that has affected her as an artist. "The people I met and my collaborations there have shaped me, artistically, just like my collaborations in Greece", she admits. In her fourth album she also teams up with UK bassist Iain Gordon-Smith and London-based musician/producer Andres Mesa. "I met Andres in London, where he was working at the studio of Phil Manzanera (Roxy Music) as a sound engineer. We soon started writing some demos. With Iain, we managed to work remotely. Collaborations are human connections. And they're life lessons!" she says.
Creating pathways: The old, the new and the 'hype'
For most artists, collaboration is mostly a way of breaking habits – and new ground. Experimenting with your country's tradition, bringing in some new technology, creating something new, looking for cross-country collaborations, breaking borders and traditions… There are many different approaches. And the results can be unpredictable, and sometimes very different from each musician's "regular" work.
But one can wonder: could this be a revolutionary paradigm or a necessary attribute of music's evolution? The answer is simple: it can be both. Especially through examples like Rosalía (with whom we're especially happy here in Europavox, as one of the first to discover her talent back in August 2018!) and her new approach through flamengo music, or in the case of Lina Raül Refree and their re-interpretation of fado, or in the Greek example of  the traditional Thrace music band Evrytiki Zygia's 2020 international debut, 'Ormenion'. The latter is an ecstatic world-fusion traditional electro-mountain folk album. It appears that by (re)visiting musical tradition, there's a great possibility of creating a whole new scene that can become 'hyped', although perhaps unintentionally. Recreation and transformation can be urged on by the act's need to escape fixed contemporary interpretations.
Collaboration with carefully selected musicians keen to explore new territory may very well lead to exploring potential new sonic and technical possibilities, especially in the post-Brexit era . New dynamics will arise.
So, what if, instead of searching the 'new' somewhere else, we look into our own territories? What if, instead of waiting for others to create a market and then finding ways to adapt to it, we create our own? What if we can all build something new, from the beginning? There is an opportunity here, to showcase our cultural diversity through music, to contribute to the development of new artistic practices, and to push creation by stimulating cross-border and cross-genre collaboration.
And that's definitely promising.
By Amorim Abiassi Ferreira, Maro Angelopoulou, Noémie Lecoq.