News
---
Panorama: Hip Hop in Europe
5 min read
---
It's loud, it doesn't apologise and it's definitely not sanitised like pop once was. Hip hop in Portugal has become the culture of the youth and that has changed a lot of what we thought was possible in the mainstream arena. A sense of democratisation of music has permeated the genre, and a will to challenge all rules and dogmas as well. The old gatekeepers, whether they be labels or radios, are no longer as useful and the only thing keeping an artist from attaining success is a Youtube or Soundcloud upload. Still, the time to shine in the spotlight has never been shorter, especially if you don't play your cards right. This is the world of hip hop that rules one of the sunniest countries in Europe.
The world's most popular style by all accounts and measures of the streaming age. Hip hop has been dominating and shifting the musical landscape as we know it so it stands to reason that we start delving deeper into the reality of today's hip hop in different countries. From the new age artists who are unafraid of blending melodies into their tracks to the low-key prodigies who are able to bring the roots of the movement to the forefront. Portugal is now living an age where hip hop is also the main component of pop music and the way that changes everything deserves our utmost attention. To help us look further into this phenomenon, I sought the help of rapper Mike El Nite and also from Cheryl Ang and Maro Angelopoulou to understand how these different realities change in countries like Iceland or Greece.
"True pop youth culture is the underground hip hop you… well now you can hear it in the radios, but you couldn't before." I'm talking to Mike El Nite, who has just released an EP, Inter-Missão, and has been an active player in the latest developments of hip hop in Portugal. The artist, now signed to Think Music — one of the most polemic labels in the market—, exemplifies the breadth of creativity now fostered in the genre: his EP is also a comic book that retraces the story of the past three years of his life. In its 30-minute run, each track represents a different experiment, from the reprise of an Amália Rodrigues theme ("Carmen") to the appropriation of one of the most iconic Portuguese cough drops into a symbol of a bonafide trap banger ("Dr. Bayard").
"I wanted to head into more of a multifaceted thing and show that there is more to listen to than rap or trap inside of hip hop that is not represented here. Collaborations of artists like James Blake and Travis Scott, Kendrick Lamar and Thundercat, or Tyler the Creator… those kinds of musicians do something that is slightly different from the norm." By all accounts and measures, everything that has defined hip hop is being challenged, everywhere. But, while normally such experiments used to be kept to the alternative or underground scene, now such forays can attain huge amounts of popularity. Some have branded it as heresy, others have gladly welcomed the new breath of fresh air.
"I think we finally made it to a point where hip hop can be versatile. It almost broke into two factions, the classical and the progressive faction. But somewhere in the middle there are artists that can do both. I mean they can appeal to the aesthetic without losing the quality of the rhymes and discourse." It's not hard to pinpoint which artists are trying to break up the norm, and which ones are validating themselves through old measurements. Still, names like Wet Bed Gang, ProfJam or Slow J are some of the most well received names, by audience and critics alike, because they have the skill to weave the freshness of the new school to the lineage of the old guard. In its ascension, hip hop also brought producers to the forefront: names like Lhast, Here's Johnny or CharlieBeats have become ubiquitous in the new wave and their names are prominently displayed along every song title that they release.
The present of hip hop in Iceland – By Cheryl Ang
One could argue that rap in Iceland found its foothold in 1997 with the band Subterranean. Rap and hip hop has since become one of the most popular genres of music in Iceland, with Subterannean's Ragna Kjartansdóttir embarking on a career of her own as Cell 7, now among Iceland's best-known rappers, and one of the few to rap in English. Mirroring the trends in hip hop at large, the Icelandic scene has taken a turn from aggressive posturing and battle-rap to personal expressions of emotion. The genre has "grown up" and, its artists now facing the real world, is ready to take it head on while showing that it hasn't lost its sense of core identity.
Themes of justice have gained a newfound stronghold in the lyrical output, such as themes of feminist empowerment in the music of Reykjavíkurdætur, an ever-evolving multi-piece feminist collective and one of Iceland's most successful rap exports. The feminist empowerment theme of their lyrics resonates strongly with the strongly feminist Icelandic society, and the band champions themselves as being unafraid to stick it up to naysayers. Meanwhile, recent albums by Auður (Afsakanir) and Logi Pedro (Litlir svartir strákar) have exposed particular vulnerabilities, each dealing with themes of depression, breaking up of long-term relationships, and finding themselves as individuals in the wake of loss. These brutally honest and relatable themes show an introspective lean in today's Icelandic hip hop, one which we hope will continue.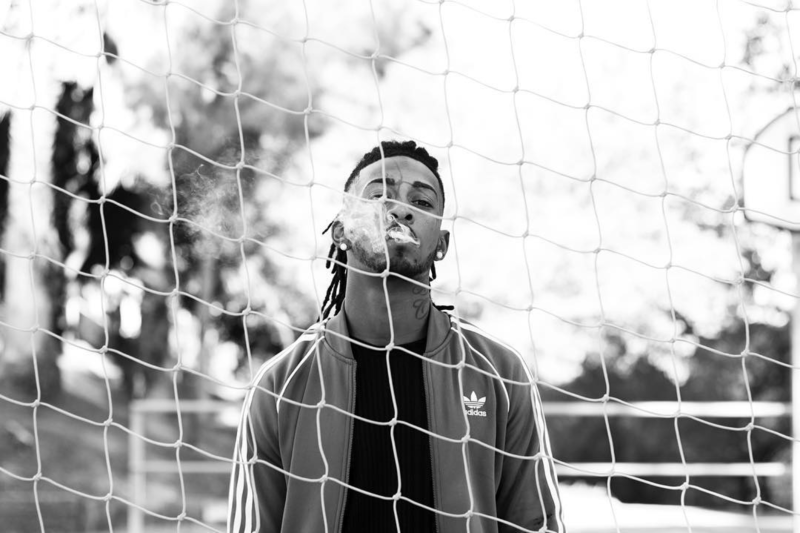 The audience that for so long defined hip hop has also changed. As long as hip hop existed, it has been associated to where it came from, a truly local phenomenon. That also came with some territoriality, a way to protect the origin of hip hop and vet out its artists and if they deserve the respect of their peers. Newfound popularity of the genre has largely swept that away. "You have people from the hood and from the suburbs listening to the same tracks. Possibly together, and both thinking that it's dope. It really doesn't matter from where you're from to listen to hip hop. Above all things, we're talking about creative freedom and musical freedom. Nobody really asks where that person came from. Does he have the credibility to say that? If the track is cool and well-made, it's valid." Success seems more and more like something that can be attained, as long as you put your work into it, no matter what lane you pick.
The DIY-attitude has also been building for long, and it finally seems to have bloomed to the surface. These artists are no longer only reserved for a small audience, they're actually dictating the tastes of the youth. "Those who are setting the pace of the industry are independent artists. Even Bridgetown, the label of Mishlawi or Richie Campbell, has publishing deals with Sony but the music is still theirs. And they are one of the most recognised labels in the country, whose artists earn the biggest cachets", says Mike. With more popularity also comes more power when it comes to negotiating deals, and that's what these artists have been doing — making partnerships to leverage their potential while keeping as much sovereignty as possible over their material.
The rapper goes on: "what's new is that now you have independent labels saying 'let's compete with pop records, because we can do it'. The numbers are there and now people with the biggest numbers aren't pop artists but hip hop artists." He also goes on to mention "Devia Ir", a song by Wet Bed Gang that became one of the most streamed songs in the country. To defy the odds even further, as of February 2018 the song still had no music video and racked up more than 26M views only on Youtube. Portugal's population ranges from 10 to 11M people.
Everything points to the fact that the exception is turning into the rule, with artists like Piruka hitting similar milestones, with a plethora of other names (Dillaz, Holly Hood, Apollo G, among others) following only a few steps behind. The fact that these artists have also been able to build such a following without going through the habitual gates of the music industry also has created a breed of pop phenomenons that are not as pasteurised as the genre previously delivered us. These voices, no matter what topic they're approaching, be it mindless partying, inevitable heartbreak, or their love of the craft, feel sharp and clear in the message they deliver.
Globally, music has moved away from politics and is now reflecting more of an individual mindset. That mindset manifests itself into everything from blantant hedonism to pulling yourself up by your bootstraps. Although the hustler mentality has been quite a part of the hip hop lore, in Portugal, the humble mindset always ruled, keeping such messages to the side. Things are changing and the internet also has allowed us to follow an artist while he struggles to be able to attain success and documents his journey — and that has brought artist and audience closer. "A few years ago it would be a sin to say you were after success. Now that has been demystified and you can say 'I want to be successful and I'm really saying it' and people will be 'yeah, bro, we're with you and we also want you to be successful'. It's interesting how that topic calls the audience and how they also want to be part of that story", tells us Mike.
The present of hip hop in Greece – By Maro Angelopoulou
Greece's hip hop culture is mostly male-dominated and it divides along ideological lines, with the underground and political acts disdaining the glute-fixated pop rap and the putative gangsta-rappers. Even years before the crisis, few people made a living from hip hop. Of those, a minority recorded political material. At the center of it, stands the imposing BD Foxmoor (born Michalis Mytakidis), founder of the group Active Member, who dominated the scene from the 90s onwards, by developing a "low bap" style (bass-heavy, slow and socially conscious), rapping about corruption and lack of faith in the system.
Concurrently, aspects of hip hop have gained commercial success, when the genre was merged with local popular music (Greek pop, mainstream folk also known as 'laika') and mainstream R&B. Pop-rap crossover acts such as Imiskoumbria and Goin' Through established Greek hip-hop as a mainstream force and spawned several subsequent acts. But especially after the economic austerity of 2008, hip hop is no longer just an alternative entertainment; it's the voice of an oppressed generation, expressed through the lyrics of talented and conscious acts like Bhta Peis , Theetis and Taf Lathos.
A defining moment for hip hop in Greece was the brutal murder of the Greek rapper and activist Pavlos Fyssas (known with the stage name Killah P) in 2013 by a member of neo-Nazi party, Golden Dawn (co-ordinated by the party's senior officials). While the trial still drags on, Fyssas' assassination helped protest music and political lyrics come into the mainstream.
Hip hop never changed Portugal's landscape, not culturally not politically. Its size and marginalisation always kept it a step away from mainstream culture, even if it was frequently used as a gimmick to try to cross-pollinate markets by labels. Now it dominates the music culture, making festivals adjust their booking decisions to capture the attention of all the teens who are making their tastes known through the artists that they endlessly stream day after day. Sure, it hasn't become politically relevant on its rise to popularity, but music everywhere has lost its sharpness when it comes to the political arena and nothing indicates that such will change. In fact, most artists prefer to circumvent the topic completely instead of alienating a potential part of their fan base.
To still talk about the four pillars of hip hop, breakdancing, Djing, graffiti and rapping, is definitely a narrow-minded view of everything that the genre offered us throughout its history. Breakdancing stopped being part of the culture repertoire. DJing has been challenged on every front of its definition: making people question what is and isn't a DJ. Graffiti has now become morphed into a more articulated, and tame some would argue, form of street art, which allowed it to grow to dimensions previously unheard of. Rapping has evolved savagely, challenging itself and keeping itself a part of the conversation and even defying its own dogmas and leaning on melody like never before. Looking at everything that is going on: it feels like the pillars were a snapshot of everything that marked hip hop's origin. Yet, as Mike El Nite, puts it to us, this is an ongoing discussion: "there are really open debates about artistic relevance, context, content, what should and shouldn't be part of the genre and everyone is willing to discuss that."
The present of Portugal's relationship with hip hop is still pretty flawed. There are barely any female names to mention that are part of the genre and size up to the artists mentioned in this article; a stigma still lingers when it comes to R&B; a substantial part of the genre still lives from imitating external influences; the lowered barrier to entry also has made people question if the overall quality is falling off. Overnight successes seem to come from everywhere, and they can certainly rack up the numbers to state that they are part of the conversation, but, when it comes to the long run, do they have what it takes to hold up? The genre sure has changed right in front of our eyes for the past decade, promising everything but staleness, a quality that certainly has helped in its meteoric rise and tells us that hip hop history keeps writing itself and no amount of rule-setting will stop it from flowing.