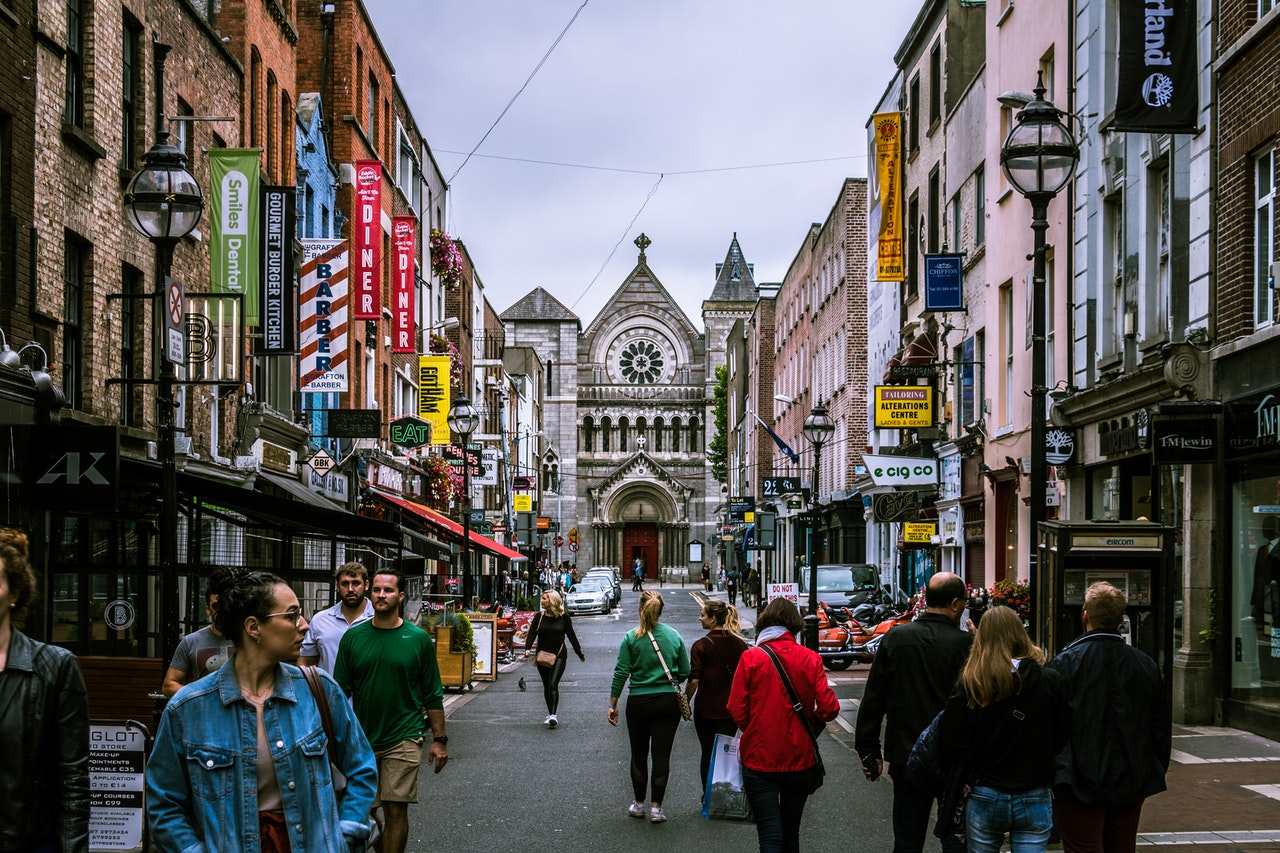 My name's James Hendicott, I'm the Irish Europavox journalist and sub-editor. 
I'm currently holed up in my small house not far from the centre of Dublin city, listening to music from Lithuania and dreaming of times like this picture, taken of me in Edinburgh back in December. In hindsight, the world was a real playground back then.
In some ways, crisis brings out many of our natural characteristics. In Dublin, for example, almost nobody turned up to St Patricks' Day, usually a huge national event, and rightly so. But one solitary man was seen through a webcam at half past ten in the morning, totally naked in our tourism district of Temple Bar, alone with his arms aloft. Unsurprisingly, he had no trouble containing the recommended social distance. It wasn't a normal national holiday, but these aren't normal times, and we found our own ways to 'have the craic' while taking the utmost care.
In the coming weeks, as we all face this new reality, one that we must somehow tackle both together and alone, Europavox will be expressing our European solidarity in the only way we know how: by highlighting the best that all of our music scenes have to offer. We'll be putting a positive spin on things.
This month, for example, we introduced you to the surrealist Swedish beats of sir Was, the fluid Spanish nu-flamenco rhythms of RomeroMartín, the vibrant Dutch garage rock of Lewsberg, and the biting rawness of Swiss guitarist Emilie Zoé. Instead of one new act a week, however, we'll now be introducing a new act every single day. That'll come alongside features exploring some of the great things coming out of Europe through the lockdown, because we'd like to put a smile on a few faces, if only for a little while.
We'll also be bringing you the coolest things other people are doing, and naturally we want to tell you about a few today. If you're a dance fan, Beatport Presents: ReConnect Festival, a 24-hour party-at-home event, is going to bring top class DJs into your house, with a full day of back-to-back, play from home sets starting at 8pm this Friday. The festival features a huge array of big names, including Carl Cox, Bonobo, Nina Kraviz and Griz.
"Over the past few weeks, we have seen so much of humanity come together as one to battle the escalation of the Covid-19 virus in an effort to protect the most vulnerable," Beatport CEO Robb McDaniels said of the event. "With so many of us sheltered in our homes, wanting to stay connected to the people and music that plays such a positive role in our lives, Beatport and the passionate DJ community we work with on a daily basis feel compelled to deliver a unique music experience directly into homes across the world." Donations will be accepted throughout, with profits going to a COVID-19 solidarity fund.
Seeing as I'm coming to you from Dublin today, there are a wide range of Irish virtual shows you can poke your head through the door of, too. If you're into your pop, one of our major radio stations 2FM are hosting the likes of Hozier, Kodaline, and Dermot Kennedy for charity. Mick Flannery, a poetic singer-songwriter, is hosting five other musicians on his Instagram page, including Scottish singer-songwriter Rachel Sermanni and profound Limerick lass Emma Langford. The Instagram page I Stay Home Ireland is giving a platform to a couple of artists a day. All of these come with tip boxes, either for the artists themselves, or for charity.
If you'd prefer to look elsewhere, we're working on a page full of things that are going on across the continent, a kind of 'round-up of the best of creative internet'. Stay tuned for that, and don't hesitate to share initiatives with us!
​
Next week, we'll bring you greetings from another Europavox journalist, Maro, from Greece, who'll tell you how she's doing, and bring just a little bit more musical joy.
For now, let's keep her lit… separately
Ni neart go cur le cheile – there is no strength without unity.
James.