Neuigkeiten
---
We went to... Eurosonic Noorderslag 2020
5 min read
---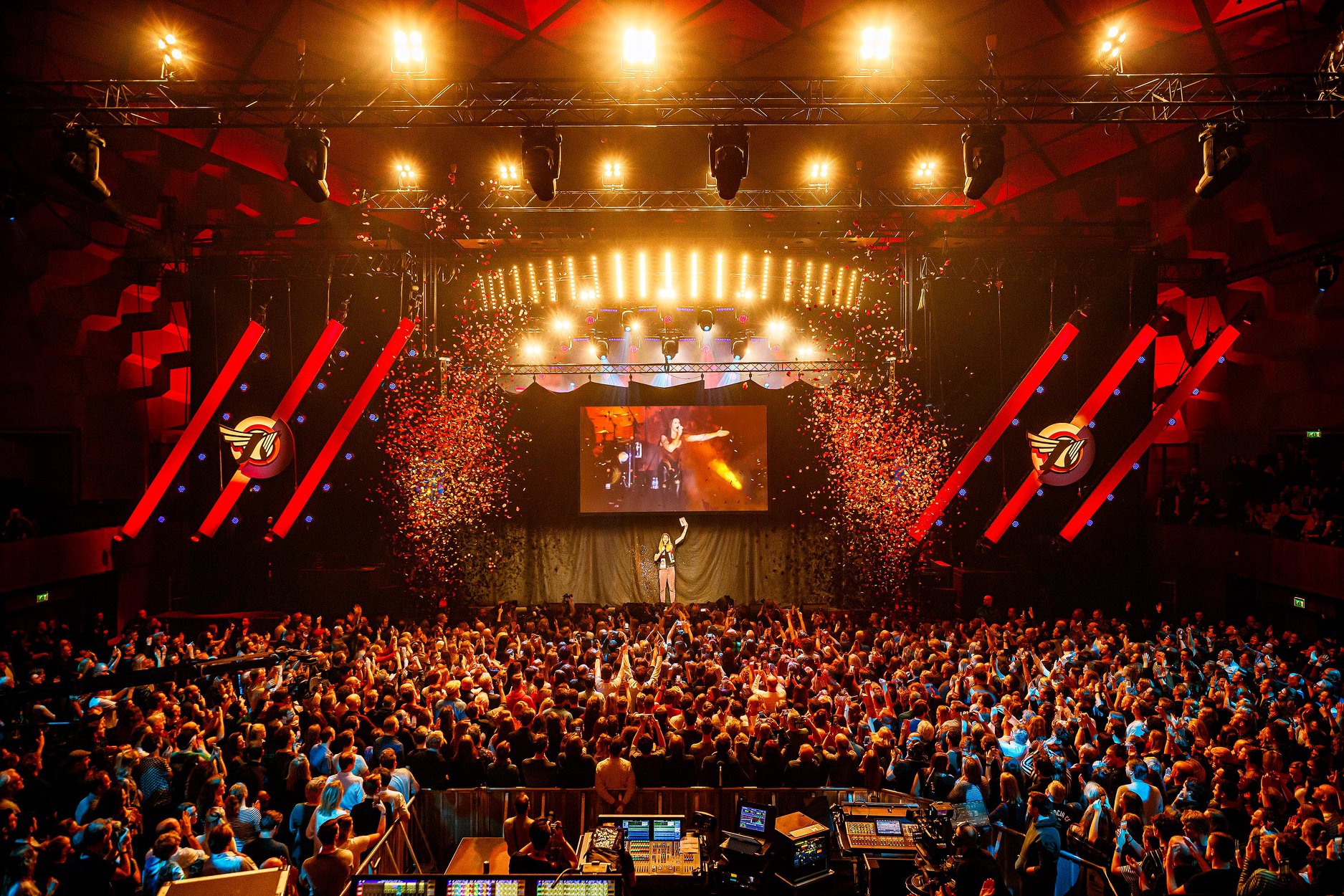 The great annual showcase brought chilling temperatures and a robust offering of everything from trip-hop acrobatics and buzzy jazz funk to smart electropop.
Eurosonic Noordeslag is currently the finest new music showcase event. Much like SXSW and The Great Escape, it offers the dual purpose of being a significant opportunity for music professional networking in a varied program with a finger on the pulse of the future of the European market and a platform for new artists to break across international scenes. It is a unique opportunity to catch your new favorite acts before they reach a wider audience, in a place where the concept of genre becomes open and extensive and an array of emerging names is unleashed in different venues around the city.
Now in its 34th year, the numbers still look huge: 347 acts from over 33 European countries showcased in Groningen from 15th to 18th January. In parallel, a successful conference held mainly at De Oosterpoort, while the impressive venue Forum Groningen was added as an inspiring new location for the conference. In its four days, ESNS hosted over 150 panels with speakers like Mark Mulligan (MIDiA Research), John Giddings (Solo Agency), Richard Wernicke (Deezer), Anna Sjolund (Lollapalooza Stockholm), Jon Ola Sand (Eurovision), Barry, Lucy and Jonathan Dickins (ITB, WME and September Management), and Beckie Sudgen (XRay Touring), as well as keynote interviews with 4,323 registered delegates.
Naturally, Eurosonic is interested in everything sustainable in the industry and, in that manner, discussions were around a variety of subjects; important tips on how to plan an artist's campaign from the marketing team for Robbie Williams, the challenges and opportunities boutique festivals are facing around Europe, inside tips on the process of selling your company to a major, the nuts and bolts of music publishing, mental health and diversity issues, earning money with music on social platforms, the stricter carbon emission rules for festivals, and even the role festivals can play in reshaping food production.
On Wednesday, the European Festival Awards were handed out to the best festivals on the European continent. Glastonbury Festival, Open'er, Electric Castle, No Sleep Festival and WME's Lucy Dickins were among those to pick up prizes. On Friday, the second annual Music Moves Europe Talent Awards were presented. This year's winners are NAAZ (NL), who took home both the Jury and the People's Choice Award, Anna Leone (SE), 5K HD (AT), Meduza (IT), girl in red (NO), PONGO (PT), HARMED (HU), and Flohio (GB). The host for the evening was the fashionably eccentric Austrian artist Tom Neuwirth, a.k.a. WURST.
Over the course of Eurosonic, we also witnessed a handful of talents making thrillingly grand statements of intent amongst the bill of 347 hopeful, and thirsty for success, European artists. As a showcase festival, things are kept regimented — no one plays more than 45min (although some acts did have more than one slot), and the crowd navigates between venues spread throughout the city of Groningen. Listening to three songs from a folk-pop band from Iceland and then drifting off to catch the beginning of the next trap band from France on their list — while also avoiding the 200 cyclists per square foot — proved to be an aerobic meltdown, but totally worth it!
Even though the quality can be a real mixed bag, the better end of the scale can sometimes become exceptional, as many acts demonstrated this year. So make no mistake, 2020 is going to be a true blast!
THE ABCs of ESNS 2020 ACTS HIGHLIGHTS
BENNY SINGS (NL)
Not a new kid in town (he has been creating music for 15 years now), but inexplicably underrated, the Dutch vocalist, songwriter, and producer embraces the ageless sunny structures of vintage pop, R&B and jazz, fusing them with arrangements and production influenced by organic hip-hop and downtempo electronica. In his new album, City Pop, he continues to boast a carefree and lighthearted vibe and refine a combination of soul-pop, jazz instrumentation and soft rock with primary inspiration coming from Stevie Wonder and Steely Dan.
CHARLOTTE ADIGERY (BE)
The Belgium-based French-Caribbean artist is bright-coloured not only regarding her roots, but her music as well. With only two — but very uncompromising — EPs under her belt, she is already creating a name for herself. Her latest work, Zandoli, is co-produced by Soulwax and that has helped Charlotte enhance the strengths and quirks of her voice. In a sweetly unpredictable manner, she channels Guadeloupean influences into striking, playful electro pop and dance music, while also showcasing DIY, mish-mash sounds, with a mischievous sense of humor.
INHALER (IR)
Let's start with the elephant in the room: singer Eli Hewson's dad is Bono. But that doesn't mean anything — music skills are not a company that you can inherit. The genes are right there, sure, especially the wide-ranging voice, but there's much more in this new act: soaring indie rock with dirty bass lines, catchy tunes and pounding rhythms. The band members met at school in Dublin and soon brought Inhaler to life. Relying heavily on chiming guitars and emotive vocals, the band integrates synths into their crystal, 80s post-punk inspired style.
JULIAN ZYKLUS (IT)
Julian creates long, cinematic daydreams. The Bologna-based musician and producer effortlessly plays with instruments, prepared pianos, loops, synthesizers, sampling and even pauses. Sometimes incredibly vulnerable and emotional and other times sharp and cynical, his music is similar to that of Alessandro Cortini, Lena Platonos or Aphex Twin, without necessarily belonging in one genre, just exploring classical and ambient music and molding organic sounds. His debut album, Four Dimensional Waves, was released via Hush Hush Records in 2019.
MY UGLY CLEMENTINE (AT)
How fresh, bright and lighthearted can indie pop be? This group from Vienna shows us exactly how. Sophie Lindinger (from Leyya) is the mastermind behind this four-piece colourful project, along with Mira Lu Kovaks (from 5K HD and Schmieds Puls), Kathrin Kolleritsch (Kerosin95) and Barbara Jungreithmeier. This MGMT-like (but more guitar-driven) colorful blend of bubblegum pop and sing-along alt rock, with hints of soul pop and post-punk offer absolute musical sunshine!
PABST (DE)
They sound like a blend of EMF and later Queens of The Stone Age. The pop-rock, post-punk, noise-rock trio hails from Berlin, and released their debut album, Chlorine, in 2018 through Crazysane Records. Since then they are reimagining contemporary rock music, renewing it with generous doses of pop hooks and scuzzy spontaneity in their intoxicating live shows to much effect. It is exactly this mix of dense low-end grungy fuzz and vivid vocal melodies that make them sound weird and enjoyable.
SILLYBOY'S GHOST RELATIVES (GR)
The three-piece project from Athens, Greece is fronted by bassist Charalambos Kourtaras and makes foreboding melodies that creep into the room like rays of light. After signing with superior quality label Claremont 56, they released their first international album In a Small Place. The release evokes 70s soft pop-rock acts like The Alan Parsons Project and Todd Rundgren at their best, while bringing so much more: scorching guitar solos, bright modulated chordal work, and shimmering basslines, while the west-coast vocals serve as a connecting tissue between smooth jams, fluttering synths and vaporous melodies.
It is hard to pin Sinead down. Imagine Kate Bush, Karen O and Patti Smith injected their DNA into her. The London/Irish poet and artist is creating a thrilling synthesis of spoken words and sounds, sculpting prose with a post-punk aura and art rock delicacy; and that puts her in the first line of the upturned 80s inspired post-punk wave. Onstage, she gives spellbinding performances, the ones you carry within for a long time. Moving at the forefront of the upturned post-punk, she's now signed to Chess Club Records (Wolfe Alice, White Lies), and there will be plenty more to come.
SINEAD O'BRIEN (IR)
Whoever attended the riotous post punk of Brighton's Squid admits that perhaps that was the greatest gig in this year's ESNS. Their name is mainly built on the back of a run of fine punk-rock-meets-disco-funk singles and of course their riotous, surrealist post-punk live shows, including three packed sets at Glastonbury 2019. The sound is a synthesis of Joy Division, David Byrne and Rapture, showcasing real energy that swirls like a hurricane and that has already connected them even with ordinary music fans. Big things are expected of them. And they will deliver.
SQUID (UK)
A band that stirs traditional 60s and 70s Asian music with modern sounds? And this band comes from Maastricht? Yes! Yves Lennertz (guitarist of Bounty Island) and Kees Berkers (drummer of Baby Galaxy) are the founders of this rainbow-like band: they juggle with disco funk and psych-rock from the 70s, producing a crazy Thai-psychedelic funk party in their live gigs, that they call "Thaichedelic"! After two amazing singles through Bongo Joe Records, their new album, The Rabbit that Hunts Tigers, is already out, bringing on their unique signature mixing of every era and genre.
YIN YIN (NL)