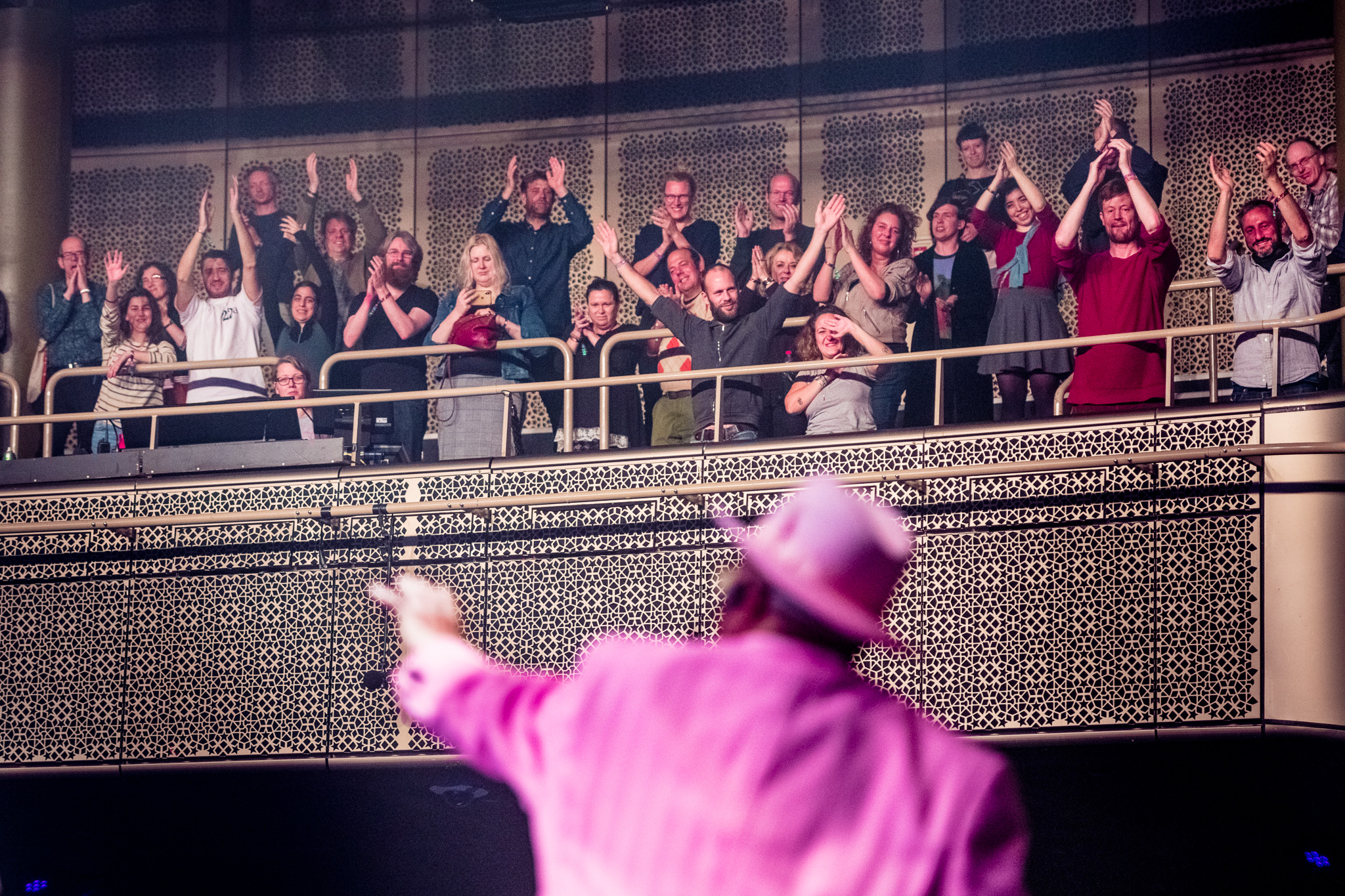 Cover Photo – Jelmer de Haas
Located about 40km south of Amsterdam, Utrecht is a 25-minute train ride away from the Dutch capital. With a direct connection from Schiphol airport to Utrecht's steep, unique canals, like the Oudegracht, offering waterside cafés, restaurants, and bars, the Netherlands' fourth largest city is an easily accessible destination. A university town, Utrecht is also home to a large, diverse, young population which contributes to its friendly atmosphere.
There's so much to absorb, you could even skip Amsterdam when visiting The Netherlands. In addition to all the music-oriented places mentioned in this article, there's multiple museums, architectural treasures, and historic sites like the Centraal Museum, Rietveld Schröder House, and Dom Tower.
Indie music fans should take note of Utrecht's surprisingly dynamic scene, which includes the well-curated Le Guess Who? Festival. Happening in November each year, the four-day event encompasses over 150 performances in pop venues, theatres, churches, galleries, and warehouses. If you want to really dive into Utrecht, Le Guess Who? is the best way to do it.
Although TivoliVredenburg serves as the main stage of Le Guess Who? The avant-garde programming encompassing non-western sounds, (free) jazz, folk, psychedelia, modern compositions, and contemporary pop and rock, inspires satellite events featuring music, film, visual art, photography and markets at cafés, hotels, restaurants, wharf cellars, and DIY spaces throughout the city.
To get a hint of what Le Guess Who? and Utrecht offers, check out a short film about the festival, titled "Representing the Underrepresented" below.
Released 4 April 2019, the audio-visual experience produced by Portugal's Canal180 provides viewers a lens into the perspective of individuals involved in Le Guess Who?, namely Barry Spooren, Head of Marketing and Communication, and founders Johan Gijsen and Bob van Heur. It also features the adjacent multicultural Lombok festival in Utrecht's Turkish and Moroccan neighbourhood.
Whether visiting Utrecht for Le Guess Who? or simply passing through, we've compiled tips from the festival's Barry Spooren and Johan Gijsen, along with some of our own on how to experience all the city offers to music lovers.
Being a medieval Dutch city, Utrecht is best experienced by bicycle. You'll want to rent one to easily navigate the narrow streets, especially if you're looking to explore some of the outer neighbourhoods, like Lombok. From €7/day, there are many shops, like Willemstraatbike, Laag Catharijne, and Fietsen Utrecht, where you can check out a bike for the weekend.
Regardless of time of day or season, there's a lot to do in Utrecht. You can see our top picks below, which includes Barry and Johan's favourites.
Morning – Coffee
If there's one thing the Dutch don't mess around with, it's their coffee. Offering a variety of independent cafés, you're bound to find that perfect pick me up. A good place to start is with these 5 highly ranked java joints – The Village Coffee, 30 ml Coffee Roasters, De Utrechtse Boekenbar, Blackbird Coffee, and Koffie Leute. Of these, we've called out 3 notable crowd pleasers. Since Dutch coffee is usually served with a speculaas cookie (or something sweet), you'll quickly learn the meaning of "gezellig" (cosy).
Located on the lively Voorstraat, The Village Coffee & Music is a great choice for beautifully crafted lattes and live in store performances from local bands. If looking for music recommendations, ask the friendly barista's here, they'll know what's happening.
30ml Coffee Roasters
In addition to serving coffee in a bright, large space on the centrally located Vredenburg (directly across from TivoliVredenburg), 30ml also roasts their own beans. A short walk from Utrecht's Centraal station, it's a great place to begin your adventure.
Blackbird Coffee
Situated in a vintage furniture and bike shop, Blackbird Coffee on Utrecht's main canal (the Oudegracht) welcomes patrons into a "home-like" atmosphere. In addition to making nice espresso drinks, there's organic sandwiches and pies from Bunnik's Veldkeuken* for offer. Be sure to pick up a Utrecht Coffee Safari map while here.
*If seeking a nice, nature-filled destination, Veldkeuken's main restaurant is worth the 20-30-minute cycle ride through Utrecht's neighbouring forests.
Afternoon – Crate Digging & Shopping (Board Games)
Although Utrecht's crate digging options are a bit more limited than other cities, you can definitely find hidden gems at Plato, Dig It!, De Plaatboef, and Inboedel 24. Find 3 shops worth stepping into below.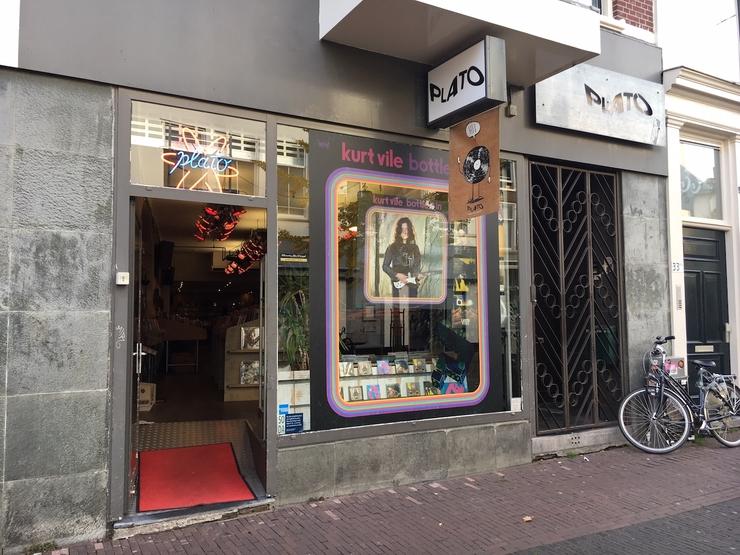 Plato Utrecht
Just opposite of The Village Coffee & Music on the Voorstraat, Plato Utrecht is the best place to go for indie music fans. Of the shops mentioned, they have the biggest selection of new vinyl. You'll also find some second-hand releases here.
Dig It!
If only interested in second-hand vinyl, definitely check out Dig It! Just a few metres north of the Voorstraat on Loeff Berchmakerstraat, you'll find selections from most genres, including pop, rock, metal, jazz, classical soul, disco, and hip-hop.
Inboedel 24
Although not a music-focused shop, this antique store sells second-hand vinyl records. It's best to come here with no expectations and see what you might find. This space definitely requires some digging and patience.
Bonus – Board Game Shops
If you can't find something to match your tastes, you can always pick up a new board game along the way. In fact, there's 4 situated around Blackbird Coffee & Vintage – The Joker, the Lab, Lost & Found Adventure Store, and NeverNeverLand. Be sure to compare prices at each, before making a purchase.
Evening – Live Music & Mingling
TivoliVredenburg with its five concert halls varying from 400-2,000 capacity rooms, a grand café, and restaurant, is definitely where most of the live music happens in Utrecht. For more low-key discovery and mingling, there's De Helling, dB's, volunteer-run ACU, and EKKO, which hosts DJ's and live acts. Also, Strowis Hostel offers a Sunday concert series, which can be found on their Facebook page. Read more about the first three mentioned below.
De Helling
An important part of the Utrecht music scene, De Helling's location was once the home of Tivoli before it moved to its current space on the Vredenburg. Programming experimental pop, De Helling is a universe of its own.
dB's
A breeding place for the local scene, dB's is an underground venue where you might see an act before the become big. There's also a decent size bar onsite for chatting with locals. Located outside of the city centre, you'll want to cycle to dB's.
ACU
Completely volunteer-run and operated, ACU is one of the most experimental / anarchist places in Utrecht. You're bound to find punk and metal bands performing here. If looking for a good vegan meal, they also offer dinner on Wednesday, Thursday, Saturday, and Sunday. It's important to bring cash, as they don't accept plastic money.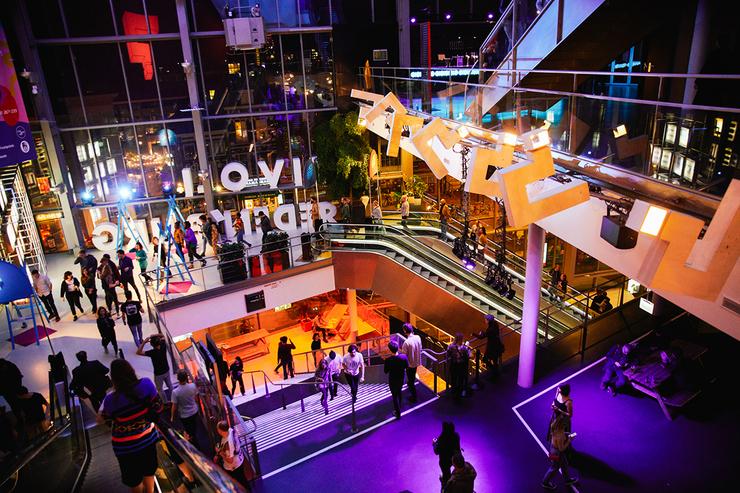 Night – Clubbing
In terms of nightlife culture, Utrecht is certainly not a clubbing destination. However, electronic music lovers can surely get their fix at BASIS, WAS, and TivoliVredenburg / By Night.
BASIS
Upon entering BASIS on the Oudegracht, you'll find yourself in a raw concrete space, which comprises two rooms and several bars. Let the club's VOID sound system, dark visuals, and minimal lightshows take over as you experience BASIS' excellent electronic programming.
WAS
With sporadic programming, you'll want to check WAS' agenda in advance. Located in the laundry-room of a giant building, this is one of the most unique venues in Utrecht. Definitely check it out if there's something happening during your visit. House, disco, electro, and techno fans will enjoy the line-up at WAS. Like dB's, this space requires a bicycle to access from the centre.
TivoliVredenburg / By Night
We weren't kidding when we said TivoliVredenburg is where most of the music happens in Utrecht. As part of their regular programming, they also host club and dance nights. You could really spend all night here.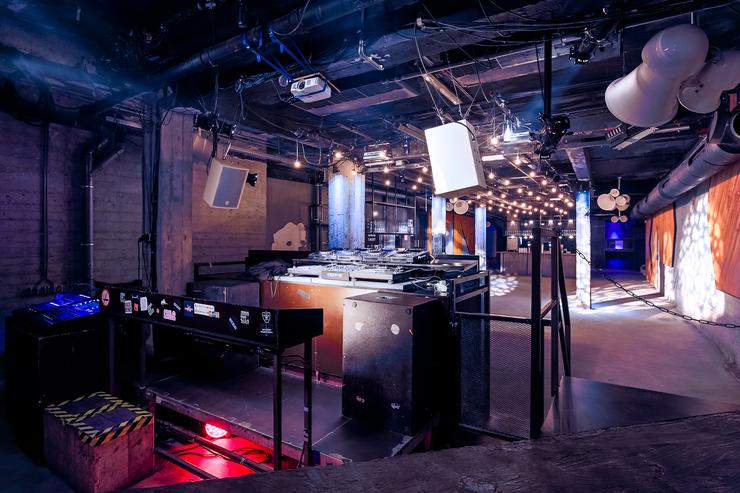 Other Festivals
While Le Guess Who? is arguably the biggest and most diverse festival in Utrecht, there are many other notable internationally recognised events throughout the year. Utrecht hosts four well renowned festivals, the International Chamber Music Festival, Gaudeaumus Muziekweek (celebrating pioneers in composed music), the International Franz Liszt Piano Competition, and the Festival Oude Muziek Utrecht (Utrecht Early Music Festival), which highlights Medieval, Renaissance, and Baroque music, and is the largest of its kind.
TivoliVredenburg also hosts several specialised festivals, including Rambling Roots (folk/country/soul/Americana) in October, Transition Festival (focused on jazz) in April, and Catch Festival (elevating new electronic acts) in March. As you're planning your trip, make sure to check the calendar for these events in advance.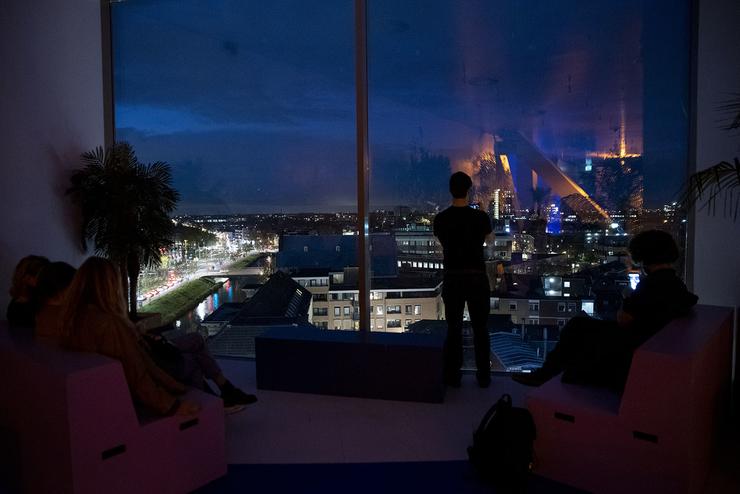 Conclusion
As described in this guide, most of the activity in Utrecht is centralised around the Oudegracht and Voorstraat. However, as the city changes, there's much to experience in the outer neighbourhoods – like Lombok and Zuilen. With a large selection of festivals and events, there's really no bad time to visit Utrecht. Of course, if you're there in November and can make it to Le Guess Who?, it's definitely worth it. The festival takes over the entire city, and turns everything into a venue, including old medieval churches. Wherever you end up, you're bound to experience good vibes in Utrecht. For a true Dutch experience, it's a city worth getting into and exploring.