News
---
Tech, tech, tech: ForTunes and the social numbers game
5 min read
---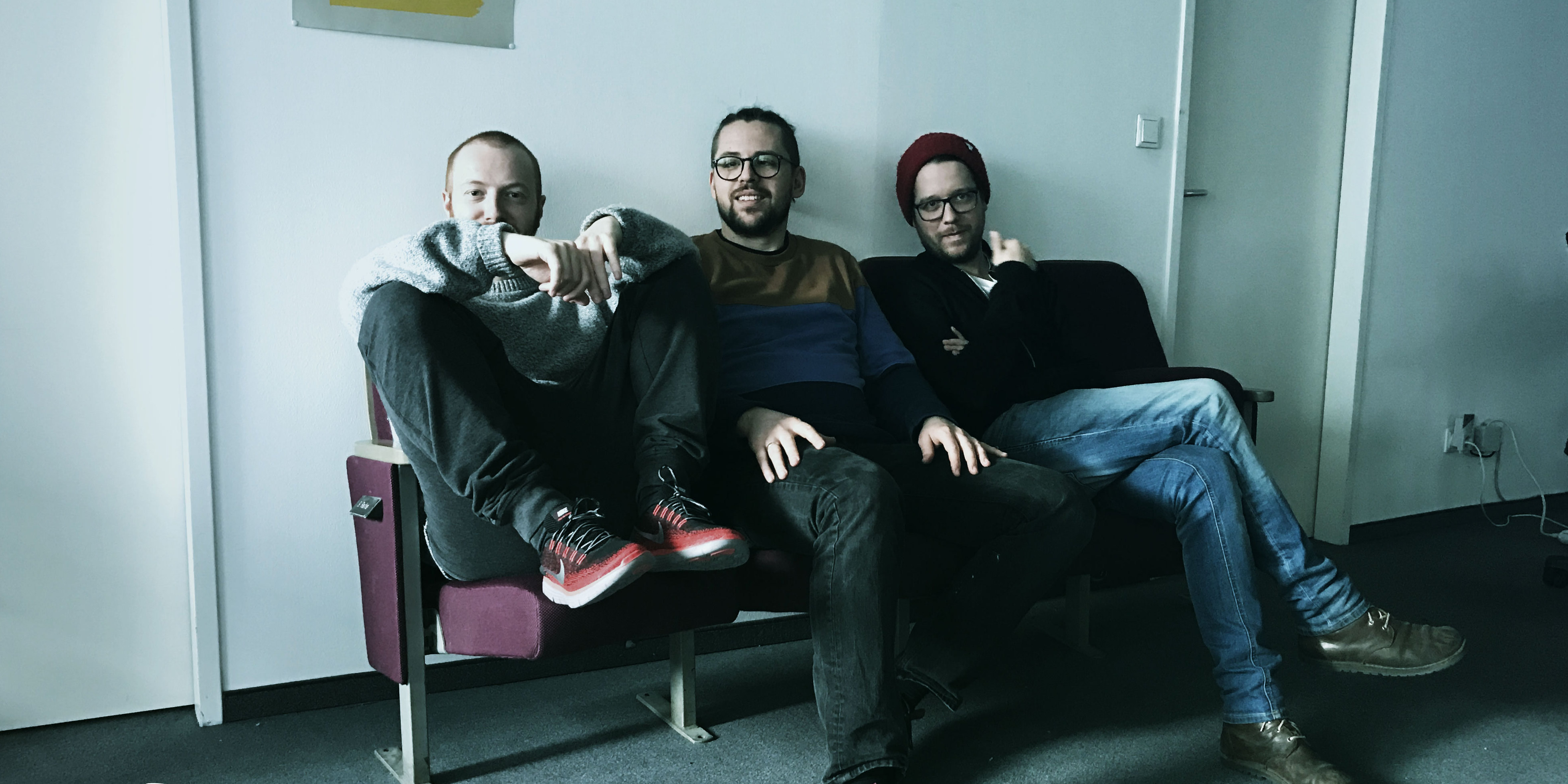 How can you measure social buzz? Several services promise to do just that: we had an up-and-close look at them, and chatted with the guys from ForTunes on how to properly use these tools.
The numbers game
How is your band doing in Finland? And should you book a tour of the Balkans for that electronic act? We live in glorious times, because yes, you can look that up online – the likes, subscribers, the playlists featuring a certain song and even who appropriated content. Everybody in the music industry today plays the numbers game. You can't really escape it. Imagine a band with 50,000 fans, a photo on Instagram just got 70 likes, their new single is performing so-so after 2 weeks on Spotify, 12,000 views on that video from June. Would you pay €2,000 for a gig?
Sure enough, there are risks in measuring social buzz. Some get too obsessed by numbers, others might even try to cheat. Nonetheless, there is a huge amount of data from dozens of sites out there today, which can give you insights into where and why a particular artist is performing exceptionally well. Which mostly is a good thing.
In the end, music is still a people business, but social analytics are catching up fast and help you to see where your band is good and where there's still potential.
We, therefore, talked to the founders of such a tool. Because Christoph Muck and Florian Richling from ForTunes know a thing or two about social media tools, insights, what they can and what they can't do.
"There's no blueprint solution"
It's all about creating buzz these days. If you'd manage one rapper and one jazzy electronic artist, where should they start – apart from the music?
As an artist, you use a lot of different services to spread your music online. There's no blueprint solution. Consider who your target group is, and most importantly, who you are as an artist. If you want to share remixes and demo versions of your tracks, Soundcloud will work fine for you. If you're more of a visual artist you'll use Instagram, Tumblr or YouTube, and if you're into sharing music you privately like, an active Spotify or Apple Music Connect profile should be on your list.
Where should artists be, if they only have time for three platforms?
This totally depends. Some general thoughts on that: you should work at least one streaming service that generates paid streams – YouTube for video content and also because it's accessible easily and a social network that lets you interact with your fans.
What are some downfalls to chasing big numbers on social media?
From an agency perspective, I think social media numbers can easily fool you if you don't get the bigger image. A simple example: does the band you maybe want to work with having that many Spotify streams in Sweden because they are so popular there or did they 'just manage' to get added to big playlists? How do the streams reflect on their followership on other social media platforms? Are Swedish blogs reacting to the music? As an agency, you should consider stuff like that before you plan a tour, for example.
As an artist, chasing bigger numbers on social media might easily distract you from your core task: creating music. Don't get us wrong – working your social media accounts is an essential task for most musicians nowadays and having a big YouTube account at your hand when you launch a new video is definitely a good thing. But, especially as a newcomer, you have to remind yourself that things need time to develop and grow. Don't try to force it.
Is going live on social media worth it?
It's a great way to interact with your followers, build a relationship with them and further increase the engagement on your profile. More engagement means your content is evaluated more relevantly. It is definitely worth it. Some of your followers even might get a push notification that you are live now. Just make sure, that when you're going live, that you do something interactive or live exclusive, e.g. a Q/A, 'Ask me anything", a gig livestream. But do not over expand. Broadcast exciting and exclusive live content.
"Visualize online performance"
There is this rumour that you can't really reach people on Facebook unless you pay.
Nobody really knows how the Facebook algorithm works – they are evaluating your posts on several levels. It's obvious, though, that they are tweaking their algorithm constantly, to show relevant content in the newsfeed. There are some things you can do to make your content more relevant. Right now, Facebook's focus is on video, – so it's very likely that posts containing links to external video platforms won't get as much organic reach as a post that uses Facebook's own video player. Second, content that creates user engagement – reactions, views, comments – is also preferred by the algorithm. Our experience shows that you will only reach about 20% of your audience organically, at maximum. For big pages this number is even smaller, from 3% to 5%. Depending on the size of your Facebook page, you'll have to pay a couple of bucks to reach all of your followers.
Are there services to monitor concerts and events too?
There are a couple of services out there that keep track of live shows. Songkick and Bands in Town are two of them.
What does ForTunes do, that others don't?
Our app focuses on providing independent artists and their representatives worldwide with insights about their music. We collect statistical data from various services to visualise their online performance. This data includes insights on their overall streaming performance and their audience growth. We're updating the app regularly with new features and are working on some really cool updates for the near future.
What does "user generated content accounts for x% of your plays" mean exactly? And should I worry?
There's no reason to worry at all. This means that x% of your overall plays were generated via uploads that haven't been made to artist-owned channels; they are fan uploads. This number includes live bootlegs, unofficial remixes, lyric videos typically posted to private channels, as well as uploads to promo channels like Mr Suicidesheep and label channels. We are searching for user-generated uploads in order to provide ForTunes users with the full picture on their streaming performance.
"The most important thing: creating music!"
Will there be a more visual and intuitive way to show those numbers?
Actually, there is. We just released our iOS app as a beta, which lets you explore all of the stats we're showing you on fortunes.io in more detail, and also in a visual and intuitive way. The app offers insights on where their streams, faves and followers are coming from, and all of the user generated uploads we discovered. We're regularly adding more features.
Why is there no Snapchat? Why no Deezer, Apple Music, or Tidal?
We're in beta and constantly working on our product. That means we'll add more platforms in the near future.
Why wouldn't you recommend buying fans and followers?
We don't recommend spending any money on these services. The loss of credibility when this bubble bursts isn't worth the short-term hype. It's better to spend the money on your music, artwork, video or promotion. Stay away from fake fans and followers and focus your energy and resources on the most important thing: creating music!
Can you recommend ten services to measure social buzz?
Keep in mind, the purpose of these services can be very different from one another, sometimes with other functions built to the core or around the social measurement aspect.
10 services to measure your online performance
SOUNDCHARTS
It's the best tool out there, but it comes at a price. Sound Charts shows you detailed numbers for almost any artist with cool graphs. This includes the names of playlists they appear on with the number of subscribers and the owner's account name, the countries with chart entries and peak position of songs and albums, or which platform is growing the fastest. There is even a report service via mail. Not every country is in there, but most of them. All in all, an awesome tool.
Platforms measured: Facebook, Instagram, Twitter, Youtube Subscribers, iTunes, Spotify Plays, Spotify Playlists, Deezer, Sales Charts, Airplay
Ownership required: No
Price: €36 per month / €149 per month / get in touch with major players
Website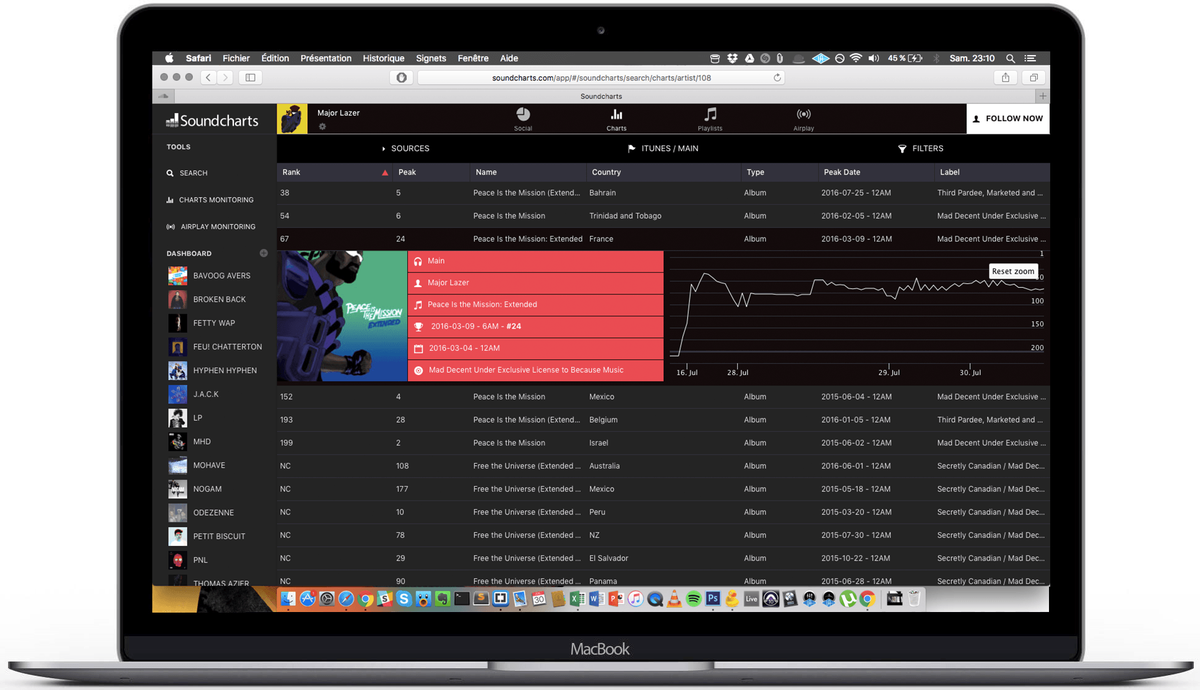 NEXT BIG SOUND
Get a nice and clear overview for your audience, top countries, reach and engagement for any artist out there. There also is a unique feature to show most-clicked Youtube videos in the last 30 days. All in all, nothing ground-breaking, but a great way to start, and it's free.
Platforms measured: Facebook, Instagram, Twitter, Youtube, Vimeo Plays, Songkick, Wikipedia
Ownership required: No
Price: Free
Website
TUNECORE SOCIAL
This platform is meant to publish music across platforms, but recently they added an option to track social stats. It only works for artists you are managing and you need to authorise access to all accounts.
Platforms measured: Facebook, Instagram, Twitter, Soundcloud, Mixcloud, Youtube
Ownership required: Yes
Price: Free / $7.99 per month or $85.99 per year
Website
FORTUNES
Just enter a name, and check out the numbers for your strongest songs, strongest home base or a total number of fans. ForTunes even tracks content your fans made. The service is still in development, with several features upcoming, and very easy to handle.
Platforms measured: Facebook, Instagram, Twitter, Spotify Plays, Soundcloud Plays
Ownership required: No
Price: Free / Paid option later
Website
REVELATOR
Mostly an app for iOS only, but also has a web interface. Focused on revenue streams. Features daily reports, analytics for playlists, revenues and searches, all filtered by channels, services and countries.
Platforms measured: Youtube Plays, Spotify, Apple Music, iTunes, Deezer, Google Play
Ownership required: Yes
Price: Free
Website
SOCIAL BLADE
This service is meant for all kinds of content creators, which means there is no Spotify or Tidal, but also Twitch. It's very intuitive, nicely designed and best of all, free. Good for a quick overview.
Platforms measured: Instagram, Twitter, Youtube, Twitch
Ownership required: No
Price: Free
Website
SPOTIFY FAN INSIGHTS
Shows you age, gender, and location of your fans, how they discovered the music, other similar artists, and how many people are listening live. On top, you also get data for individual songs, playlist data and even notifications when tracks are added to playlists. Meant for artists themselves. For free.
Platforms measured: Spotify
Ownership required: Yes
Price: Free (needs approving)
Website
AWAL
Comes in the shape of a smartphone app. It's mostly about playlist promotion and playlist analytics, with some fan insights on top. It's directed at independent artists. You must be the copyright owner, provide all kind of links, and get approved. Awal is part of Kobalt Music.
Platforms measured: Spotify, Apple Music
Ownership required: Yes
Price: 15% of collected revenues
Website
BUZZDECK
Buzzdeck is kinda secretive in what they are exactly doing. They promise to track various feeds, plays, and even work with pixel and link trackers. They give you a cool-looking heatmap, timelines, sales data, demographics and tonnes of other graphs. It's not cheap, though.
Platforms measured: Facebook, Instagram, Twitter, Youtube, Klout, Myspace, Wikipedia
Ownership required: No£
Price: €60 per month or €540 per year (for one profile)
Website
PHONOFILE
Phonofile really is more about marketing and distribution. But they offer analytics too, and if you need those other functions, too, Phonofile might just be for you.
Platforms measured: Spotify, iTunes, WiMP, Amazon, Klicktrack
Ownership required: Yes
Price: get in touch
Website