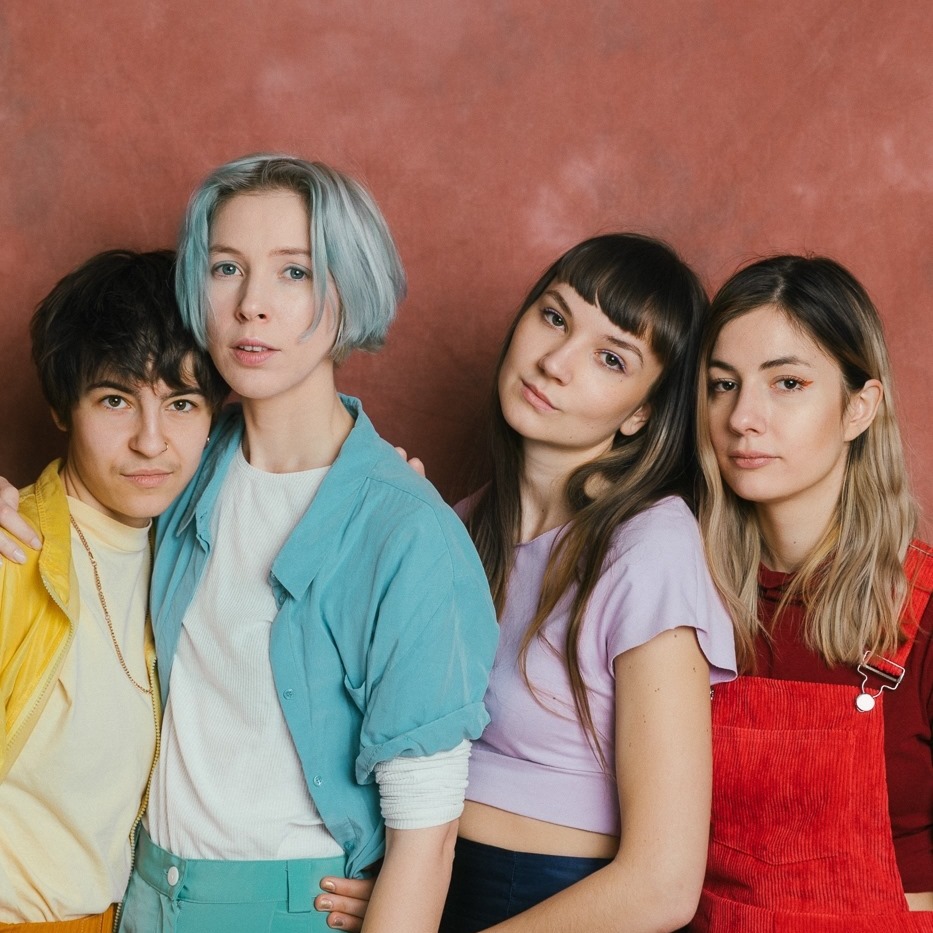 About
File under
Courtney Barnett, Sleater-Kinney, Pavement
Free style
alternative rock, indie sunshine pop
" A refreshing blend of empowerment, indie college rock and modern bubblegum pop "
Few bands speak truth to mundanity yet never lose a smile like My Ugly Clementine. The four-piece supergroup is backed by musical grandees of the Austrian scene: Sophie Lindinger is the band's songwriter and mastermind, and is best known for her role in indie-pop duo Leyya. The quartet is completed by Mira Lu Kovacs (5K HD, Schmieds Puls), Kathrin Kolleritsch (KEROSIN95) and Nastasja Ronck (Lucid Kid). Together they offer a refreshing and refined indie pop-rock/ post-punk approach with groovy bass, joyful guitar hooks and catchy rhythms.
Due to the band member's background, their first scheduled concert in Vienna in 2019 was sold out within hours, even before the first single 'Never Be Yours' was heard. This first single became an instant number 1 in the FM4 charts, and opened the doors to the most sought-after festival stages in their homeland and Europe (e.g. Reeperbahn Festival). The band's debut album, 'Vitamin C', released in March 2020, is descended from 90s college rock with generous sunshine pop twists and serious lyrics, all delivered with a laid-back openness. Intimacy, the importance of being kind to one another, and the changing nature of our relationships in life – even the one with ourselves – are all in focus.
Messages like self-confidence ("Cause in my world we live along and care 'bout us" they sing in 'Who'), and the stereotypes that women, and, in fact, all people, face in society ("just because I have smaller hands, doesn't mean I can't do what my male friends can", they sing in 'Playground'). My Ugly Clementine sooth us through their carefree sound, but it's this raw and vulnerable look-in-the-mirror that really stuns us.
In January 2021, it was announced that My Ugly Clementine's album 'Vitamin C' had earned a nomination in the 11th edition of IMPALA's European Independent Album of the Year Award, with the decision is expected in March (earlier this year, MYC was also one of the nominees in Music Moves Europe Talent Awards).
Since their very first recordings, My Ugly Clementine has shown a penchant for writing deeply emotional and evocative songs about people and situations. On December 11th 2020, the Austrian band released the track 'I Am Boring', exploring the theme of lack of communication, a perfect song for the broken-hearted.
The track is mainly smooth and straightforward, yet it explodes when reaching the chorus with impassioned rock n' roll attitude. The melody is infectious, with moody drums, blurred guitar, soft vocals and shimmering cymbals reflecting the band's love of lush yet simply orchestrated pop songs.
The production style extends the song far beyond its margins and right into the listener's world with a near visual sensibility. It is a quietly angry song, an unapologetic burst of individuality and trust, knowing and understanding, and yet graceful and elegant.
My Ugly Clementine's gorgeous melodies shine through brighter in songs that are naked and unflinching, still musically sophisticated, adding depth of field.